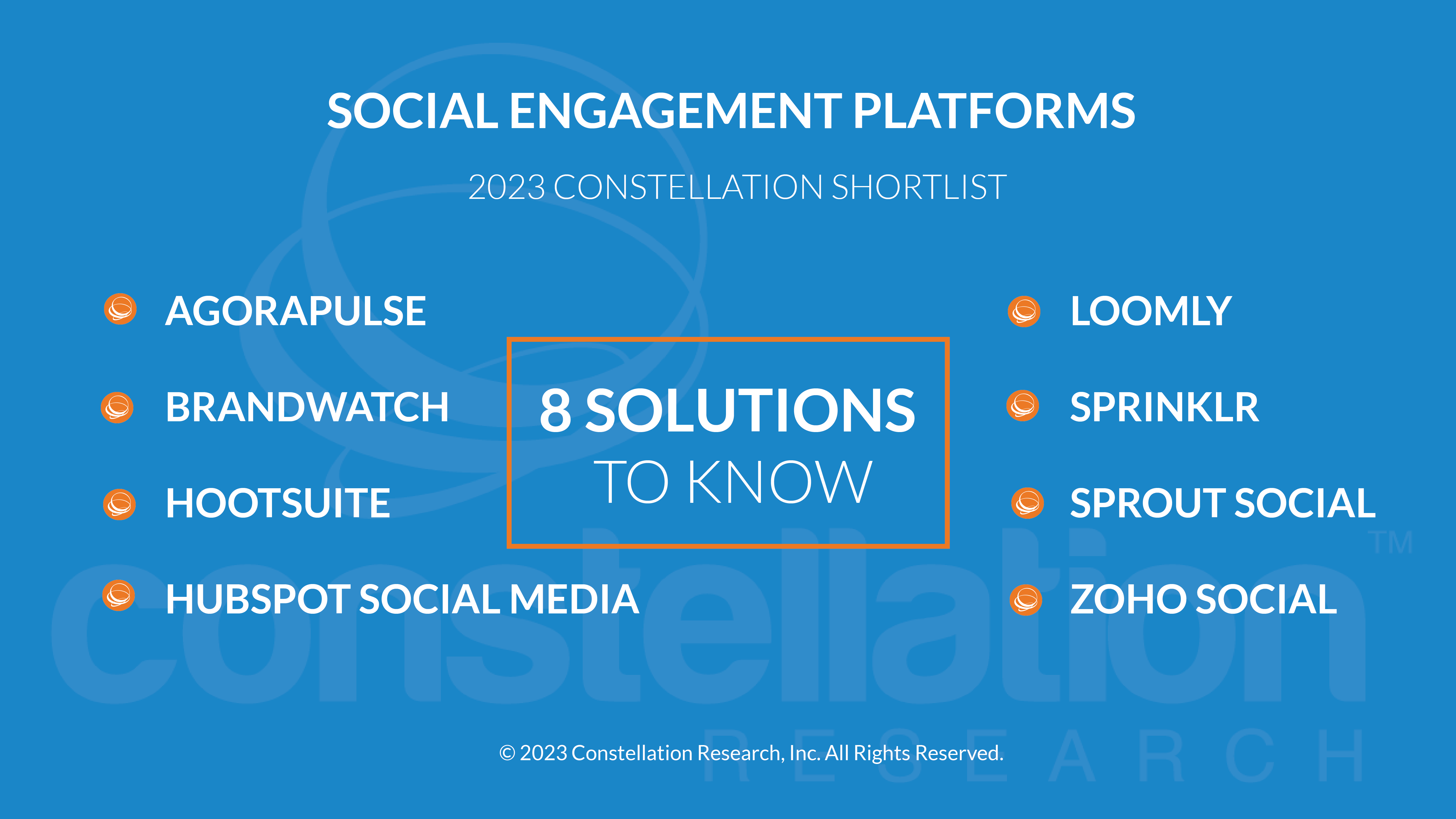 About This Constellation ShortList™
Social media has shifted from the way users wanted to engage to the way social media platforms wanted to operate. Misinformation, political agendas, transparency and business practices have changed how brands craft social strategies. Brands expect more from the tools that help manage everything from engagement to social advertising, service and commerce. Individual point solutions managing slivers of the social equation have begun to consolidate and larger experience platforms announced retirement dates for solutions to defer expertise to dedicated social engagement platforms.

Social engagement solutions must accommodate everything from social engagement monitoring (the capability to capture and aggre- gate conversations and mentions while delivering insights into tone, sentiment and degree of influence) and social listening (the capability to hear and home in on the voice of the customer, be it an individual or a segment, market or industry) to social operations (the capacity to schedule posts, manage advertising and dive deep into engagement and performance analytics.)

Social analytics and social service capabilities are absolute require- ments as is the ability to capture, analyze and deliver customer insights and social intelligence. Buyers expect out of the box integrations with core marketing and customer experience solutions, including customer relationship management (CRM), customer service or support, cus- tomer data platforms (CDP) and marketing automation solutions as a real-time reflection of a customer.
Threshold Criteria
Constellation considers the following key criteria for these solutions:
Plan, publish, schedule and manage flow of social media content

Monitor and have capacity to help respond to inquiries and content

Capacity to manage multiple accounts across global social platforms

Tools to upload, iterate and manage creative assets for posts and advertising placements

Buying, serving and monitoring advertising place- ments on more than one platform

Acquire real-time social/digital insights from multiple signal sources

Provide data management, data acquisition, export, archiving and API integration

Deliver data analysis and visualization, media sta- tistics, sentiment analysis, influencer profiling and analysis

Advertising tools and support including audience seg- mentation tools and analysis, audience segmentation, inflight optimization and measurement

Allow for cross-team and cross-functional collaboration, approval and optimized workflow

Suggest next best action for engagement across advertising, marketing campaigns and customer journeys

Support multiple languages

Integrate into a customer relationship management or customer experience systems

Connectors to customer data platforms and engagement systems of record

Apply ML and AI techniques for pattern recognition, topic and market identification, audience segmenta- tion and recommended actions, content aggregation, smart assignments and automated response
The Constellation ShortList™
Constellation evaluates over 50 solutions categorized in this market. This Constellation ShortList is determined by client inquiries, partner conversations, customer references, vendor selection projects, market share and internal research.
AGORAPULSE

BRANDWATCH

HOOTSUITE

HUBSPOT 

SOCIAL MEDIA

LOOMLY

SPRINKLR

SPROUT SOCIAL

ZOHO SOCIAL
Frequency of Evaluation
Each Constellation ShortList is updated at least once per year. Updates may occur after six months if deemed necessary.
Evaluation Services
Constellation clients can work with the analyst and research team to conduct a more thorough discussion of this Constellation ShortList. Constellation can also provide guidance in vendor selection and contract negotiation.
Download Research
Click to Download Report