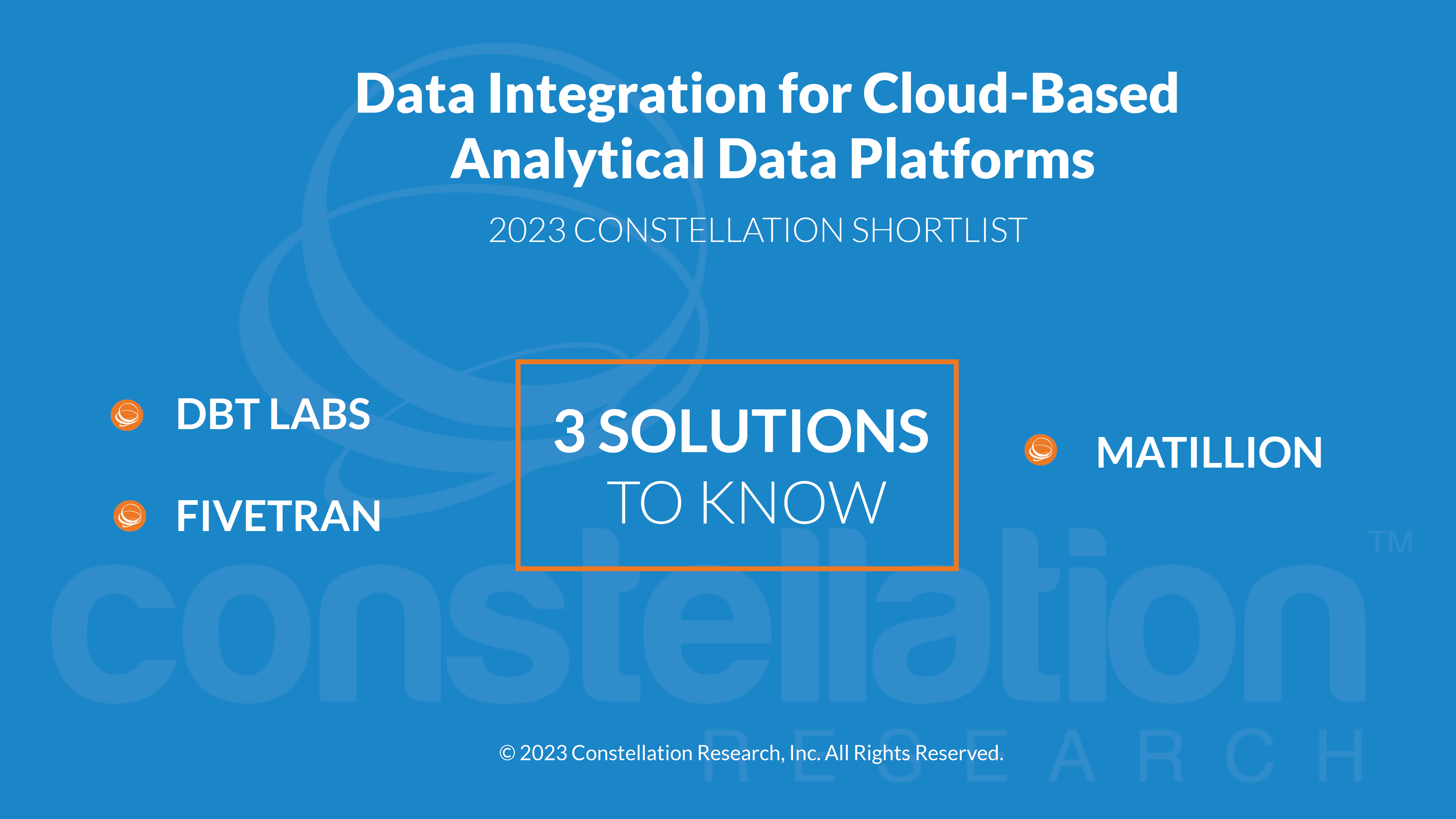 About This Constellation ShortList™
Data integration is a decades-old challenge, but you don't want a decades-old collection of technology (or even a "cloud refresh") to power your spanking-new cloud data warehouse, data lake, or lakehouse platform. These purpose-built tools were created expressly for cloud-native analytical data plat- forms. Among these options you can cover the gambit of modern data pipeline needs, whether it's the initial migration project, bulk data loading, ongoing extract and load oper- ations, near real-time integration, transformation, or data orchestration and downstream data delivery. Some options are built for coding-savvy professionals while others accom- modate data-savvy subject matter experts who can handle a bit of light coding.
Threshold Criteria
Constellation considers the following criteria for these solutions:
Extracts data from a variety of popular sources with pre-built connectors for on-premises and cloud-based applications and databases.
Loads data with scheduling, automation, and latency options ranging from batch to micro-batch to near real-time, change-data-capture speeds.
Supports conventional ETL approaches as well as ELT- style, in-warehouse transformation within popular cloud data platforms.
Provides cleansing, enrichment, and delivery options supporting modern data products.
Supports orchestration, synchronization, write-back, and/or reverse ETL capabilities to ensure consistency among sources, targets, and data/insight services.
Ensures data and data model reusability and solid governance with version control, testing, logging, and alerting capabilities.
Provides multi-cloud deployment and/or service options to speed time to value and ease ongoing systems administration.

Note that cloud practitioners often seek out the right tool for the job rather than all-encompassing (and, inevitably, more costly) suites. Thus, the options on this ShortList may address targeted requirements and user groups rather than all criteria listed above.
The Constellation ShortList™
Constellation evaluates more than 25 solutions categorized in this market. This Constellation ShortList is determined by client inquiries, partner conversations, customer references, vendor selection projects, market share, and internal research.
DBT LABS
FIVETRAN
MATILLION
Frequency of Evaluation
Each Constellation ShortList is updated at least once per year. Updates may occur after six months if deemed necessary.
Evaluation Services
Constellation clients can work with the analyst and research team to conduct a more thorough discussion of this Constellation ShortList. Constellation can also provide guidance in vendor selection and contract negotiation.
Download Research
Click to Download Report