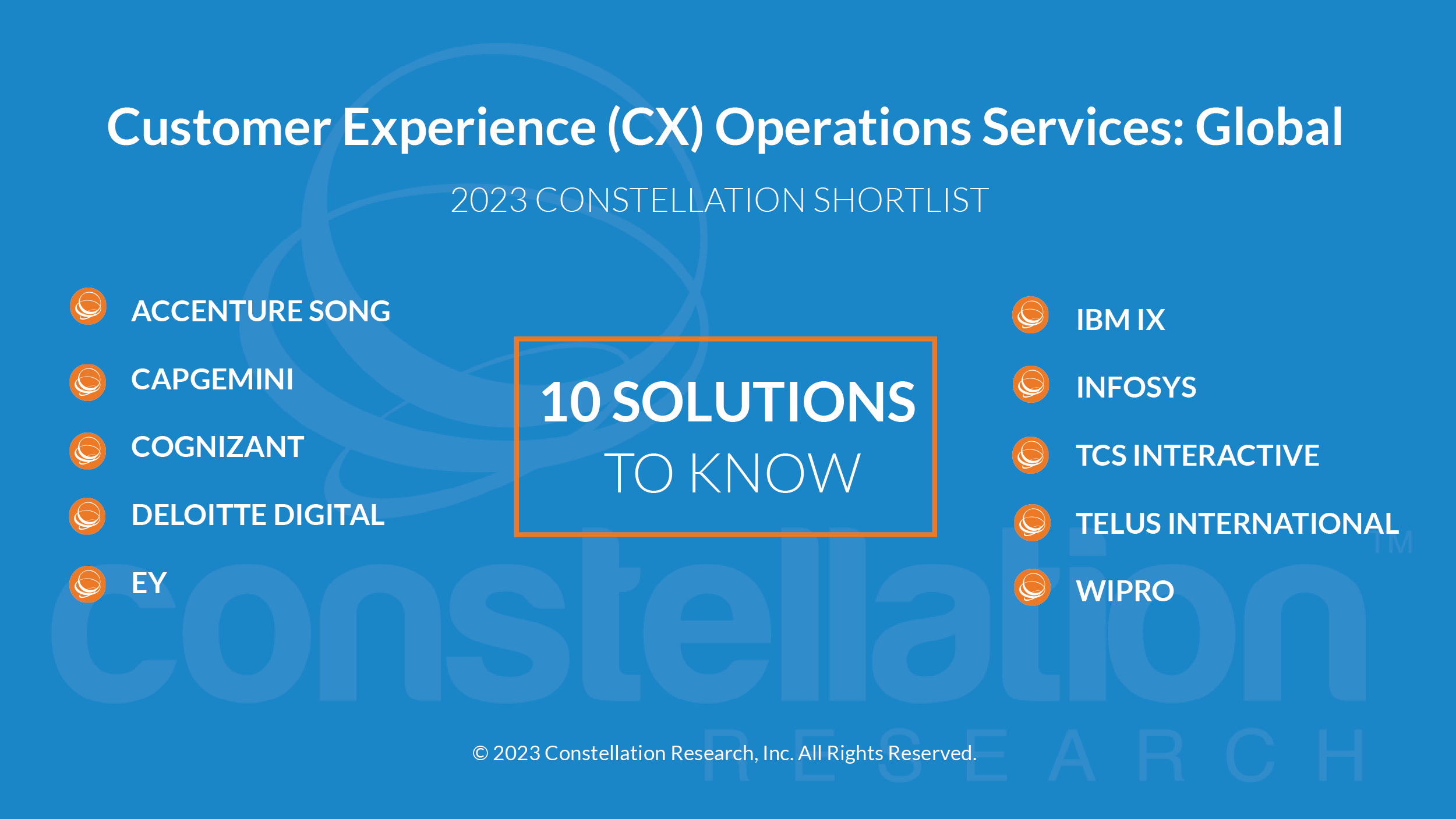 About This Constellation ShortList™
Customer experience (CX) operations services span everything from shaping organization models and defining required technology capabilities to implementing CX technologies and, in some cases, providing technology and operations outsourcing. These services companies help their clients to implement the infrastructure and operational capabilities required to provide consistently good customer experiences. They combine global reach with technology integration expertise, business operations knowledge, change management capabilities and collaborative design processes.
CX services providers work with all functional departments, such as marketing, sales, customer service, supply chain, ecommerce, and IT. They assess and implement the appropriate tools to manage customer interactions across all channels (e.g., email, chat, text, websites, phone, social networks) and devices (e.g., phones, tablets, desktops), and optimize each to make the experience flawless. Because their expertise extends from front-end customer interfaces to back-office systems, they support a range of operational improvements that extend far beyond direct customer interactions.
CX operational services are made up of best practices, strategy design, delivery and testing methodology to guide clients to obtain optimal, customer-centric CX. These firms often create long- and short-term road maps, emphasizing low-hanging fruit and rapid ROI. They may also incorporate a range of design capabilities, including user interfaces, service design and tangible outputs such as physical environments. Increasingly, these firms are guiding AI strategies to better leverage data to enhance, personalize and automate critical customer interactions.
Threshold Criteria
Constellation considers the following criteria for these solutions:
Best-practices methodology
Assessment tools
Art-of-the-possible strategy and technology road map
Customer references
Design and creative space
Differentiated IP
Design-thinking approach
Operating in three continents

Innovation centers

                          
The Constellation ShortList™
Constellation evaluates more than 100 offerings categorized in this market. The Constellation ShortListis determined by client inquiries, partner conversations, customer references, vendor selection projects, market share and internal research.
Accenture Song
Capgemini
Cognizant
Deloitte Digital
EY
IBM iX
Infosys
TCS Interactive
Telus International
Wipro
Frequency of Evaluation
Each Constellation ShortListwill be updated at least once per year. There could be an update after six months, should the analyst deem it necessary.
Evaluation Services
Constellation clients may work with the analyst and research team to conduct a more thorough discussion of this ShortList. Constellation can also provide guidance in vendor selection and contract negotiation.
Download Research
Click to Download Report