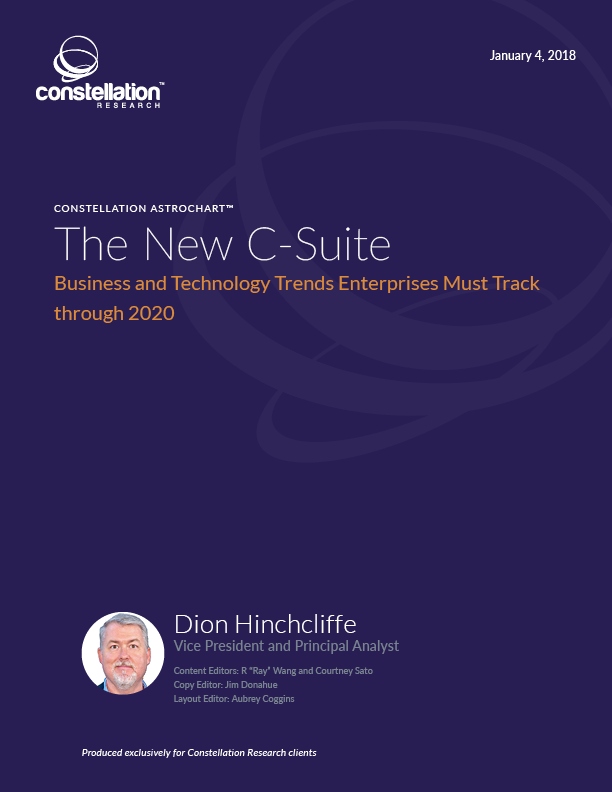 Business and Technology Trends Enterprises Must Track through 2020
The Constellation AstroChartTM supplies a visual guide of the trends impacting the New C-Suite.
After assessing boardroom priorities, organizations should employ AstroCharts to inform portfolio management. This report contains two AstroCharts: one identifying Technology Trends and one identifying Business Trends. The AstroCharts' vertical axes plot "Organizational Adoption" rates from Mainstream to Early Adopter to Bleeding Edge. Horizontal axes plot "Business Impact," the impact of the trend on an organization's business model, from Incremental to Transformational to Exponential. The Constellation AstroChart moves beyond both the hype and constraints of the standard 2 x 2 grid to identify the dynamics impacting the entire market.
This report applies Constellation's AstroChart to Constellation's business theme of the New C-Suite. This market is defined an emerging leadership-centered focus on the business and technology issues impacting the digital enterprise today at the most strategic level. This view is tailored especially for CIOs, CDOs, CMOs, CEO, CHROs and other C-level roles. The topics included in this AstroChart document either have a) broad applicability to the majority of organizations in the near-term or are b) more cutting-edge yet our analysis shows will become a major priority relatively soon (1–3 years.) In terms of inclusion, the Business Trends AstroChart for the New C-Suite covers strategic business topics that are either deeply affected by the modern digital revolution or are actually being created and/or made by possible by it. CxOs are encouraged to become familiar with and uent in these topics as they will drive both top-level opportunity and disruption for most organizations in the vast majority of industries and geographies.
As an aid and planning guide for CxOs, the New C-Suite Business Trends AstroChart will have
some occasional overlap with other Constellation AstroCharts, such as the overall Business Trends AstroChart, though the topics themselves may have updated positions, depending on the maturity and impact the trends have at a leadership level. Use this guide to cut through the noise to identify what matters to senior digital leaders in your organization. 
| | |
| --- | --- |
| New C-Suite business trends | New C-Suite tech trends    |
Open research. Download free of charge. 
Download Research
Click to Download Report