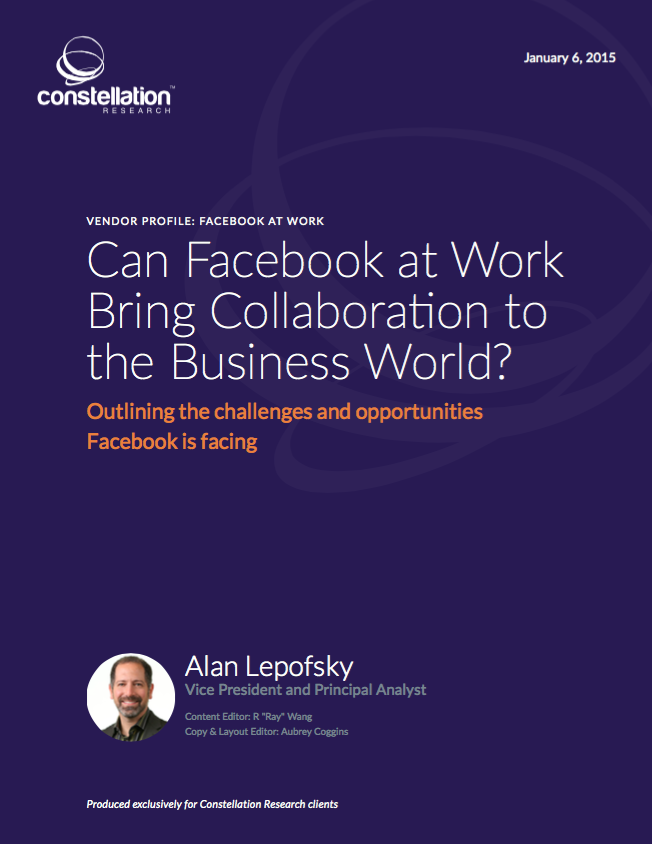 Vendor Profile: Facebook at Work 
Outlining the challenges and opportunitites Facebook faces in the collaboration market
Social networking has become a standard part of most people's personal lives. More than 1.5 billion people are using Facebook to share information, connect with family and friends and stay informed with the latest news and trends. So, why has social networking not yet become the default way for people to work together with their colleagues and customers? 
There are many enterprise social networking solutions available, all of which emulate Facebook to one degree or another. In fact, the champions of enterprise social networking have yet to be declared. Now, Facebook has decided to release its own solution, Facebook at Work. 
On first glance, Facebook at Work is quite mature for a new product with a growing list of marquee brands and enterprises using the solution. This report provides a critical analysis on where the opportunities and challenges users will discover in their quest for an ESN using Facebook. While Constellation believes that Facebook has many elements in play to succeed with its ESN, understanding the enterprise will be Facebook's toughest challenge in succeeding. Given the opportunities and existing install base, customers should take the time to understand how Facebook at Work could play a key role in their ESN success.  
Purpose & Intent:
The purpose of this report is to discuss Facebook's upcoming (estimated H1 2016) enterprise collaboration platform, Facebook at Work. Constellation Research outlines the opportunities and challenges for Facebook as it enters the enterprise software market, and what Facebook at Work means for organizations thinking of using it, as well as business partners looking to develop on the platform. 
Get Access to This Premium Content