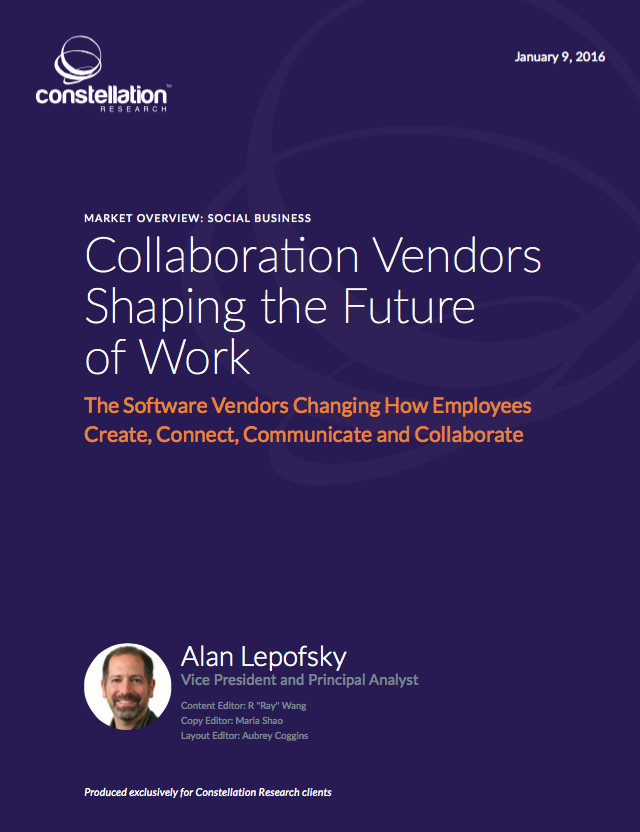 Market Overview: Social Business
The Software Vendors Changing How Employees Create, Connect, Communicate and Collaborate
It seems like each year the list of software that people use to get their jobs done grows. The standard employee toolset includes familiar products such as email, calendar, contacts, word processor, spreadsheet and presentation software. For some people, that list expands to include tools like chat, blogs, wikis, file sharing, task managers, and social networks. Despite the fact that the list of tools is growing, new features are being added, and mobile devices allow us to work anytime/anywhere, the overall way most people connect, communicate, collaborate and create content has not significantly changed. We still all struggle with the back and forth challenges of email. Our calendars are still filled with meeting invitations that provide little context to the subject or follow-up items. Our contact lists are always out of date. We create static documents, charts and graphs and send them around as file attachments. There has to be a better way. 
The software vendors in this report are each challenging the status quo in the way people work. Some of these companies have just a few employees while some have thousands. Some are just starting to get customers while others are well established. Some products are just getting started, while others are more mature. These vendors may not be the category leaders with respect to revenue or number of customers, but they are all visionaries pushing the boundaries in improving the way people get their jobs done. 
The software vendors in this report each show vision in improving the way people get work done. These companies were chosen based on the number of inquiries from Constellation Research customers, information gathered via company and product briefings, customer references stories, and breadth of coverage and momentum in the press. The vendors are listed alphabetically in their respective categories. 
Purpose & Intent:
This report highlights some of the social business software vendors who are delivering innovative solutions that improve the way people get work done. While these vendors may not have the most customers or generate the most revenue in their categories, they each are doing something unique to influence the direction of the future of work. Readers should represent organizations that are not content with the status quo and are always looking to be at the forefront of change. 
Get Access to This Premium Content