Zoom Video Communications' first quarter results were better than expected and CEO Eric Yuan said the company will continue to invest in AI "to help make interactions more meaningful and communications more effective."
The company reported first quarter earnings of $15.4 billion, or 5 cents a share, on revenue of $1.1 billion, up 3% from a year ago. Non-GAAP earnings were $1.16 a share. Wall Street was expecting Zoom to report earnings of 99 cents a share on revenue of $1.08 billion.
Zoom is a key future of work play and appears to be gaining some enterprise traction. The company, which recently closed the purchase of Workvivo, said it had 215,900 enterprise customers in the first quarter, up 9% from a year ago. Zoom added that it had 3,580 customers contributing more than $100,000 in trailing 12 months revenue. Average monthly churn in the first quarter was 3.1%, down 50 basis points from a year ago.
In prepared remarks, Yuan said outlined Zoom's AI strategy, which includes ZoomIQ with generative AI for chat and email composing as well as meeting summaries. Zoom also invested in Anthropic, an AI safety and research company. He said:
"Our partnership with Anthropic further bolsters our federated approach to AI by allowing Anthropic's AI assistant, Claude, to be integrated across Zoom's entire platform."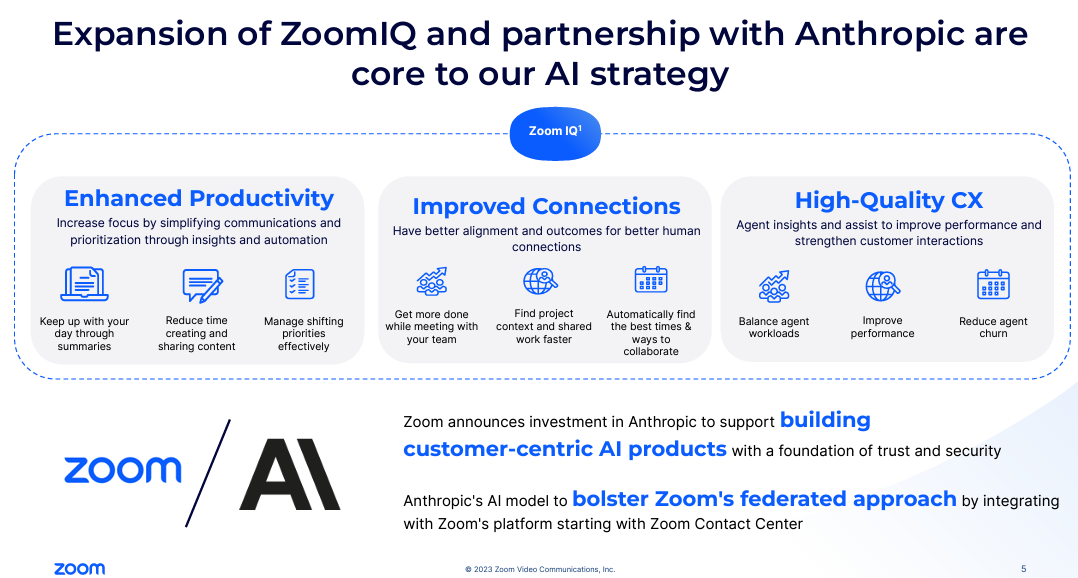 Kelly Steckelberg, CFO of Zoom, said the company is seeing growth in Americas with macro economic headwinds in the rest of the world.
As for the outlook, Zoom raised its guidance. For the second quarter, Zoom said revenue will be between $1.11 billion and $1.115 billion. Non-GAAP earnings will be between $1.04 to $1.06 a share.
For fiscal 2024, Zoom is projecting between $4.65 billion and #4.48 billion with non-GAAP earnings between $4.25 and $4.31 a share.