OpenAI's ChatGPT-4 may be coming to a real estate traction near you as Zillow and Redfin start testing the generative AI technology in their applications.
The two moves highlight how companies are integrating ChatGPT-4 into their customer experience roadmaps. Zillow and Redfin customers have to join OpenAI's ChatGPT plugins waitlist to try out the new tools.
In Zillow's shareholder letter that came with the company's first quarter earnings, the company said:
"The past few months have marked a tectonic shift in the broader technology landscape with the introduction of OpenAI's ChatGPT-4. The arrival of conversational generative artificial intelligence (AI) may be a platform shift on par with the introduction of the graphical user interface or the touch interface on the first smartphones. "
Zillow noted that it has been using AI, machine learning, computer vision and data science since 2006. The company's well-known Zestimate for properties uses machine learning algorithms to crunch data. In February, Zillow outlined its Neural Zestimate, which is based on deep learning to reflect market trends nationally.
Generative AI guide: ChatGPT: Hype or the Future of Customer Experience
The company launched its alpha-version plugin for Zillow real estate searches with ChatGPT. According to Zillow, the alpha-version plugin is "a small sandbox in which we will learn and iterate rapidly."
Redfin also announced that its ChatGPT plugin is now available. Redfin said the ChatGPT plugin will enable customers to describe ideal neighborhoods to find listings to suit their needs. The results will drive Redfin users to listing pages that meet their criteria.
Both Zillow and Redfin are navigating a volatile housing market amid inflation and increasing interest rates. The bet for the real estate rivals is that they can capture more demand by investing through the downturn.
Here's how Zillow sees the ChatGPT integration working.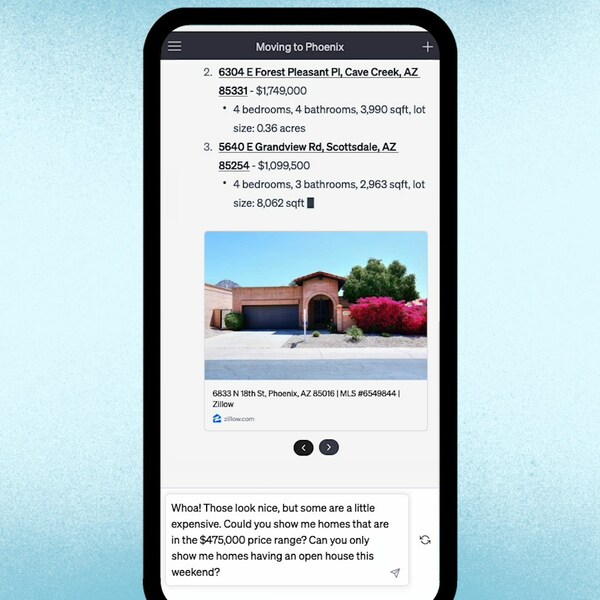 And here's Redfin's approach.