The theme for this year's Dreamforce was centered on Salesforce's passionate group of customer Trailblazers. Although the big-bang product announcement was missing at this year's Dreamforce, the event had a more personal feel with several Trailblazer stories on how becoming a Salesforce admin changed people's careers/lives, such as
Stephanie Herrera
's story going from working in a cotton field to becoming a Director of Technology.
The "big" announcement of the year was the newly revitalized partnership with Google and the launch of five new apps including mySalesforce, myEinstein, myTrailhead, myIoT, and myLightning for customers to customize their AI, learning, or User experience. Looking at my coverage areas of Sales Cloud and Marketing Cloud, several Einstein-enabled features and updates were added to the platform. Don't underestimate these incremental updates and improvements to the product, I found several small but impactful features that will help marketers and sellers be more productive and focus their attention on what really matters - the customer.
My takeaway was that this year's Dreamforce was all about enabling the Trailblazers - the front-line sellers, marketers, and service agents to reduce the amount of time spent on tedious administrative tasks. Here's a summary of the announcements in Sales and Marketing Cloud that I want to highlight to sellers and marketers:
Sales Cloud
Einstein Forecasting - Leveraging predictive forecasting capabilities gained from the Implisit acquisition, Salesforce announced Einstein Forecasting back in September. The solution uses machine learning to analyze the data housed in Salesforce CRM with a variety of internal and external factors such as historical performance, customer engagement, etc. to provide individual and team level sales forecasts. The demo during the Sales Cloud keynote showed how a sales manager would receive a mobile notification of a quota gap and with three clicks, drill into team performance, the individual seller, and the individual opportunities to view Einstein's findings to address the gap.
POV: This proactive alerting process helps CROs and sales leaders have instant access to what has changed in the deals to take action. With overall sales cycles lengthening in B2B deals, this feature enables faster response times for sellers and their management to proactively work with prospects or find other opportunities to address the quota gap. For customers on Salesforce Classic, to get the most out of Einstein capabilities, Salesforce is messaging on migration to the lightning platform hard. In the keynote, Sara Varni, SVP of Marketing for Sales Cloud emphasized that there are more than 700 features exclusive to Lightning.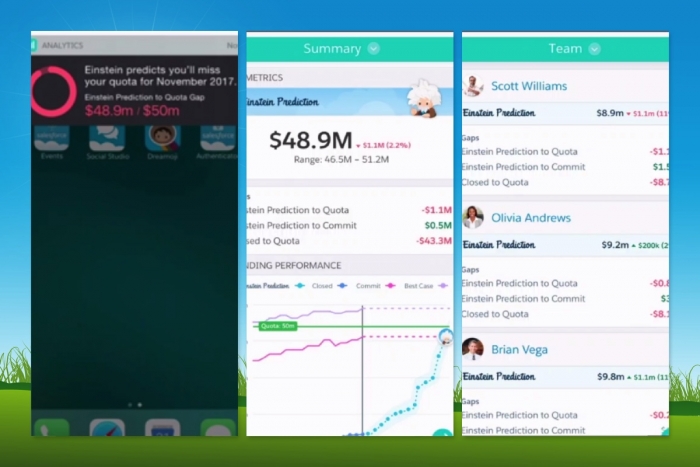 Image Credit: Collage of Einstein Forecasting assembled with screenshots from the Sales Cloud Keynote
Marketing Cloud
Salesforce DMP (formerly Krux) - A year after the Krux acquisition was announced, Salesforce has re-branded the product Salesforce DMP and it has become central to the B2C Marketing Cloud value proposition. The solution enables marketers to gain a deeper understanding of the customer/consumer by segmenting them to find the correct target audience and capturing their cross-channel activity signals for better personalization. Coming in January is the two-way integration of DMP with the marketing cloud.
Google Partnership - The integration of Google Analytics 360 with Marketing Cloud will enable customers to have a complete online/offline view of web visitors with the data directly accessible in a variety of Marketing Cloud dashboards including the "Journey Analytics Dashboard" (screenshot below). The Google integration will be with Sales Cloud as well and according to the press conference, available to customers in the first half of 2018.
POV: "Show me the Data". Data is the new currency and the marketing keynote emphasizes the importance of empowering marketers with the right data through Einstein, Salesforce DMP, and the Google Analytics integration. Based on my past personal experience, it was always a challenge to marry Google analytics website and Adwords data with my marketing automation solution. This is a win for Salesforce Marketing Cloud customers. Also of note is a meeting I had with a major technology company (NDA) customer of Salesforce. This customer, the VP of Marketing, shared that the company successfully implemented Pardot, Marketing Cloud, and Social Studio in three months. The customer stated that they are getting better insight into the customer and able to provide more personalized marketing than ever before. The company is now in the process of implementing Salesforce DMP.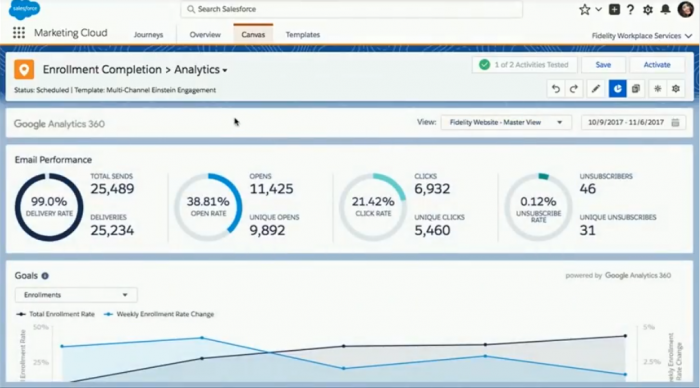 Image Credit: Demo of Google Analytics 360 integrated with Salesforce Marketing Cloud
I was able to attend a few breakout sessions including an important one on GDPR led by Salesforce's Chief Privacy Officer Lindsey Finch. My thanks to Lindsey for contributing a tip to my report, A Guide to GDPR Compliance for Marketers.
Several of my colleagues attended Dreamforce and provided their perspective on the event based on their coverage area. We will also have a more in-depth report on the event coming soon. Here's a summary of Constellation's Dreamforce takeaways:
 
Finally, here's my collection of tweets from #DF17 on Storify: