I was on a briefing call earlier this week with ICANN board member and CTO of Afilias Ram Mohan about the need for the technology industry to adopt Universal Acceptance (UA) standards for websites and email domain extensions. UA is defined as a technical compliance process that ensures that all domain names and email addresses can be used by all internet-enabled applications, devices, and systems. Simply put, UA is the ability to have domain name extensions in local languages beyond today's ASCII and latin based characters, especially important in this age of globalization. An example would be ".photography" and  ".рф" for "Russia" in the Cyrillic script or ".info" and ".訊息" in Chinese. Our universe of available domains under the current two to three character limits is shrinking, and many companies are making naming decisions based on one key criterion - is the domain name available?  UA opens up additional opportunities to expand into branded in-language domains; particularly helpful to global Chief Marketing Officers (CMO) who owns their organization's list of domains as part of branding. 
The Universal Acceptance Steering Group (UASG) is currently focused on influencing the developer community. I have a different perspective and see UA as a broader customer experience issue that will impact any technology that facilitates the capture of customer or prospect contact information including CRM, Marketing Automation, and Commerce platforms just to name a few. I believe the UA issue warrants the attention of the broader C-Suite including CMOs, Chief Digital Officers, Chief Customer Officers, and Chief Revenue Officers and here's why:
There are currently over 3.5 billion internet users or about 40% of the world's population according to Internet Live Stats. The majority of new users will come from non-latin based language countries. In-language domain names are gaining popularity and as these customers try to purchase products or sign up for offers with their email address, the web forms will need to have the ability to capture, validate, process, and store these new email extensions. "Failing" the form with an error message due to not recognizing the domain extension can result in the loss of the sale. The slide from the UASG below illustrates the issue: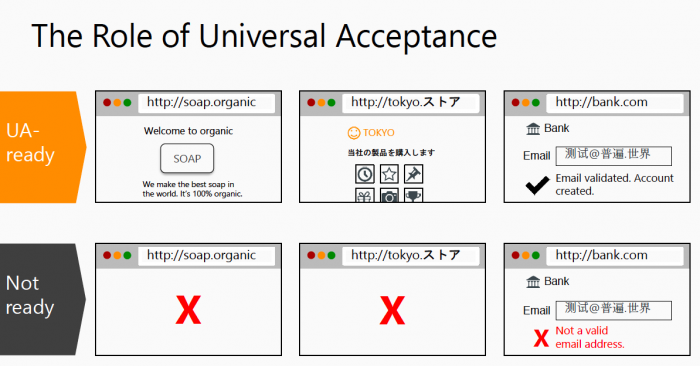 Image source for the slide and header photo: Universal Acceptance Steering Group (UASG)
There are precedents for web standards such as the World Wide Web Consortium or W3C. The goal is to have Universal Acceptance become a web standard in the future. According to Ram, over 120 global organizations including Apple, Google, GoDaddy, Microsoft and more, are currently engaged with the UASG. I also recommend the CRM, sales, marketing, and commerce solution providers to look into and plan for UA compliance as well. More information on Universal Acceptance can be found at 
https://uasg.tech
.