New research report, Nintex: Creating Workflows that Enable Digital Transformation, provides a vendor profile and buyer's guide of Nintex
Disruption surrounds the marketplace. As companies face disruption in their industry, the race to stay ahead of or beat the competition is quickening. Software is one of the ways companies competitively automate, manage and analyze business processes, data and content and scale operations. And to successfully compete in this increasingly digital world, enterprises need to transform slow, error-prone operations from manual, analog processes to automated digital workflows and document generation.
However, as various departments in companies buy software applications, often the lines of business are choosing the best of breed solutions and platforms which don't necessarily easily integrate with each other or the main IT systems. This results in companies having many separate software systems. With people distributed over large geographies, it can be difficult to coordinate work across the business and thus defend against competitors.
While obtaining the right software for each department and use case is important, this often leaves the organization without a way to easily connect the work flows across departments and lines of business to get the return on investment. What is the key to winning the digital transformation race? A digital business process flow platform.
Businesses that drive process efficiency and effectiveness across desperate software solutions and across every aspect of their business will be uniquely qualified to position themselves to exceed and excel. To do this, companies need a platform to digitally integrate, sync and create sophisticated business processes independent of the variety of different software solutions throughout the various departments in a company.
The issue is however, not just to connect SaaS applications, but to also provide process automation to make sure the processes from each of those applications work together well. Without a digital workflow and content automation (WCA) platform and corresponding analytics, it can be very difficult to make sure the investments the organization has made in separate software solutions are actually returning the investment. Nintex does just that.
Competitive Positioning
Nintex's key differentiator is they offer a digital transformation platform comprised of Nintex Workflow Cloud and Nintex Hawkeye. The host of Nintex's digital SaaS connectors allows clients to rapidly build and deploy a digital workflow and content automation (WCA) and cloud transformation platform without having to write code. The business result is the ability to acquire customers faster, increase the pace of innovation, as well as control and management expenses. The platform allows organizations to automate their business processes quickly and easily. And the drag and drop interface encourages quicker adoption of the Nintex solution. Importantly, any workflow automated with Nintex Workflow can be deployed to native mobile platforms (Android, iOS and Windows) in a rapid and simple manner.
The Nintex platform automates processes on and between enterprise content management systems and collaboration platforms, connecting on-premises, cloud workflows and mobile users. Two hundred of the Fortune 500 companies use Nintex, including more than 7,000 public and private organizations in 90 countries, running millions of workflows daily.
For companies that are not ready to move everything to the cloud, Nintex also allows companies to create workflows that stretch across both cloud-based and on-premises systems and services, to distribute work to multiple sites for multiple purposes and move data and workflows to the cloud when they are ready.
Nintex's overall power is as a Digital Business Platform (DBP). Nintex combines powerful Workflow and Content Automation (WCA) capabilities in one platform. (Editor's Note: WCA is an emerging technology category that consolidates the legacy technology markets of Business Process Management (BPM) and Customer Communications Management (CCM).) Nintex offers advanced WCA for its easy-to-use workflow and document generation capabilities and workflow analytics (workflow process intelligence).
Target Markets and Industry Vertical Solutions
Target markets include Communications and Media, Education, Financial Services, Government, Healthcare and Life Sciences, Legal, Manufacturing, Professionals Services, Retail Services and Technology industries. Nintex solutions are designed for a range of lines of business within organizations, including Sales and Marketing, Finance, Human Resources, IT and Administration, Customer Service, Field Service and Safety.
High-payback document processes that are faster to implement with a system like Nintex include those in Table 1, customer-facing processes as well as back-office processes (see Table 2b and 2b.) What's important to note is that the implementation timeframe and costs are fractions of a traditional enterprise-level IT system and instead of using a single, formal, top-down development effort, they are evolved with rapid iterations. This takes a page out of the lean-process, design-thinking community, where rapid iterations and pivoting is key to success and gives large organizations not used to the start-up mentality the edge to be more competitive, quicker.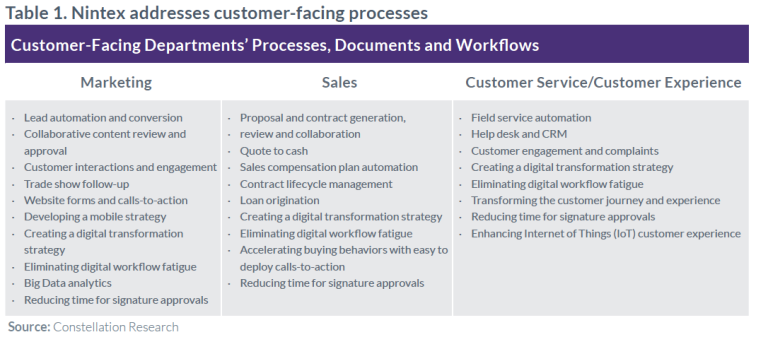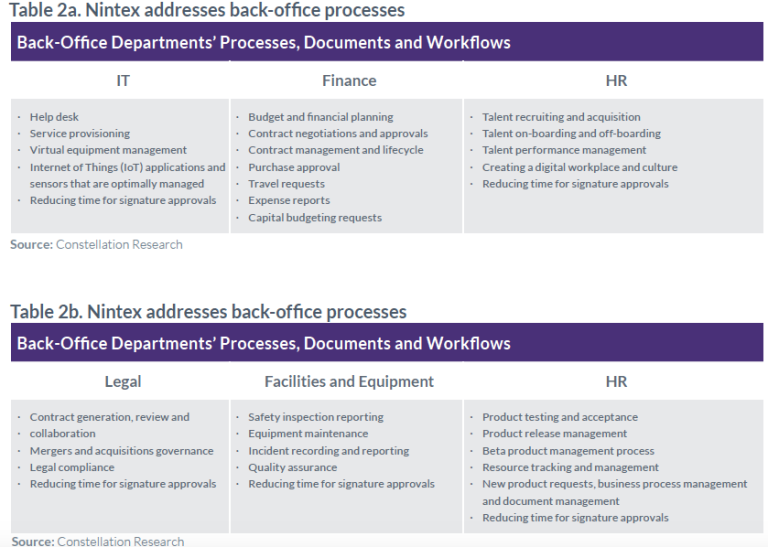 Customer References
In speaking to Nintex customers our research found that many of the gains came from having an easy process to execute on their digital transformation. This might include moving to the cloud, reducing the number and complexity of workflows like creating and approving a press release, signing and approving contracts, reducing resources and reassigning them to more important jobs as well as reducing the number of software applications used by the company.
The savings in time for enhanced workflows advanced the company's position in the marketplace, get to market faster and beat the competition. In addition, IT departments were able to be more focused on the needs of the business versus being taxed with the maintenance of many separate software applications. This took their time and focus away from the direct needs of the business. By implementing Nintex, the relationship between the lines of business and IT were greatly improved. With the ever changing dynamics in IT, the IT department needs to be highly agile and flexible in the solutions they provide for the business. Nintex provides IT with what they need to deliver the business what they need. This makes IT more relevant than ever, which is especially key when many lines of business are buying their own software. IT can play a key role in the success of the business.
Are you looking to digitally transform your business? Have you determined which processes are slowing the digital transformation of your business? And do you have a solution to take those manual, error-prone processes and digitally enable them? This report will help you in choosing a vendor that can help you with just that.