Informatica is adding generative AI to its CLAIRE enterprise data management engine as it added a bevy of new capabilities to its Intelligent Data Management Cloud (IDMC).
The launch, outlined at Informatica World in Las Vegas, highlights the intersection between data management, cloud and generative AI.
Informatica launched CLAIRE at Informatica World in 2016. CLAIRE aims to automate the process behind creating data classification so customers can analyze metadata and data faster. Informatica estimates that CLAIRE can reduce the time it takes to curate and create classifications by more than 70%.
With the CLAIRE GPT launch, Informatica will feature a data management platform with AI copilot tools at scale. CLAIRE processes more than 54 trillion monthly transactions for customers. Informatica CEO Amit Walia said CLAIRE GPT will enable data users to reduce time spent on data management tasks by anywhere from 25% to 80%.
"Enterprises will finally be able to fully open the doors to more non-technical users who have wanted a seat at the data table," said Walia.
CLAIRE GPT will be in preview in July. "While the overall verdict on the quality of generative AI for full code is still out, we know it is performing very well for smaller tasks like scripts for DevOps, ITOps, data movement and treatment and more," said Constellation Research analyst Holger Mueller. "So, it is good to see Informatica taking up generative AI with ChatGPT now, the expectation is that it will free developers time to build more code instead of working on data plumbing."
Related: Constellation ShortList™ Master Data Management | Constellation ShortList™ Metadata Management, Data Cataloging and Data Governance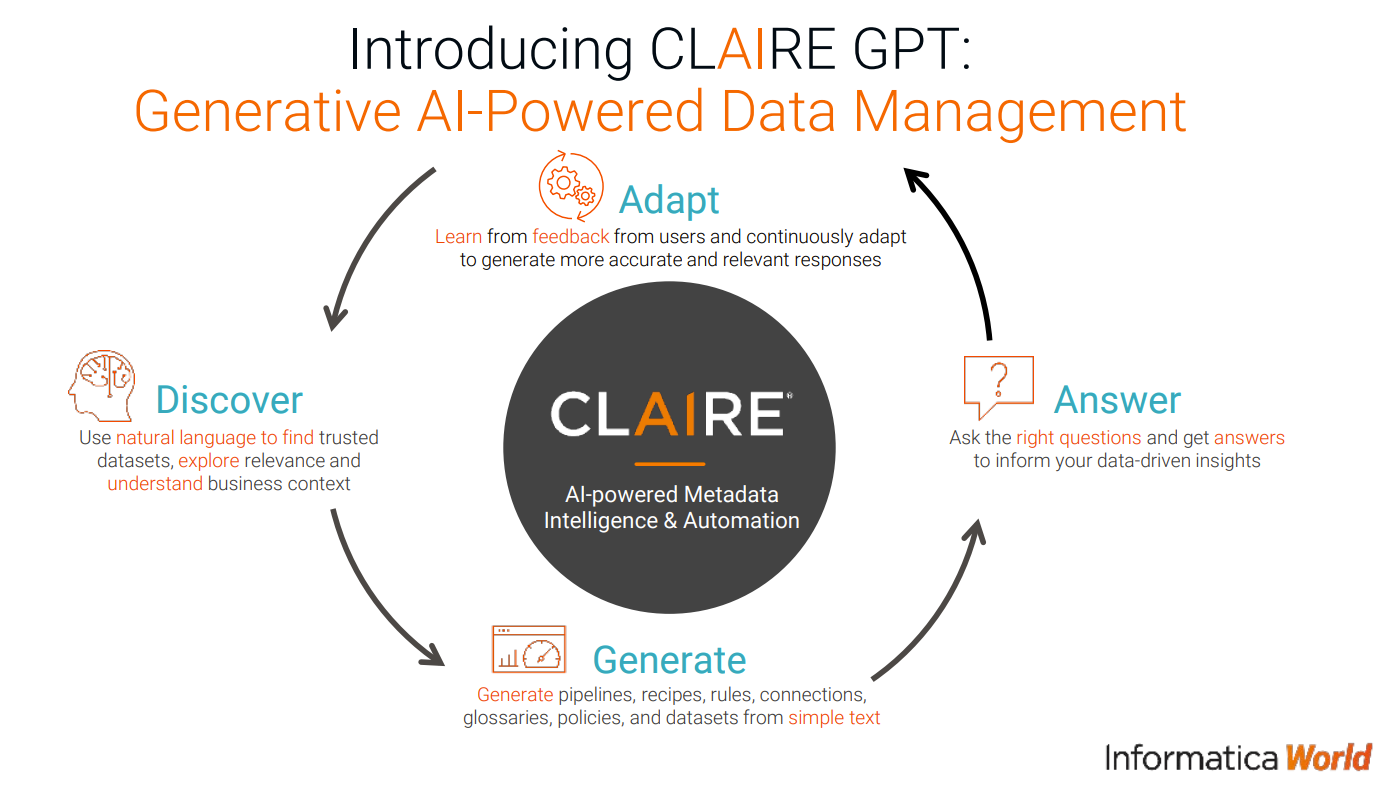 Informatica also announced updates to IDMC including:
Extensions to CLAIRE's ability to automate more data management tasks and processes. New AI copilot tools will generate data classifications with no manual inputs, infer data lineage and create automapping.

New services for data engineering, data observability with quality and master data management tools to cover 360 use cases.

IDMC for ESG. IDMC for ESG Sustainability is part of Informatica's push to take IDMC more vertical for industries. Informatica already has versions of IDMC for government, financial services, healthcare and retail among others. With IDMC for ESG Sustainability Informatica is wrangling ESG data for regulatory compliance, measuring impact and improving standards. See: 

Constellation Research 2023 ESG 50 highlights rise of Chief Sustainability Officers

Cloud migration features with Cloud Data Integration for PowerCenter to speed up migrations to the cloud.

Cloud security features including Private Link via AWS or Microsoft Azure, Customer Managed Keys and Secure Agent Key Vault. AWS Private Link launched last year, and Azure will arrive in Summer of 2023. Customer Managed Key will arrive in Spring 2023 and Connect Secret Vault lands in the Fall.

IDMC will also run as an Azure Native ISV in the second half of 2023. Informatica Cloud Data Governance and Catalog will also run native on Azure.

Informatica also outlined ISV Innovate, a program for software vendors to work on top of IDMC.
New workloads drive cloud bookings
The launches come a week after Informatica reported its first quarter results. Walia said on an earnings conference call that 90% of new cloud bookings in came from new workloads. The remaining 10% of new cloud bookings came from customers migrating from on-premises maintenance.
Like other vendors, Walia said Informatica is seeing longer sales cycles as customers are cautious given economic uncertainty. However, Informatica reiterated its 2023 outlook calling for annual revenue between $1.57 billion and $1.59 billion.
In the first quarter, Informatica had 208 customers spending more than $1 million in subscription annual recurring revenue. According to Informatica, 1,921 customers were spending more than $100,000 in subscription ARR.
Informatica reported first-quarter revenue of $365.4 million, up 1% from a year ago, with a net loss of $116.35 million, or 41 cents a share. On a non-GAAP basis, Informatica reported earnings of 15 cents a share.
Walia said that customers are optimizing spending and good data management plays a part in that. For companies to leverage generative AI, they'll also have to have good data, which can drive demand for Informatica.
He said:
"To actually leverage generative AI and to do something within an enterprise, it actually will become paramount to have good data. If you're going to automate the shop floor of a manufacturing plant, you can't afford to get it wrong. So, data becomes very important.

The quality of data becomes very important. You're going to make a decision out of a data model, and then you will basically let that run at scale.

We believe that this will all be a tailwind to us. Metadata will become the data language model with an enterprise."