Constellation's latest report, the Constellation 2018 Digital Transformation Study, examines the state of digital transformation among the first movers, early adopters and fast followers that constitute Constellation Research's subscriber base.
This report is based on findings from the Constellation Research 2018 Digital Transformation Survey, in which Constellation asked survey respondents to identify the major priorities of their digital transformation efforts today, who is leading digital transformation, impediments to digital transformation, challenges that particularly vex executives, the state of implementation of emerging technologies, the state of investment in maturing digital technologies, workforce issues and digital transformation's impact on innovation in the enterprise. 
While organizations' digital transformation strategies may have varied goals and challenges, one thing is clear: with 68 percent of respondents reporting positive ROI for digital transformation strategies, digital transformation is now a profitable endeavor, and many are enjoying its results (Figure 1).
Figure 1. Return on Digital Transformation Investment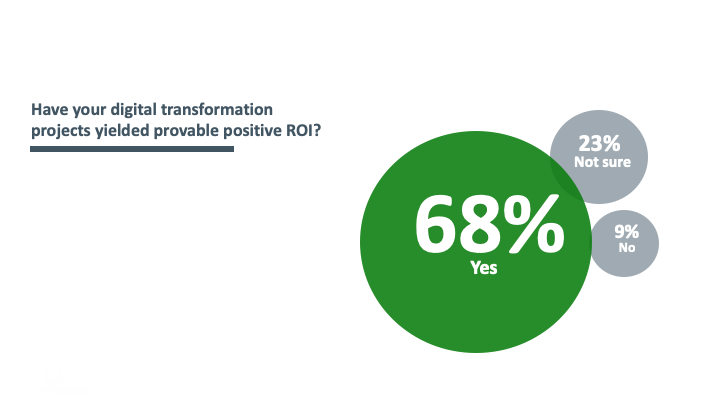 The Goals of Digital Transformation in 2018
Constellation asked respondents to identify the three most important goals of their organization's digital transformation strategy.
Collectively, the top five goals of respondents' digital transformation are as follows: reaching and engaging customers more effectively, at 50 percent; building a competitive advantage in the current market, 46 percent; implementing new, data-driven business models, 36 percent; increasing revenue, 35 percent; and modernizing legacy IT systems and processes and reducing costs, 31 percent (Figure 2).
Figure 2. Digital Transformation Goals in 2018

Read about leadership trends, impediments, investment in emerging technologies and more in the full-length study. 
This report is part of Constellation's open research library. Download a free copy of the report here: Constellation Research 2018 Digital Transformation Study