A few weeks ago in San Francisco, I attended my first Anaplan Hub conference along with over 1500 other attendees. This year's Hub marked a new milestone for Anaplan with the debut of new President and CEO Frank Calderoni. A noted tech veteran, Calderoni previously served as the CFO of Red Hat and Cisco. In the keynote, Calderoni emphasized his commitment to deliver the promised innovation to customers with the company's "significant" investment in R&D. Calderoni also cited that the company's momentum is strong, adding 250 new customers in the last year. While Anaplan has broad business planning and modeling capabilities, I want to focus specifically on the sales performance management and marketing operations areas of their platform in this blog.
Anaplan has experienced solid traction in the financial and sales performance management arenas but their marketing operations planning capabilities have been in a supporting role. Often, the marketing use cases are uncovered after the platform is deployed in another department. According to Anaplan's Chief Marketing Officer (CMO) Grant Halloran, the company's sales performance management and commission modeling solutions are core but the marketing budgeting and planning solutions are gaining traction.
With the CMO's budget increasing as they take on more responsibility along with a diverse mix of channels, geographies, verticals, etc. to support, solid planning is critical to their success. With ROI to justify, more CMOs need the insight required to cross-reference between what's happening outside of marketing in sales, service, and finance. The common process for most mid-sized company's marketing departments involves running spreadsheets to manage a diverse mix of martech, adtech, campaign, and content spend. Unfortunately, spreadsheets just don't cut it anymore when looking to perform more complex marketing-to-sales forecasting. Anaplan's marketing planning solution provides goal-based modeling and the ability to parse budget allocations with a broader view into the data from CRM, marketing automation, and finance systems.
From my vantage point, what I saw at the Hub event was planning software that bridges the sales and marketing divide, particularly with the preview I received on their upcoming account based marketing (ABM) solution. In my view, Account Based Marketing is beyond marketing, it requires the organization to align to what I'll call an account based strategy (ABS) for marketing, sales, and service. The problem with most of the "ABM" solutions on the market are that they provide a specific view into a specific area of campaign execution, marketing engagement, ad placement, data augmentation, etc. Anaplan's upcoming solution fills in the white space currently in the market by providing insight into how to plan and re-align budgets, territories, quotas, account distribution, to make an account-based strategy successful. Anaplan's solution provides the ability to perform sales rep territory and quota planning by account, which helps ensure the alignment of compensation and fairness in account distribution. Account, engagement, and intent scores help provide insight into overall prospect close-viability and the ability to allocate budget by vertical, geography, etc. provides a method for marketers and sellers to determine if there's enough money to fuel ABS activity. Anaplan's solution looks like a good complement to the other ABM solutions out in the market. Please note that this was a pre-launch preview I received, but Anaplan's been using the product in-house for their own marketing and sales efforts. As I hear more use cases with customers, I'll update my findings.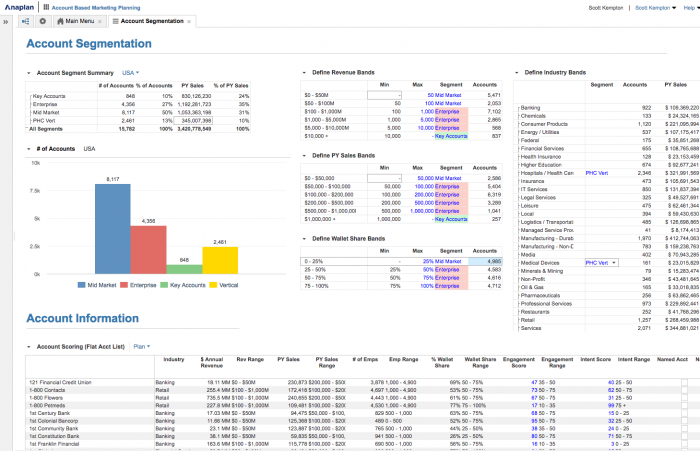 Screenshot of account segmentation configuration courtesy of Anaplan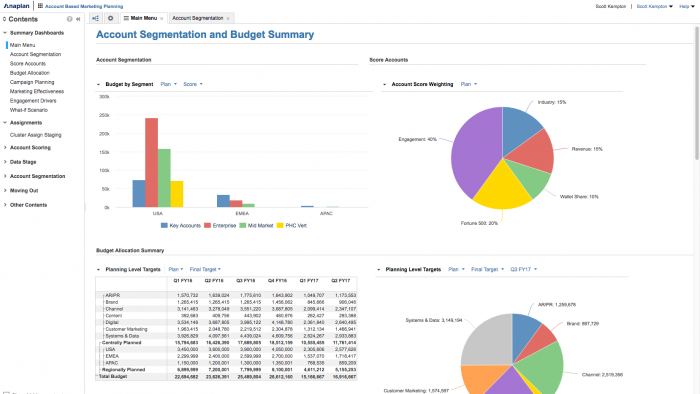 Screenshot of account segmentation to budget dashboard courtesy of Anaplan
Regarding Sales Performance Management, a few casual conversations I had with Anaplan customers during the conference highlighted their love of Anaplan's quota and commission management solution. One customer, a publicly traded multinational software and engineering services company, stated that with Anaplan they removed much of the headaches associated with territory division, account distribution, and sales commissioning. As a result, sales reps were paid two months faster than before. Through Anaplan's integration with the company's CRM solution, sales reps can see where they stand at any given moment and the sales ops team is no longer bombarded with questions.
Combine solid customer growth, a new CEO, and innovation such as this promising Account Based Planning solution, and Anaplan has the ingredients for continued growth to fuel the IPO buzz.
Finally, kudos to Anaplan for having one of the most inspiring keynote speakers I've come across in years of hosting and attending events, former NASA Astronaut and the first women of color in space, Dr. Mae Jemison. Dr. Jemison is an inspirational role model and I know her upcoming Lego figurine will propel more girls to enter STEM fields.
Below is a Storify collection of my tweets from Anaplan Hub17 and my colleague Doug Henschen, who has been covering Anaplan longer than I have, also wrote a great blog comparing this year's Hub with prior year events. Read his thoughts
here
.