Boomi says customers want more than integration from integration platform as a service (iPaaS) providers. Automation and AI headline next steps unveiled on the Boomi World Tour.  
Boomi unveiled its evolved "Intelligent Integration and Automation Platform" on October 3, with the intelligent part being Boomi AI. It's an advancement over the company's existing artificial intelligence capabilities, but the headliner in Boomi AI is the addition of, you guessed it, generative AI capabilities.
The announcements, made in Silicon Valley during the first stop of the five-stop Boomi World Tour, marked the first big strategic moves spearheaded by Boomi CEO, Steve Lucas, who took the helm of the company in late 2022. Lucas previously served in executive roles with iCIMS, Adobe, SAP and Salesforce, so he's used to leading companies in competitive enterprise markets. The change in leadership came 18 months after Dell's 2021, $4 billion sale of Boomi to private equity firms Francisco Partners and TPP Capital.
During his keynote, Lucas emphasized that integration alone is no longer enough for organizations to overcome "digital fragmentation." Of course, Boomi is no stranger to supporting more than application and data integration, having added Flow (workflow and automation), API Management, Master Data Hub, and Data Catalog & Preparation components to its platform over the years. But Lucas is driving the company to do more. Several customers I spoke to at the event echoed Ken Maglio of customer World Wide Technology, who said, "He seems to have lit a fire a under everyone's feet to lead the industry."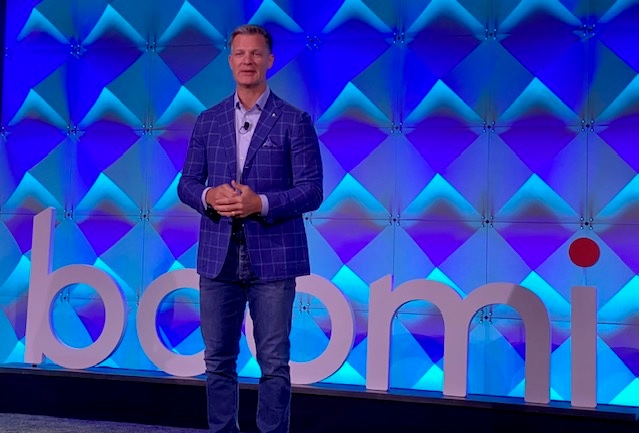 Boomi CEO Steve Lucas announces the 'Intelligent Integration and Automation Platform' to kick off the Boomi World Tour.
A recent step toward broader and deeper iPaaS capabilities was Boomi's June 2023 release of Boomi Event Streams. The new message queueing and streaming service manages and monitors event-driven connections through a unified user interface, enabling customers to sense and respond to sudden changes in execution, performance, risks and customer opportunities.
Boomi is also no stranger to AI and machine learning (ML), having introduced Boomi Suggest, an ML-based integration recommendation feature, way back in 2010. It added Boomi Resolve, a predictive assistance feature, in 2014. This spring, Boomi added Boomi Quick Start, a no-code, question-and-answer-based approach to building application and data integrations and automating business processes. All three features leverage the de-identified knowledge graph of more than 200 million integrations handled on Boomi's cloud-based platform over the past 20 years.  
Boomi AI, last week's big announcement, brings together Suggest, Resolve and Quick Start into a broader AI platform that now also includes Boomi GPT. Built on a composable AI framework that can swap in and out the models that best fit. Examples of open source LLMs include LLaMA, LLaMA2 and others, as well as other advanced ML models and techniques. Boomi GPT will enable users to generate and explain new integrations and automations through natural language interactions. On the roadmap is enabling Boomi GPT to generatively document and explain existing integrations on the Boomi platform -- a useful addition for times when integrations or automations were developed by people who have since left the organization.
Boomi GPT is generally available today through a new Pro-AI Edition of the Boom Platform. Additional Boomi AI capabilities including Autonomous Orchestration, Autonomous Management and Special Connectors are set for release through a separate Enterprise – AI Edition of the platform set for release some time next year.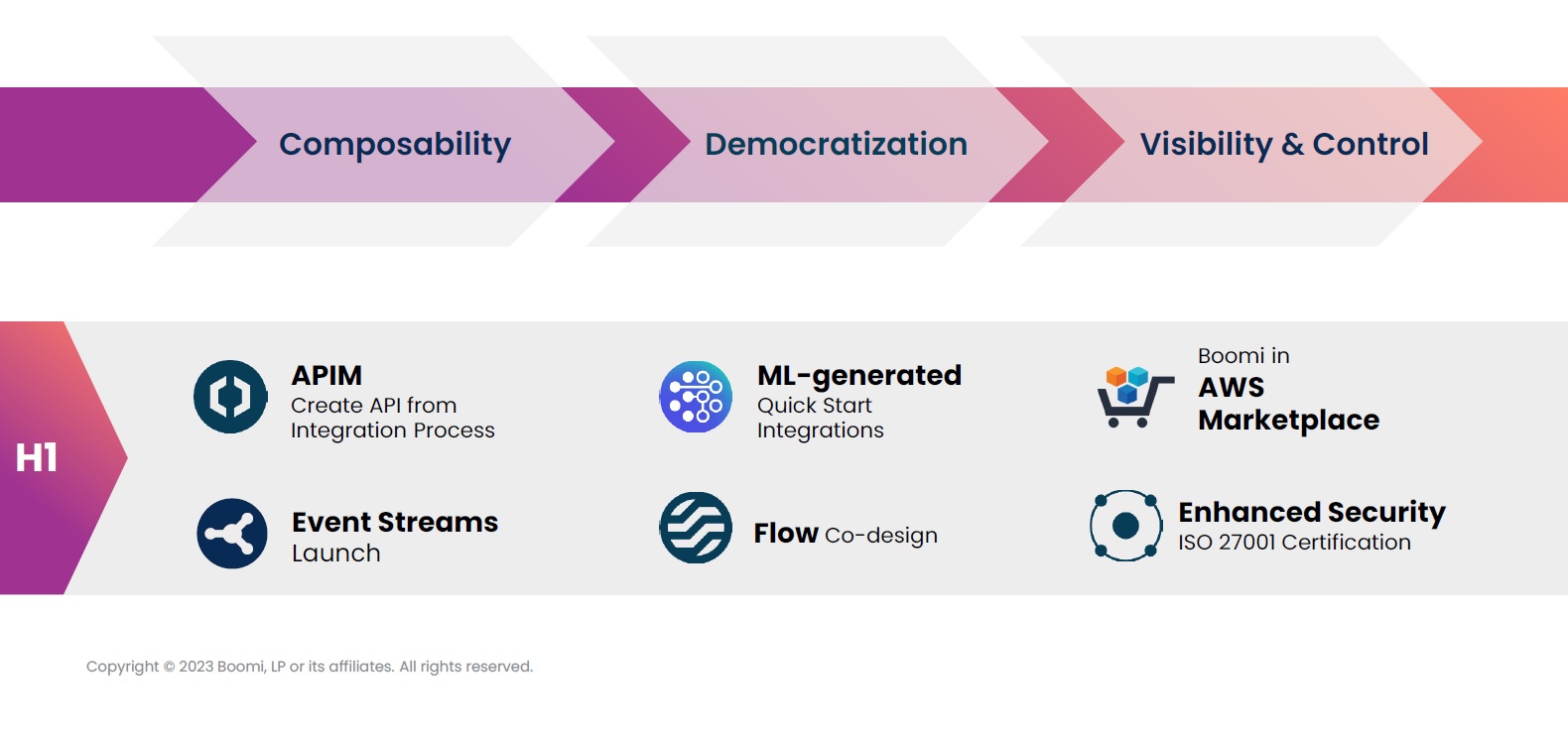 Boomi detailed 2023 platform composability, democratization and visibility and control improvements including the introduction of Event Streams and Boomi GPT.
As the many GenAI announcements made this year demonstrate, any software vendor can access open source LLMs and cloud compute capacity. Indeed, several iPaaS vendors have made GenAI announcements in recent months. So how do such offerings stand apart?
Boomi's AI will be differentiated, said Ed Macosky, Chief Product Officer, because the vendor can train AI models (on a private, internal cloud) against its massive, de-identified knowledge base of more than 200 million integration patterns. It's a dynamic resource that will support continuous optimization, as integration points and pipelines and automation patterns constantly evolve.
Constellation's analysis. In Constellation's view, having more data will absolutely give vendors with more customers and longer history AI advantages, but before this year, generative AI features weren't even on customer radars. Many customers I talked to were cautious about GenAI adoption and more excited about enhancements announced by Macosky on platform scalability and performance, and new security compliance certifications. Macosky also peaked a lot of interest by pre-announcing a lightweight, no-code Task Automation product (with mobile capabilities shown in a demo), which Boomi plans to release in early 2024.
Leaders and fast followers looking for productivity gains will undoubtedly try out Boomi GPT right away. More conservative customers might take a wait-and-see approach. Boomi was clear in portraying Boomi GPT and its broader AI capabilities as being aimed at augmenting humans and adding more potential users, not replacing them. And it was clear from the demos that AI-suggested Quick Starts and Boomi GPT-generated integrations and automations will be starting points that will need the final touch of human review and approval before being put into production.
Where AI meets iPaaS is concerned, it's all about doing more integration and automation work in a shorter time so teams can get more done and move on to the next project.