The latest update on Anaplan's connected planning story was shared at its annual customer conference,  Anaplan Connected Planning Xperience (CPX), June 10-12 in San Francisco. The event highlighted the company's continued growth, success stories from a passel of notable customers, product updates and roadmap promises and vision statements centered on artificial intelligence (AI) and machine learning (ML).
What is connected planning? It's the idea and philosophy, shown visually in Anaplan's "honeycomb" image below, that all sorts of planning needs are tightly interrelated. "Connection" is also required among people, which is something you cannot easily achieve with spreadsheets, which are inherently siloed and disconnected. Anaplan's planning platform is typically adopted first by finance or sales, but then use cases spread from there, in land-and-expand fashion, to areas including workforce, marketing and supply chain planning.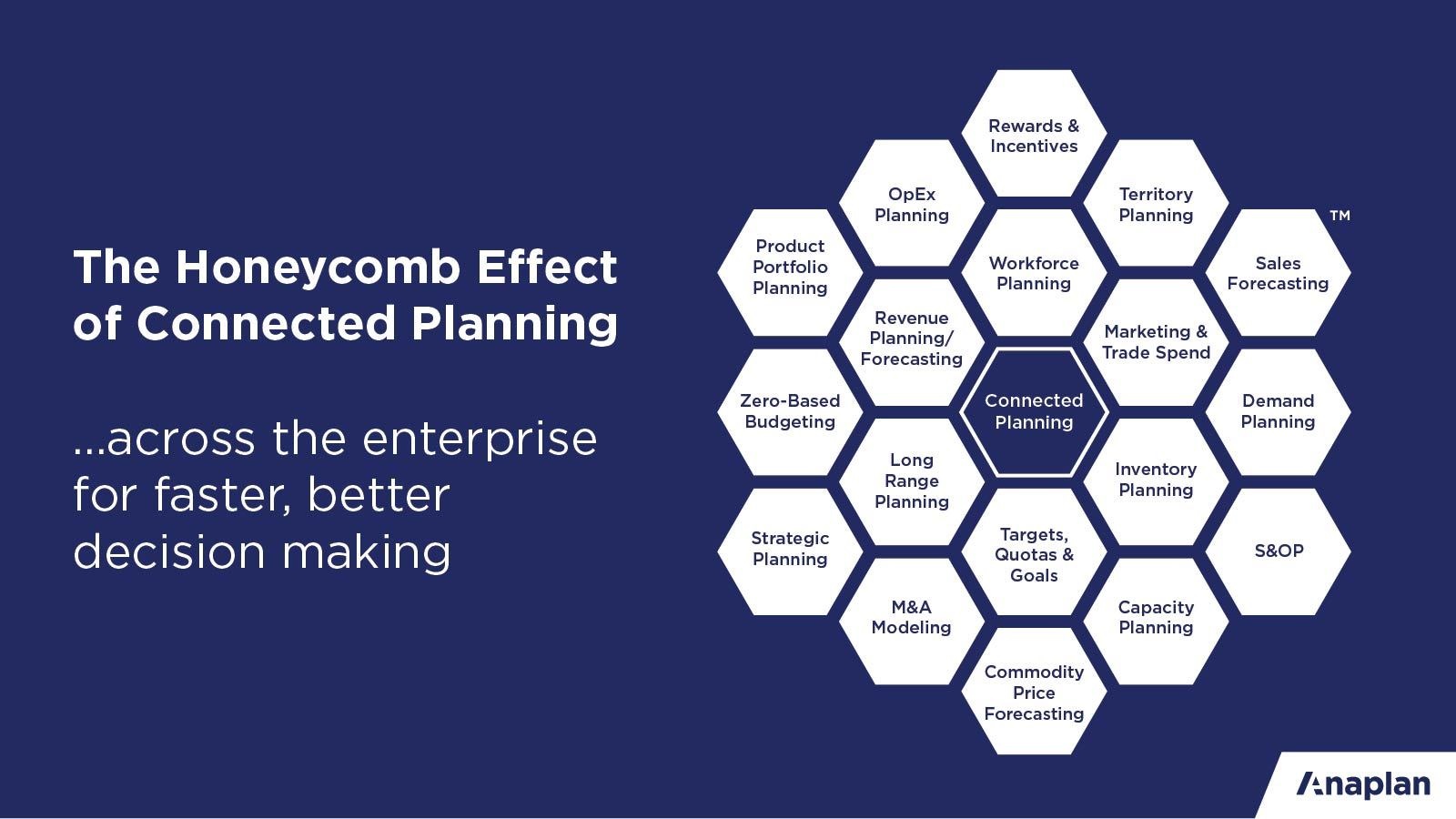 Connected planning is collaborative planning across strategic and operational domains.
On the product  front, Anaplan senior VP of product Sampath Gomatam introduced a new user experience, including a cleaner, more intuitive and personalized home screen that adapts to different users and a dynamic iOS/Android-native mobile apps that offers spreadsheet views that adapt to vertical or horizontal presentation (see image below). Workflow improvements including tasks, notifications and guided navigation are designed to take users where they need to go for collaborative planning and fast execution.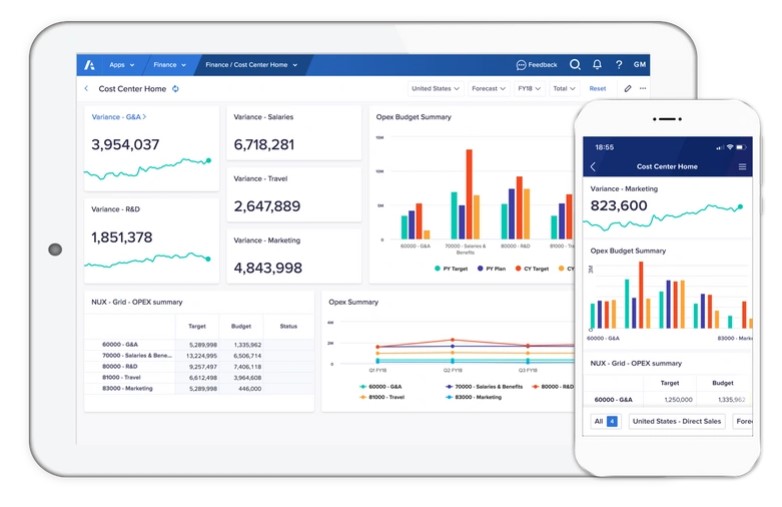 A sampling of user interface and mobile upgrades highlighted at Anaplan CPX 2019.
Anaplan offered a splashy keynote presenttion about plans for artificial intelligence (AI) and machine learning (ML), but there were few specifics when it came to expected features and release dates. Instead executives talked about themes like guided modeling and better planning and forecasting powered by ML. A number of pilot projects are said to be underway with large customers.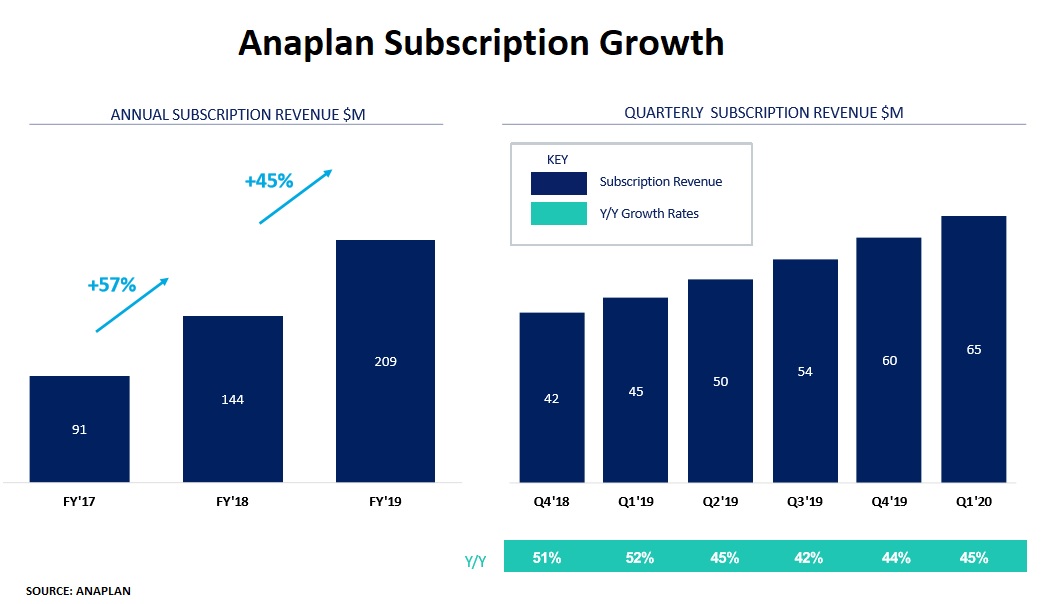 My key takeaways from CPX start with the impression that Anaplan continues to see strong growth, as evidenced by the slide above from the company's Q1 fiscal 2020 results presentaion in May. I suspect the growth is being fueled by key systems integrators that have embraced Anaplan, with Deloitte recognzed as a CPX Platinum sponsor. There were plenty of large customers present and presenting, including Alphabet/Google, Anheuser-Busch InBev, Carter's/OshKosh B'Gosh, Coca-Cola, Microsoft, NCR, Royal Dutch Shell and Symantec. I see the more sophisticated and Anaplan-mature customers now building on broad foundations of connected operational planning and moving up to address strategic corporate goals, objectives and digital transformation intitiatives. I encountered customers addressing long-range strategic planning, merger-and-acquisition planning and portfolio management.
In short, CPX was a solid, thematicaly tuned-in upgrade of the company's old Hub event. I would have liked to have seen more concrete detail on the new AI/ML features coming to the platform, but the UI/UX and mobile upgrades were solid and connected planning momentum is clearly building.