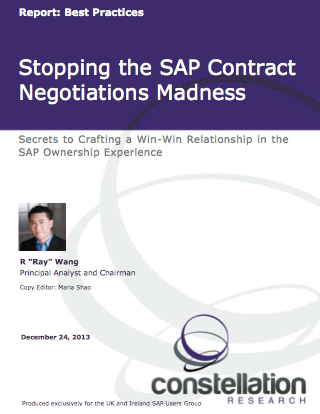 Secrets to Crafting a Win-Win Relationship in the SAP Ownership Experience
This report is available exclusively through the Ireland/UK SAP Users Group. Request More Information
Many organizations find that their foundational Enterprise Resource Planning (ERP) system now plays a critical role in business operations. Unfortunately, a high cost of ownership forces most leaders to optimize this commoditized enterprise software to free up funds for innovation. Owners of SAP have battled a high cost of ownership and the cost of over-purchasing licenses for quite some time. 
As a aresult, SAP customers must take charge of their contract negotiations strategy. Unfortunately, most organizations embark on the strategy in a vacuum without taking into account the larger software ownership lifecycle and alignment with overall business strategy. Constellation provides a seven step contract negotiations strategy guide that helps organizations optimize their opportunity for success. 
The process requires organizations to plan ahead. Given that most SAP contracts renew at the end of the calendar year, Constellation recommends that organizations begin the process prior to the major annual user conferences in the second quarter and prior to September 30 in order to communicate changes to SAP within required notification times. 
Constellation recommends that organizations take a more aggressive approach with SAP to move forward. This approach requires organizations improve their planning and strategy for contract negotiations. More importantly, organizations must reset the terms and conditions of their partnership with SAP in order to fund innovation through cost savings.
Purpose & Intent:
This document is intended to help buyers and prospective buyers of SAP navigate through the complexity of SAP software licensing and contract negotiations. This guide serves as a reference, checklist, and point of discussion with SAP during the beginning, middle, and end of the ownership experience. Though SAP may not honor all these rights today, they represent best practices we have gleaned from our involvement in over 1,500 enterprise software contract negotiations, including over 300 SAP contracts.  
Get Access to This Premium Content