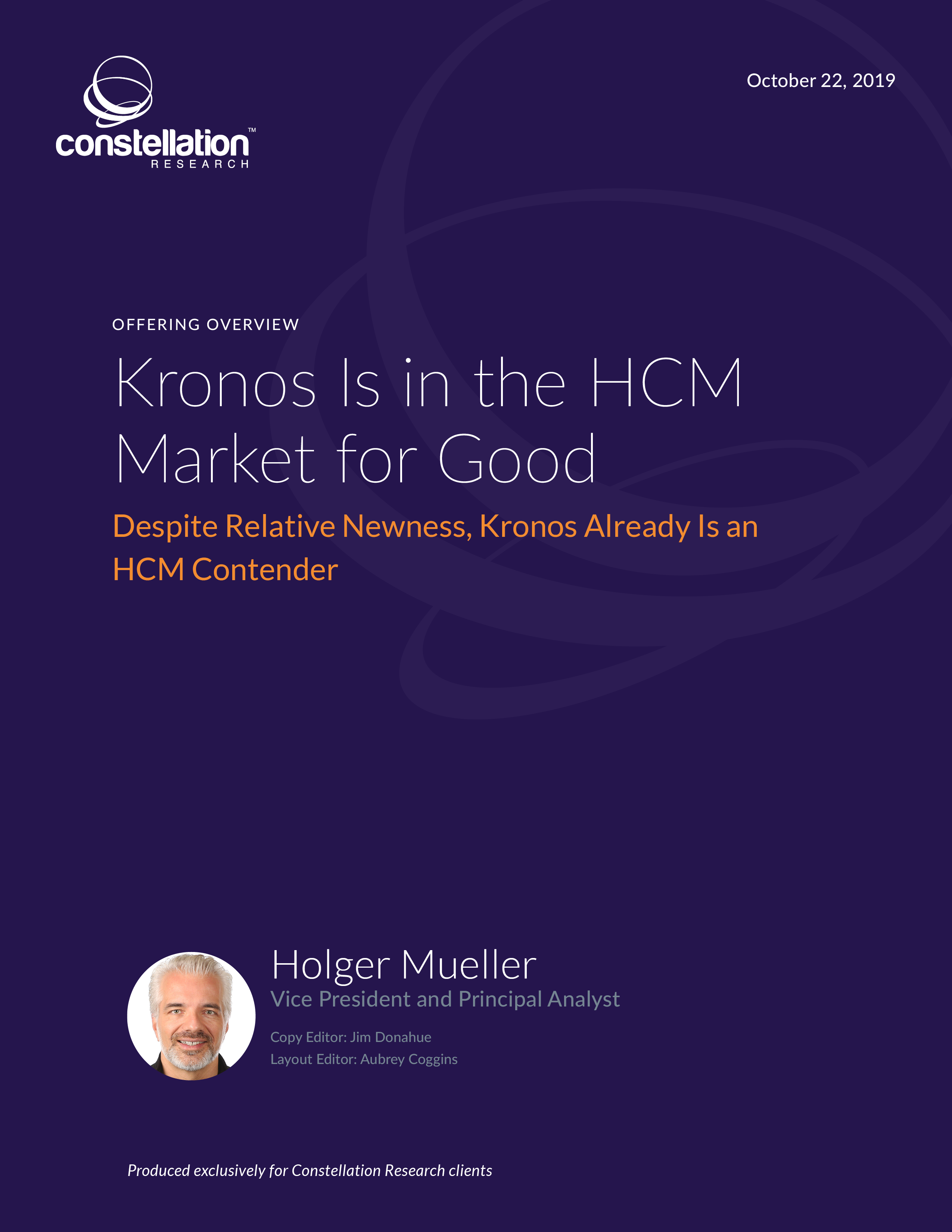 Despite Relative Newness, Kronos Already Is an HCM Contender
This report provides an overview of the offerings in Kronos HCM and analyzes its capabilities to satisfy enterprises' demands to power their people operations with an integrated human capital management (HCM) suite. It highlights recently delivered and long-term differentiators that set Kronos apart from competitors and enable people leaders to help their organizations achieve Enterprise Acceleration  and change the Future of Work for their people. 

Since its initial cloud HCM offering in 2012, Kronos has continuously built out its HCM capabilities. The focus was both on functional completion of the overall HCM suite footprint as well as on adding capabilities to scale the offering to larger enterprises, those with five-digit employee populations. Given its strong legacy in workforce management, Kronos knew it wanted and needed to have strong workforce management capabilities in its HCM offering. As it moved forward with development of its Workforce Dimensions workforce management product, Kronos chose not to integrate its HCM automation with its older Workforce Central offering. Apart from integrating with products that had a considerably older architecture, Kronos would have had to support two enterprise workforce management products, adding complexity to the overall solution. 

Long kept closely under wraps, the new workforce management product launched in fall 2017.  The release was accompanied by high-profile marketing, including notable sports sponsorship efforts. In 2018, Kronos introduced Workforce Dimensions HCM, attaching HR and payroll to its new workforce management suite. The company does not shy away from large-scale deployments for the new offering, pursuing HCM opportunities all the way to 25,000 employees (though the product scales beyond that from the perspective of process and platform scalability). The result is a new and modern HCM suite with strong potential in workforce management, payroll and related compliance functionalities—along with solid talent management capabilities—in which the company continues to aggressively invest.  

The other HCM suite vendors part of the Constellation Market Overview  are ADP, Ceridian, Infor, Oracle, SAP, Ultimate and Workday. 
Get Access to This Premium Content