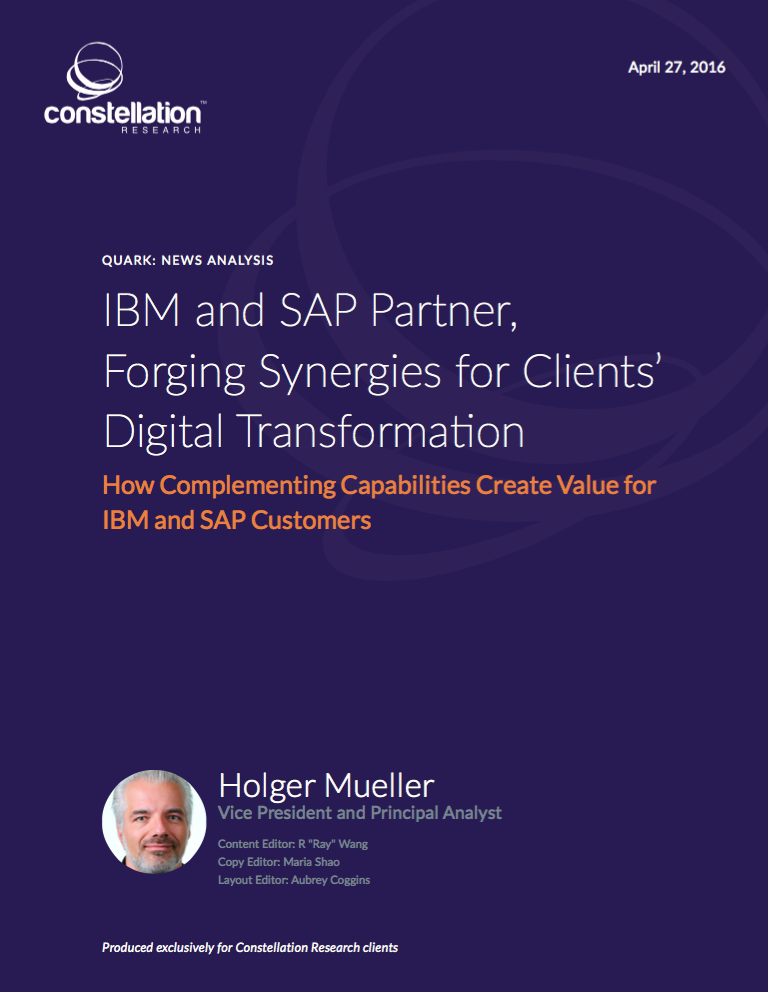 How Complementing Capabilities Create Value for IBM and SAP Customers 
On April 6, 2016, IBM and SAP jointly announced a partnership that spans multiple products and services, with the goal of enabling digital transformation for prospective and existing customers. In a press release, Bridget van Kralingen, IBM's Senior Vice President of Global Business Services, and Rob Enslin, a member of the Executive Board of SAP SE and President of Global Customer Operations of SAP, outlined the common goal of helping enterprises with digital transformation.1 
The partnership covers multiple products and services of both vendors, specifically the expansion of SAP's HANA Enterprise Cloud (HEC) to include IBM cloud capabilities and services. With on-premises/ hybrid software products, both vendors will bring HANA, SAP's in-memory database, and IBM's
Power architecture together. SAP's business applications will use IBM Watson APIs. IBM Interactive Experience (iX) advisory and design staff will work more closely with SAP's Global Design team. Joint professional services will be offered and last, but not least, IBM's Institute for Business Value and SAP's Value Engineering organization will jointly create industry road maps for clients. 
IBM and SAP have been partners for over 40 years, but this marks the first collaboration between them touching on such a wide range of products and services (see Figure 1). The partnership creates synergies across both vendors' products and services, resulting in a breadth and depth of new technical capabilities usually only seen through an acquisition. Mega-partnerships like this are likely to be seen more in the future. 
Get Access to This Premium Content