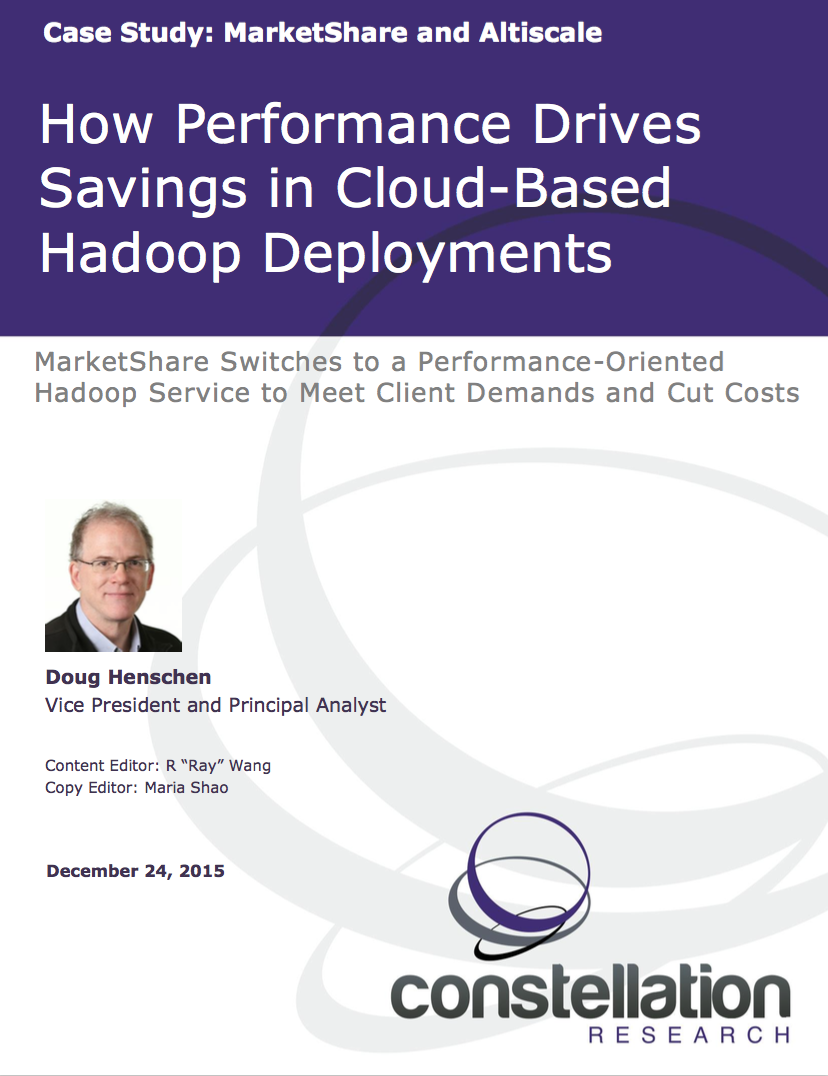 Case Study: MarketShare and Altiscale
MarketShare Switches to a Performance-Oriented Hadoop Service to Meet Client Demands and Cut Costs 
MarketShare, a unit of Neustar, provides predictive analytics and attribution services to help chief marketing officers (CMOs) and other marketing leaders make better tactical and long- range marketing decisions. This Big Data analysis takes place on a cloud- based Hadoop platform coupled with advanced analytics. 
However, by 2013 the company recognized it could not keep up with increasingly tight customer service-level agreements (SLAs) as it moved toward analyses based on ever-more recent data. In late 2013, MarketShare switched from what it thought was the low-cost provider of cloud-based Hadoop services to Altiscale, a dedicated, performance-oriented Hadoop-as-a- service provider. Using Altiscale, MarketShare experienced the following:
Improved efficiency - Big Data analyses completed in one-quarter to one-fifth the time required on the previous platform
Reduced cost - MarketShare can now complete its work with far fewer failed jobs, thereby reducing the processing time required and letting it operate at 65 percent to 70 percent of the cost of the old platform
Access to cutting-edge data management and analytic services supporting metadata exploration, high-performance modeling, self-service reporting and, for future needs, near-real-time processing.
This case study documents MarketShare's experience engaging Altiscale for cloud-based Hadoop services.
Get Access to This Premium Content