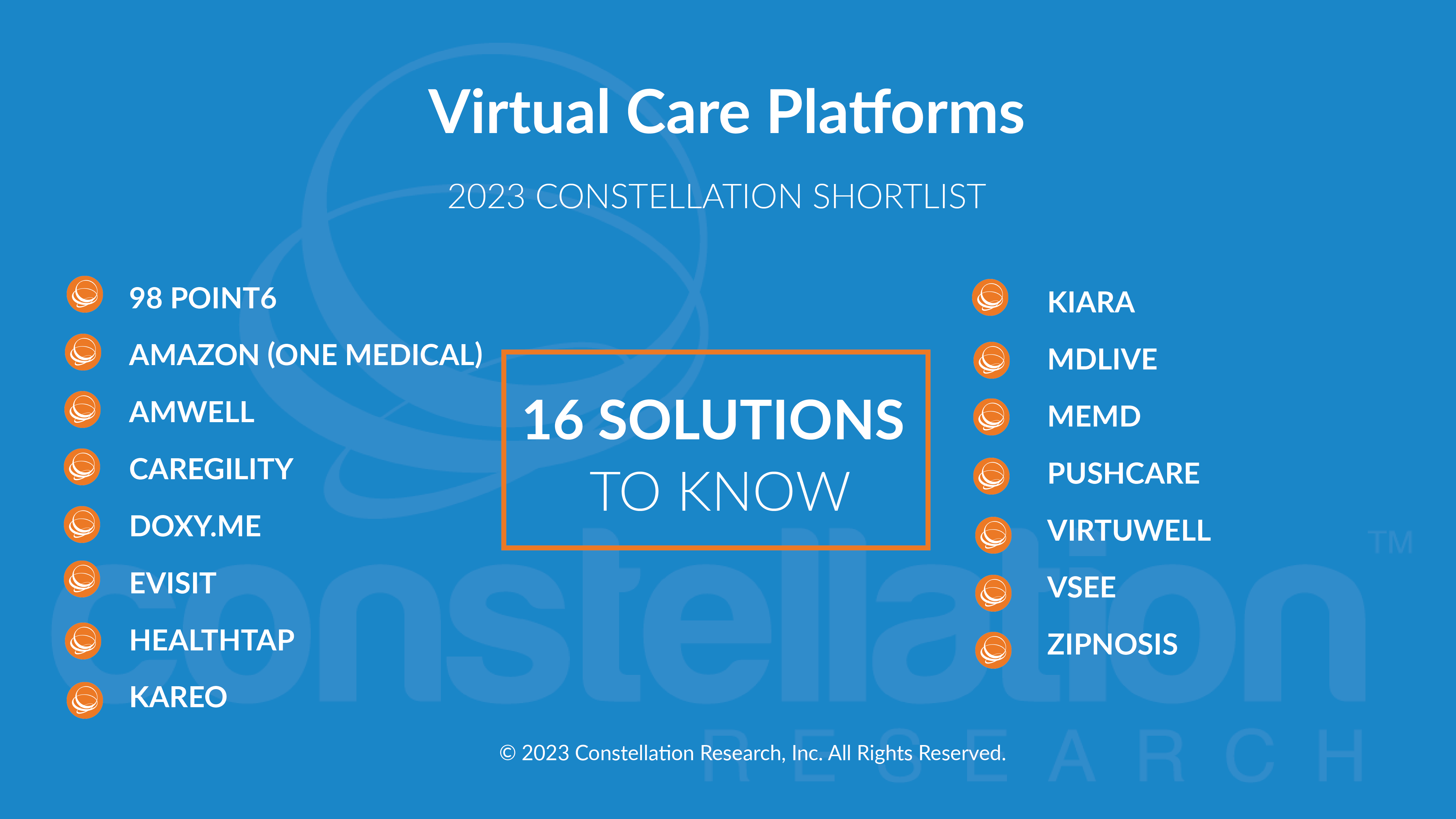 About this Constellation ShortList™
Telehealth has been around for years, and it was a competitive advantage when an organization offered the service. Now it's standard for patient care. This trend leads to the emergence of virtual care technology to enable better and more effective care.
The most notable benefit for patients offered by virtual care is convenience. Patients and doctors will not have to travel to and from a hospital or clinic to seek or provide care. Instead, the virtual visits empower people to consult with their providers from the comfort of their own homes.
The trend in healthcare is to move patient care out of the inpatient setting toward ambulatory as much as possible, resulting in the virtual technology platform as a critical component to achieving that objective.
Threshold Criteria
Constellation considers the following criteria for these solutions:
Electronic medical record system integration
Clinical documentation
Insurance verification, if applicable
Hospital operation integration
Ability to operate in low-bandwidth geographical areas
Ease of scheduling
Virtual waiting room
E-prescribing
Revenue cycle functionalities
Secure platform meeting healthcare industry requirements
API capabilities
Easy payment solution and integration with health system's financial platform
Specialty telehealth solution capabilities
Mobile app on iOS/Android
Patient portal
The Constellation ShortList™
Constellation evaluates more than 25 solutions categorized in this market. This Constellation ShortList is determined by client inquiries, partner conversations, customer references, vendor selection projects, market share and internal research.
98Point6
Amazon (One Medical)
Amwell
Caregility
Doxy.me
eVisit
HealthTap
Kareo
Kiara
MDLIVE
Mend
Pushcare
Sesame Care
Virtuwell
VSee
Zipnosis
Frequency of Evaluation
Each Constellation ShortList will be updated at least once per year. There could be an update after six months, should the analyst deem it necessary.
Evaluation Services
Constellation clients can work with the analyst and research team to conduct a more thorough discussion of this ShortList. Constellation can also provide guidance in vendor selection and contract negotiation.
Download Research
Click to Download Report