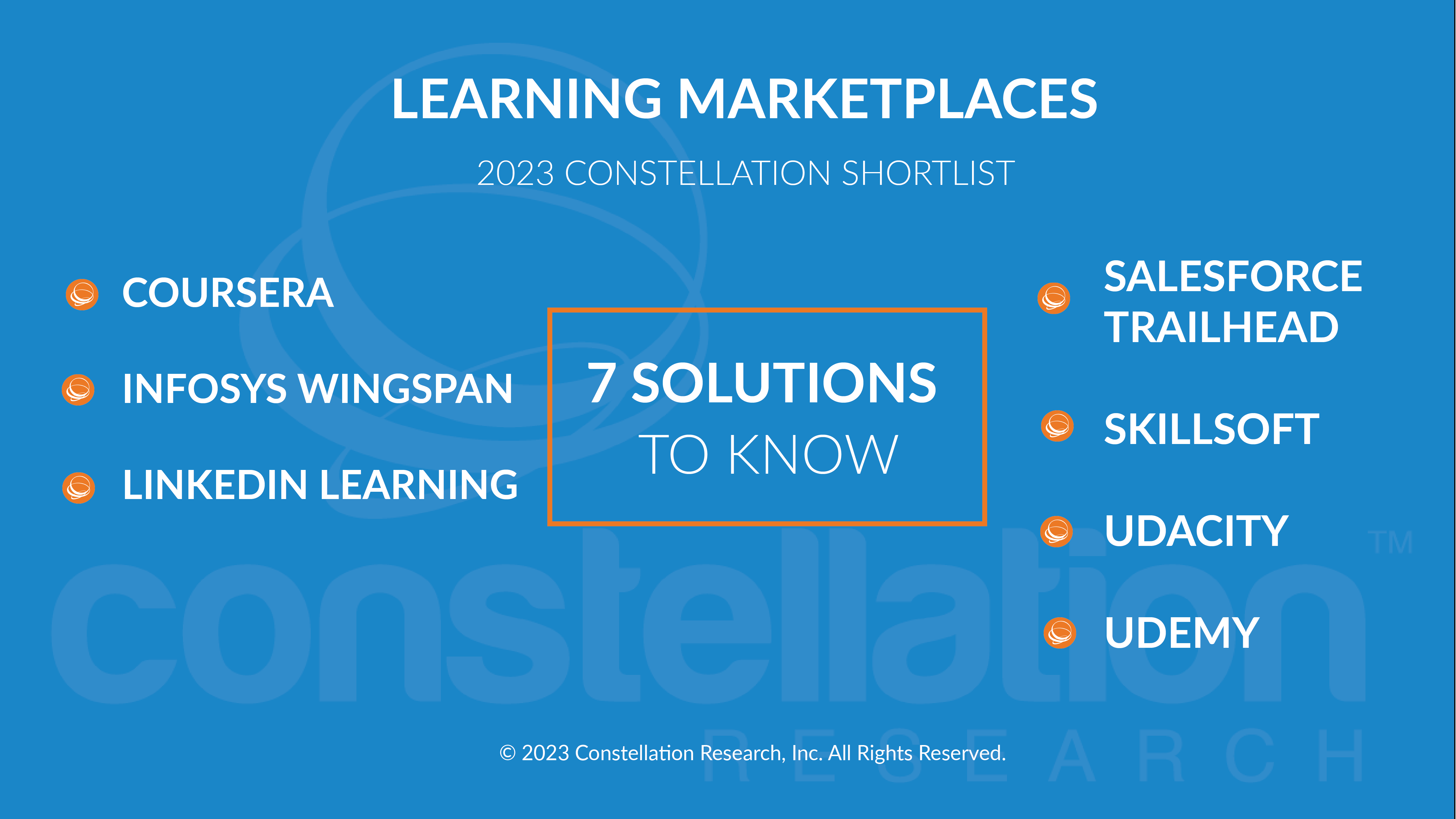 About This Constellation ShortList™
Learning marketplaces provide a platform for online education, bringing the content of teachers to learners. These online marketplaces often include features of learning management systems, which allow courses and skills to be taught on-demand and at a student's pace. Most online marketplaces offer both free and paid content. Constellation estimates the total market for eLearning at $413 billion by 2027 with a CAGR of 10.7%. Learning marketplaces are a sub segment for this market
Performance and learning can be measured by evaluations, and coursework can go toward a defined curriculum. Self-paced instruction often incorporates interactive capabilities with video chats, online communities, mentoring, live classes and live feedback.
Learning marketplaces differ from traditional corporate learning management systems with the ability to author, assemble and sell courses. Many of these marketplaces can feed into corporate systems or enable classes to be hosted as needed.
A wave of consolidation is on the horizon as newer technologies such as virtual and augmented reality will enter this market and emerge as key criteria in future evaluations. Expect blockchain to appear as an important technology in providing authentication and verification of skills.
Threshold Criteria
Constellation considers the following criteria for these solutions:
Offer online courses and course libraries
Deliver gamification and incentives
Provide assessment tools
Facilitate online communities
Deliver live feedback
Enable content authoring
Support outside content
Create virtual classrooms
Host and sell courses
Provide commerce and marketplace capabilities
Provide a curriculum set
Support SCORM compliance
Ensure regulatory and compliance management
Integrate into learning management systems
Provide credentialing and badging
The Constellation ShortList™
Constellation evaluates more than 40 solutions categorized in this market. This Constellation ShortList is determined by client inquiries, partner conversations, customer references, vendor selection projects, market share and internal research.
Coursera
Infosys Wingspan
LinkedIn Learning  
Salesforce Trailhead
Skillsoft
Udacity

Udemy
Frequency of Evaluation
Each Constellation ShortList is updated at least once per year. Updates may occur after six months if deemed necessary.
Evaluation Services
Constellation clients can work with the analyst and research team to conduct a more thorough discussion of this Constellation ShortList. Constellation can also provide guidance in vendor selection and contract negotiation.
Download Research
Click to Download Report