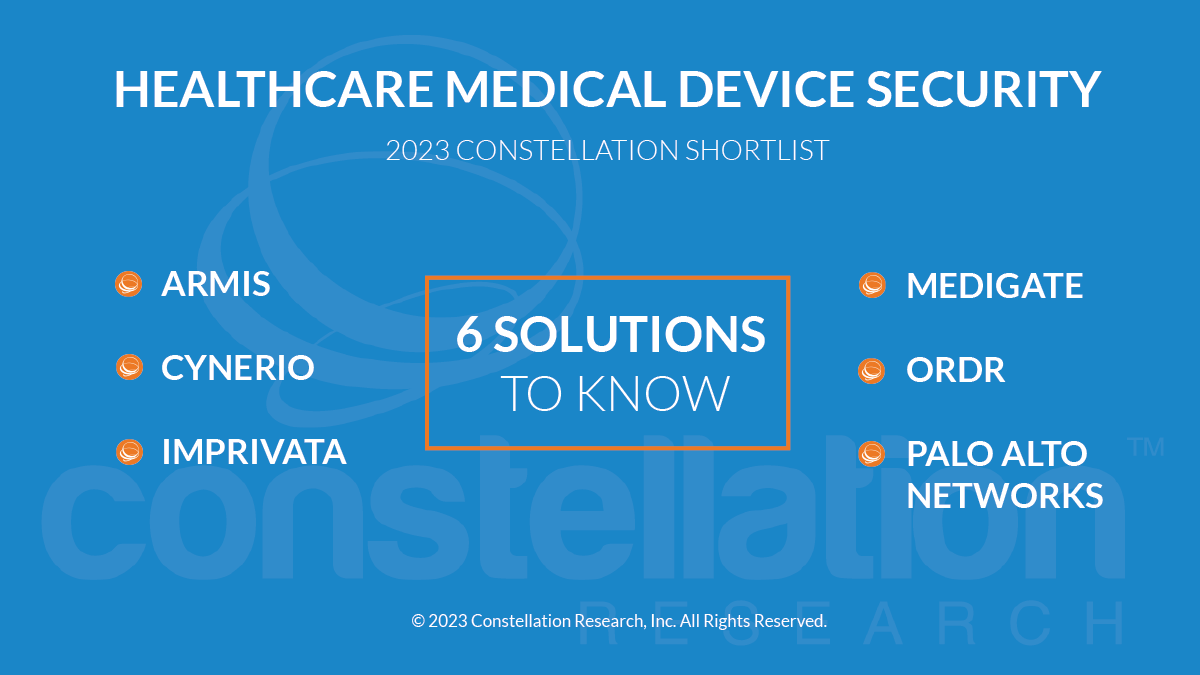 About this Constellation ShortList™
Healthcare provider institutions are facing a massive proliferation of vulnerable connected technologies running on legacy software. It is crucial not only to have an accurate inventory of connected devices but also to have more visibility and control over what's going on in the network.

We have updated our list of vendors that are working toward improving the security landscape for the healthcare industry. The vendors listed focus on how
they can help healthcare providers improve patient safety, with an emphasis on IT security.
Threshold Criteria
Constellation considers the following criteria for these solutions:
Agent-based security
Network access control (NAC) and device visibility on network
Intelligent classification and asset optimization
Device risk management
Network scanning tools
Security information and event management (SIEM) and alerts
Behavioral analytics
Network firewalls
Network traffic analysis
Security orchestration, automation and response (SOAR)
Automation
Ease of integration with IT infrastructure
The Constellation ShortList™
Constellation evaluates more than 20 solutions categorized in this market. This Constellation ShortList is determined by client inquiries, partner conversations, customer references, vendor selection projects, market share and internal research.
ARMIS
CYNERIO
IMPRIVATA
MEDIGATE
ORDR
PALO ALTO NETWORKS
Frequency of Evaluation
Each Constellation ShortList is updated at least once per year. Updates may occur after six months if deemed necessary.
Evaluation Services
Constellation clients can work with the analyst and research team to conduct a more thorough discussion of this Constellation ShortList. Constellation can also provide guidance in vendor selection and contract negotiation.
Download Research
Click to Download Report