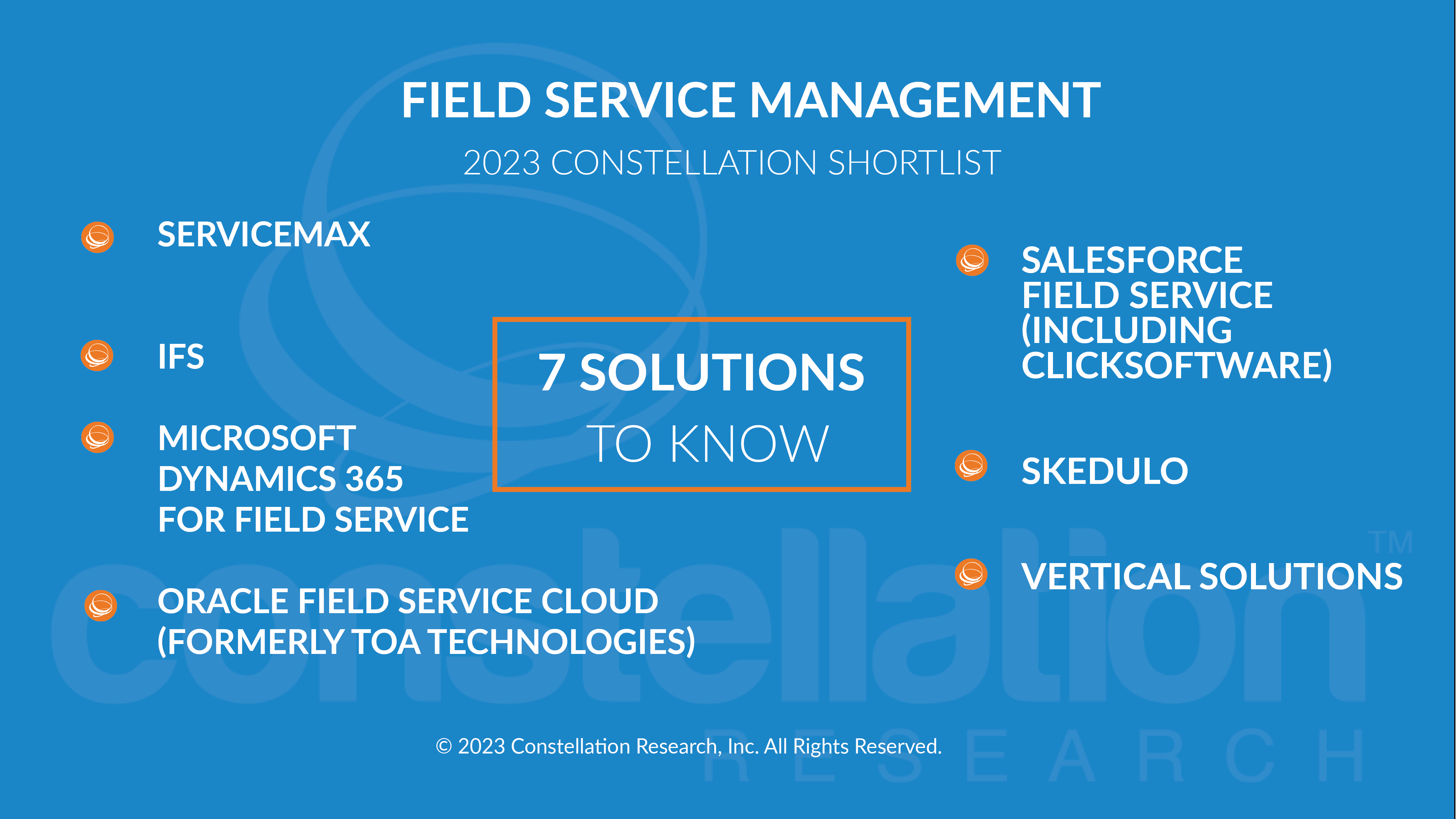 About This Constellation ShortList™
A specialized type of customer service, field service involves techni-cians repairing or servicing products in service centers or on customer sites. Field service management (FSM) software helps to coordinate the complex logistics—including parts, warranties, and customer and staff schedules—integral to field service delivery. Constellation estimates this market to be $8.28 billion with a CAGR of 9.8%.
In line with increased customer expectations for timely, convenient service, these solutions optimize work-order routing and technician scheduling. They incorporate communication features that automate messages to customers on status updates and arrival times. Technicians gain improved stock visibility and easy escalation procedures.
Leading vendors incorporate Internet of Things (IoT) capabilities into FSM solutions. Information directly from the products themselves can vastly improve time to resolution for technicians in the field. IoT data combined with customer feedback from technicians provide useful insights for marketing and product development teams. This enables feedback loops from dealers and subcontractors back to original equip-ment manufacturers.
Advancements in virtual and augmented reality (VR/AR) capabilities further push the envelope and make it possible to deliver field service support and training remotely. Though only a few FSM vendors cur-rently have VR/AR capabilities, Constellation anticipates this to be a growing area of demand as the metaverse expands.
Threshold Criteria
Constellation considers the following criteria for these solutions:
Diagnostics prior to rolling out the truck
Resource management
Case management
Communication between customer and technician
Scheduling
Resource allocation
Inventory optimization
Mobile enablement
Route optimization
IoT integration
VR/AR capabilities to remotely support technicians and customers in the field
The Constellation ShortList™
Constellation evaluates more than 25 solutions categorized in this market. This Constellation ShortList is determined by client inquiries, partner conversations, customer references, vendor selection projects, market share and internal research.
ServiceMax
IFS
Microsoft Dynamics 365 for Field Service
Oracle Field Service Cloud (formerly TOA Technologies)
Salesforce Field Service (including ClickSoftware)
Skedulo
Vertical Solutions
Frequency of Evaluation
Each Constellation ShortList is updated at least once per year. Updates may occur after six months if deemed necessary.
Evaluation Services
Constellation clients can work with the analyst and research team to conduct a more thorough discussion of this Constellation ShortList. Constellation can also provide guidance in vendor selection and contract negotiation.
Download Research
Click to Download Report