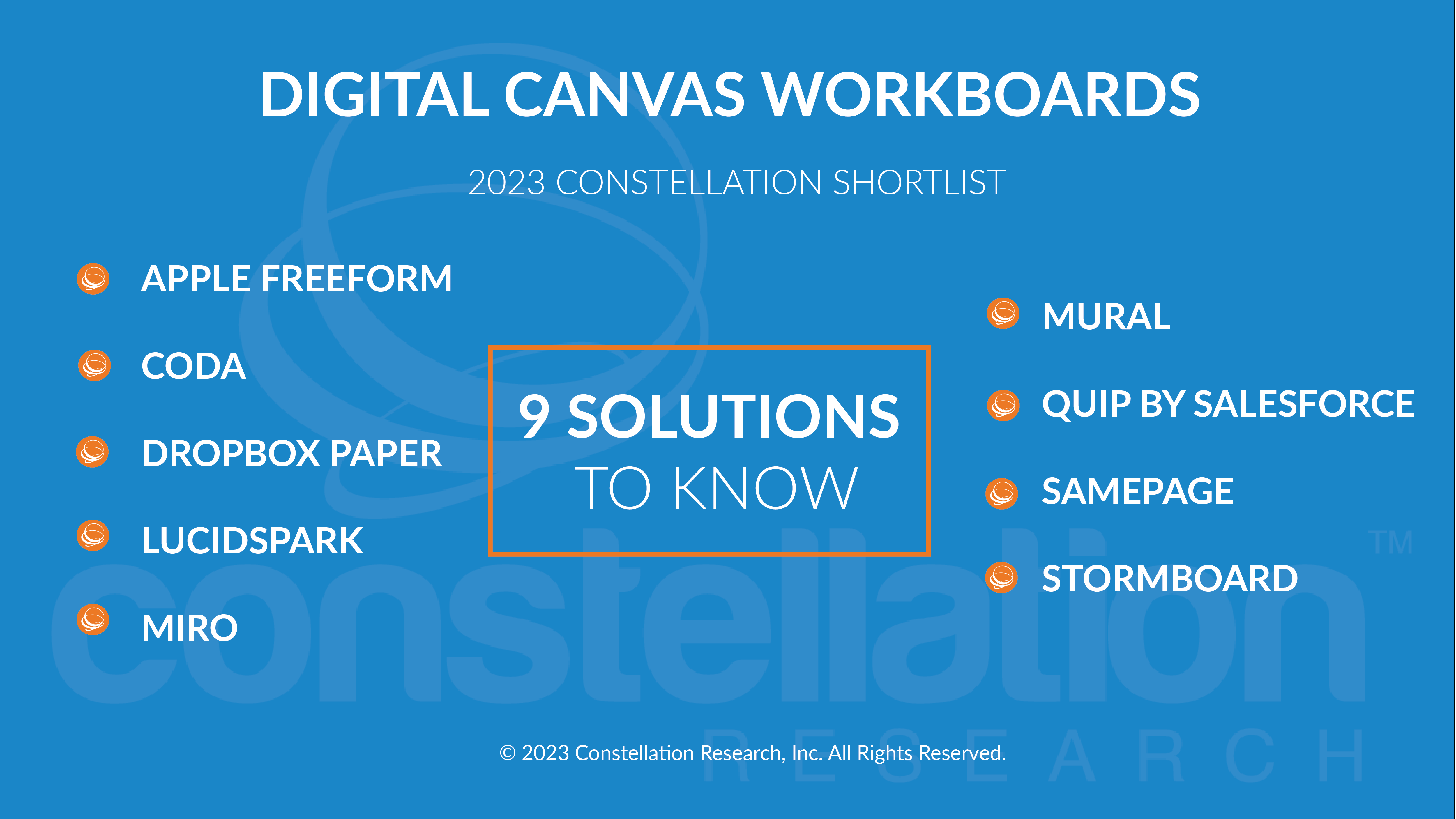 About This Constellation ShortList™
One of the biggest productivity barriers people face is the struggle of using dozens of stand-alone applications to get their jobs done. When content is created in one tool and shared in another, it creates silos of information, causing conversations and insights to get lost along the way.
Digital canvases are a growing category of applications that enable teams to bring together and situate content from multiple sources into a single virtual space, providing multidimensional context to a topic or business process. Thismore integrated user experience should be familiar because it emulates working on a traditional whiteboard where people can draw or attach content. Digital canvases can be created by individuals but become even more valuable when co-authored by a team.
Digital canvases bring context to meetings, brainstorming, knowledge sharing, project management and more. They empower people to make decisions faster, more contextually, with higher accuracy and consistently in an integrated, team-based model that is highly visual, conversational, and integrated with other applications.
Threshold Criteria
Constellation considers the following criteria for these solutions:
Administrative controls

Application development: APIs/SDKs, documentation, samples, training

Business partner ecosystem

Client access options: Desktop, mobile, tablet, large screen, wearables

Collaboration/sharing features

Customer references

Licensing options: Freemium, premium

Integration with a significant number of leading business applications/platforms

Search and discovery

Security, including controlled external third-party access

Templated solutions/use cases

The Constellation ShortList™
Constellation evaluates more than 35 solutions categorized in this market. This Constellation ShortList is determined by client inquiries, partner conversations, customer references, vendor selection projects, market share and internal research.
Apple Freeform
Coda
Dropbox Paper
Lucidspark
Miro
Mural <- Changed to lower case
Quip by Salesforce
Samepage

Stormboard
Frequency of Evaluation
Each Constellation ShortList is updated at least once per year. Updates may occur after six months if deemed necessary.
Evaluation Services
Constellation clients can work with the analyst and research team to conduct a more thorough discussion of this Constellation ShortList. Constellation can also provide guidance in vendor selection and contract negotiation.
 
Download Research
Click to Download Report