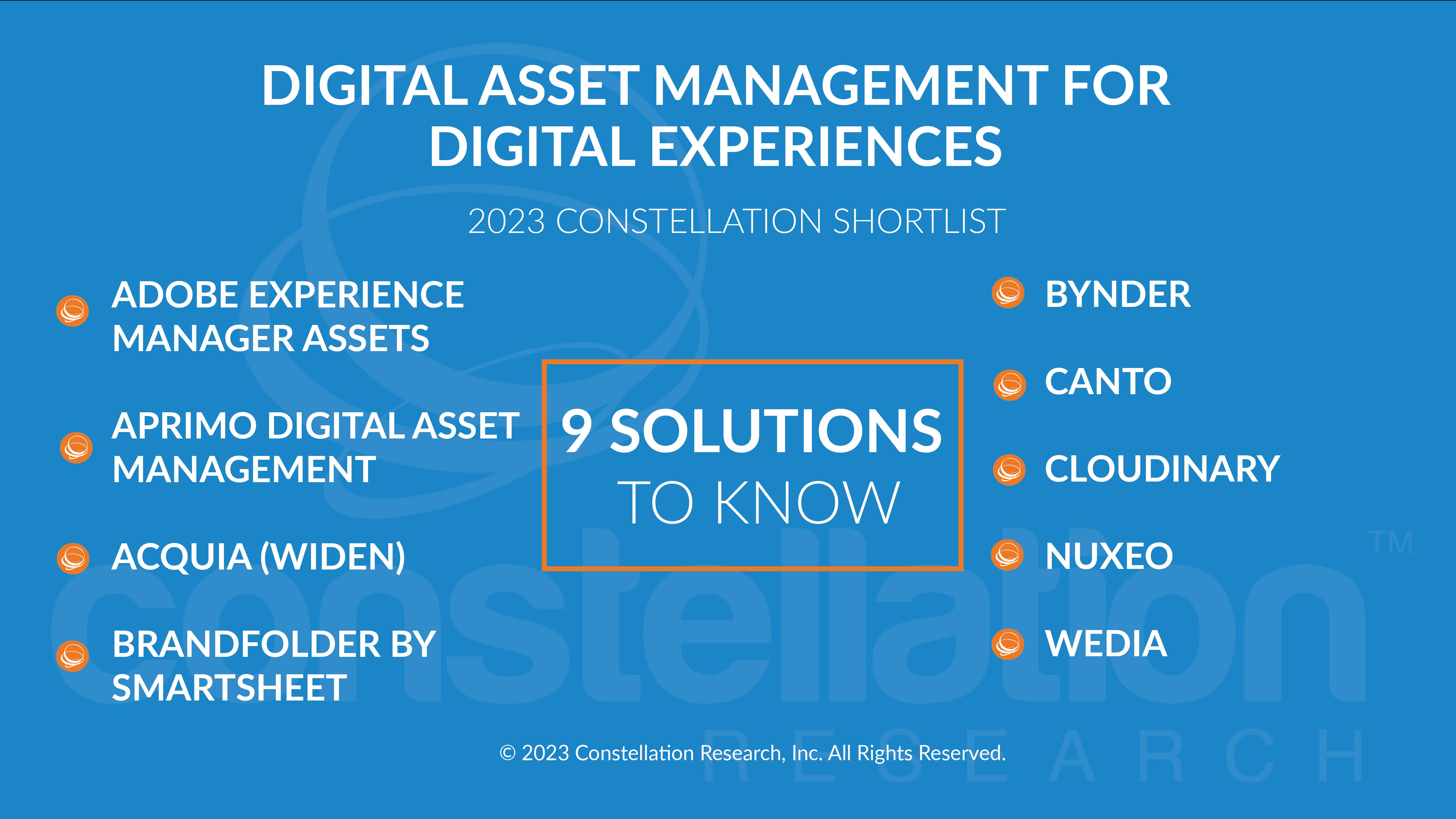 Digital asset management (DAM) enables brands to manage, catalog, deliver, analyze, orchestrate and renew all forms of digital content across a growing landscape of channels. In the new age of digital-first experience, DAM must extend beyond traditional marketing and creative walls to serve the entirety of customer experience's front lines—delivering assets to sales and customer service engagement and automation solutions.
Today's DAM platforms serve as an experience asset hub feeding compliance-assured files into larger engagement, personalization and revenue engines like configure price quote (CPQ) platforms and digital experience (DX) platforms. These asset hubs must also allow for non-creative and non-marketing users to personalize assets to meet the needs of specific audiences, segments and individual customers.
This Constellation ShortList category considers the heritage of DAM systems to import, catalog, manage and organize complex file types and sizes, with an eye on critical innovations like artificial intelligence (AI) for smart tagging, analysis and formatting, capacity to manage advanced video and file types, collaboration tools, and out of the box and custom workflow tools. Asset analytics that measure utilization, impact and value of assets being utilized across all business users and experiences are also included in these robust platforms.
Increasingly, vendors are including robust, feature-rich DAM solutions into larger CMS or DXP suites. While many of these offerings are comparable to many stand-alone solutions, they are not included in this review.
Threshold Criteria
Constellation considers the following criteria for these solutions:
Asset aggregation, storage and management for files including images, video, document and emerging formats including 3D
Simple asset editing and personalization
Workflows, cross team collaboration and approvals
Metadata management powered by smart tools and AI
Taxonomy and automated ontologies
AI/ML powered automated cropping, image manipulation and content awareness
Rights management and automated controls
Secure controlled access with rule- or role-based controls
Compliance controls and documentation
Rendition management
Search, including voice, visual, metadata filters, full-text, color, location, multilingual and multifaceted search
Globalization and localization capabilities with multinational support
Analytics and reporting, including asset impact analytics
Out-of-the-box integrations and API connectors (including to service and sales engagement delivery tools)
Content delivery network (CDN) access or native integration
Application of ML or AI techniques to boost automation and asset recognition, categorization, tagging and application
The Constellation ShortList™
Constellation evaluates more than 50 solutions categorized in this market. This Constellation ShortList is determined by client inquiries, partner conversations, customer references, vendor selection projects market share and internal research.
Adobe Experience Manager Assets
Acquia (Widen)
Aprimo Digital Asset Management
Brandfolder by Smartsheet
Bynder
Canto
Cloudinary
Nuxeo

Wedia
Frequency of Evaluation
Each Constellation ShortList is updated at least once per year. Updates may occur after six months if deemed necessary.
Evaluation Services
Constellation clients can work with the analyst and research team to conduct a more thorough discussion of this Constellation ShortList. Constellation can also provide guidance in vendor selection and contract negotiation.
Download Research
Click to Download Report