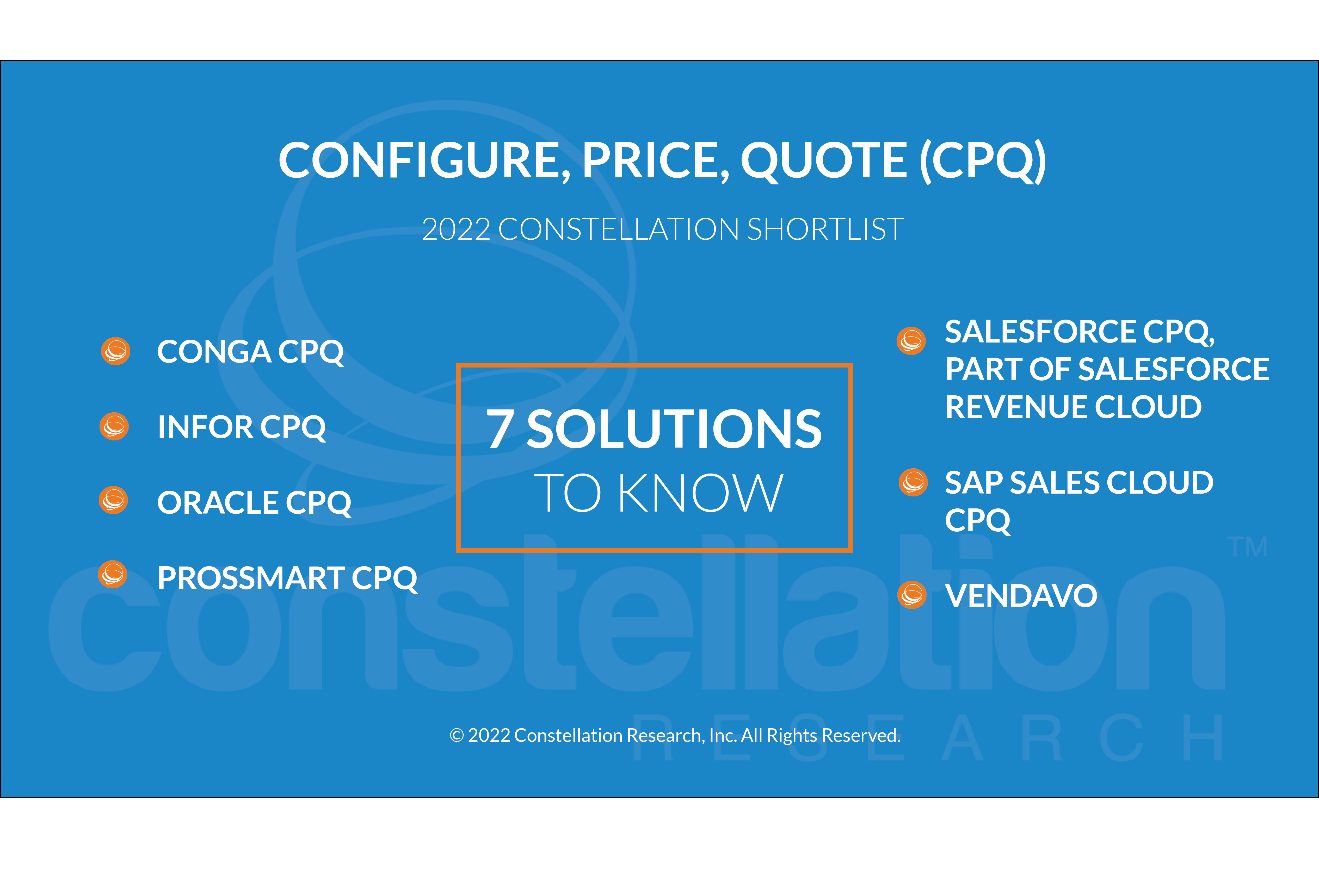 About This Constellation ShortList™
Configure, price, quote (CPQ) software automates the sales-to-close process while providing a critical sales experience to customers. These tools make it possible to configure products and offerings, help improve the accuracy of quotes, assure compliance with discounting and margin policies, accelerate internal deal review process and provide customers with detailed quotes far more quickly than manual processes allow.

CPQ solutions connect finance, product and sales departments, linking product information and pricing policies with sales processes to generate and manage proposals. CPQ tools lighten the workload for salespeople and give customers better information faster. They also help to ensure pricing consistency and compliance with discount guidelines. CPQ tools can increase revenue through guided selling suggestions for complementary services or products. Some tools manage the contract process as well. CPQ has also emerged as a critical source of data and understanding about the customer, delivering high-fidelity signal on need, intent and specific product needs.

Many CPQ vendors focus on specific industry sectors, such as manufacturing, telecoms, retail, IT resellers and insurance. For the purposes of this list, we've focused on the vendors that provide CPQ capabilities across a broad range of industry sectors.
Threshold Criteria
Constellation considers the following criteria for these solutions:
Ease of use, user interface
Deal optimization/profitability modeling capabilities
Integration into CRM systems
Broad geographical reach for multilanguage/currency support
Workflow management
Guided selling
Sales accessibility
Analytics and role-based reporting
Post-sales support and community
The Constellation ShortList™
Constellation evaluates more than 20 solutions categorized in this market. This Constellation ShortList is determined by client inquiries, partner conversations, customer references, vendor selection projects, market share and internal research. Other considerations include whether a vendor has the broad geographical reach to support multicurrency/language considerations and manage the complexity around multiple lines of business to support growth.
CONGA CPQ
INFOR CPQ
ORACLE CPQ
PROS SMART CPQ
SALESFORCE CPQ, PART OF SALESFORCE REVENUE CLOUD
SAP SALES CLOUD CPQ
VENDAVO
Frequency of Evaluation
Each Constellation ShortList is updated at least once per year. Updates may occur after six months if deemed necessary.
Evaluation Services
Constellation clients can work with the analyst and the research team to conduct a more thorough discussion of this ShortList. Constellation can also provide guidance in vendor selection and contract negotiation.
Download Research
Click to Download Report