[NEWS ANALYSIS] Why Oracle's Alliances with Microsoft, Salesforce.com and NetSuite Will Change the Market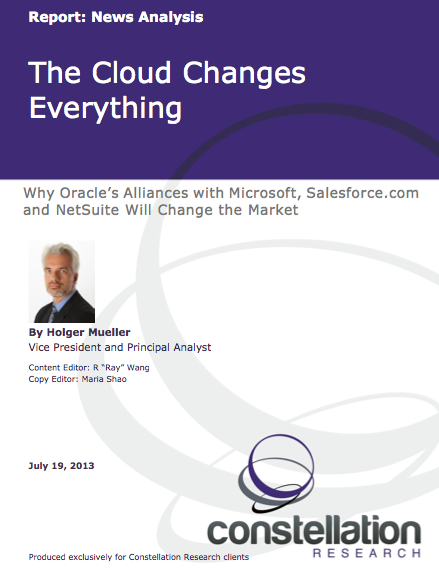 Oracle's release of version 12c of its database provides the company with a key step to remaining a relevant technology vendor for the cloud era. Had Oracle not achieved a significant reduction in the cost of ownership for the database and made the migration to 12c as easy as possible, the often read and heard claims that the time for relational databases is over would have rung true. In the past, Oracle had never been able to garner similar third-party alliance uptake for a database release so close in time to its general availability.
The Microsoft announcement demonstrated that Windows Azure now emerges as a serious option to compete for large cloud workloads. With the addition of the Oracle database and Java, Windows Azure gets significantly more market potential and increases its competitiveness against market leader Amazon Web Services (AWS). This alliance creates the first cross-technology stack compatibility at the hypervisor level. Constellation believes more of these alliances will be announced in the quarters to come.
For Salesforce.com, the Oracle alliance recommits the company to the Oracle technology stack – for good or bad. It comes with significant operational cost advantages and Salesforce.com can invest these savings where it matters most – on innovation or acquisitions. Equally, Salesforce.com receives an out-of-the-box, vendor-supported enterprise application integration between its CRM products and Oracle ERP Cloud and Oracle HCM Cloud. Constellation sees this as a good defensive move for Salesforce.com against SAP – as well as a replacement sale opportunity for Oracle longer term, given the significant footprint of Salesforce.com in the SAP installed base.
Finally, NetSuite plugs a known hole in its automation portfolio for global HCM functionality. The company recently tried to address this deficiency by partnering with a large number of smaller HCM vendors. Now, the partner ecosystem has changed again and NetSuite will have to put a clear partnering system into place. On the bright side, NetSuite has found a cost-efficient way of integrating NetSuite with Oracle HCM Cloud that – as things stand right now – will be undertaken by Oracle. We think that Deloitte will be eager to help.
And while these alliances and the general availability of Oracle 12c make Oracle a player on the cloud side, the company finds itself still challenged by in-memory database offerings (e.g. SAP's HANA) in the short term and the NoSQL trend in the longer term. Both challenges will need an Oracle response in the near future.
Purpose & Intent:
In late June 2013, Oracle Corp. released a new version of its flagship database software, Oracle Database 12c, and announced a series of alliances with key software vendors aimed at strengthening Oracle's presence in the cloud. We analyze how these alliances will change the positioning and usage of these products going forward.
Constellation recaps the events of June 20 through June 27 and looks into the implications of the Oracle alliances for the market, customers, partners and competitors. This report provides insights into two of Constellation's primary research themes, The Consumerization of IT/The New C-Suite and Tech Optimization.
Get Access to This Premium Content