I'm here in Kensington, London this morning to get an update from WalkMe, the well-known digital adoption platform. Arguably the poster child for the fast-emerging cottage industry, I've seen solutions in the category spread across organizations as they grapple with getting today's cornucopia of tech more effectively used by their workers. However, among the digital adoption platforms available today, WalkMe continues to define the category, which was first tracked here by Constellation Research.
The success of providing just-in-time training and analytics insights for the digital employee experience has been evident given the number of Constellation SuperNova awards such solutions have won in recent years. Guiding workers through filing expense reports or managing complex projects to ensure they make the most of the expensive and sophisticated IT tools at their disposal has become so vital that I recently cited it as table stakes for the essential core of the digital workplace today.
WalkMe, for its part, has never been content to rest on its laurels, so I'm excited to see what they present this morning in terms of the new art-of-the-possible for digital adoption platforms.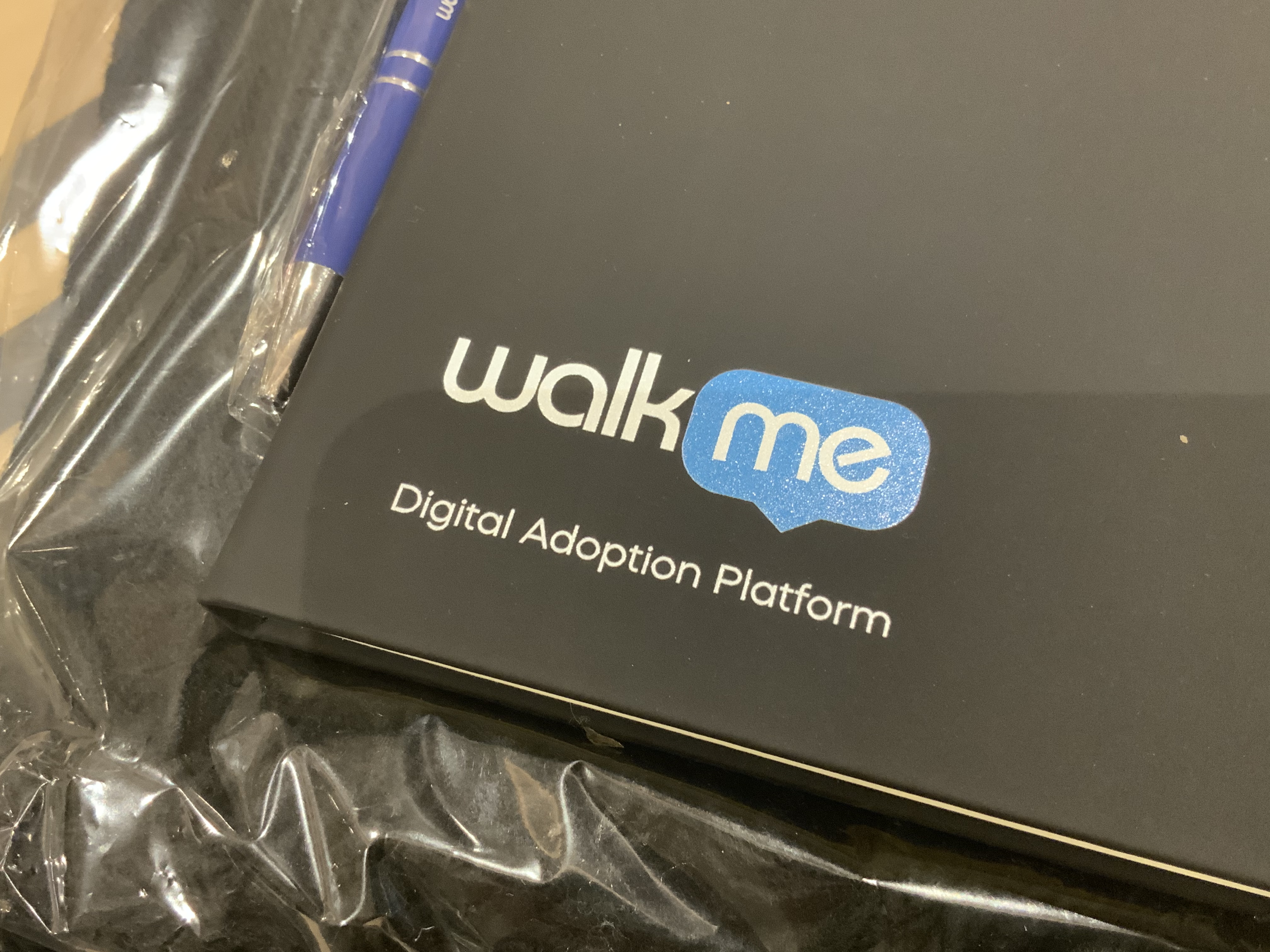 WalkMe Analyst Day, Q4 2022
9:00am: Ofir Bloch kicks things off, talking about how the category started. Mentioning how just about every research firm covers the space now, though it's still not nearly as broadly known as it should be.
9:04am: Now Claire McGovern, Senior Manager of Analyst Relations, is up and introducing the schedule and the day. 
9:10am: Maor Ezer, SVP in the WalkMe Office of the CEO talking talking about living through a rare time in human history. COVID-19, supply chain, Ukraine War, the economy and other current events as a defining time to live through. All of these event are driving change and "really affects us. In the world of enterprise, what we're seeing is we saw a massive spike in experience through the sole great resignation and everything. Everybody started thinking about the employees about the experience they're having, getting the job done, and suddenly almost in a day, we're now seeing the industry talk about ROI, efficiency, and optimization." Shows a graph of the S&P 500 to show the major event shaping the world today.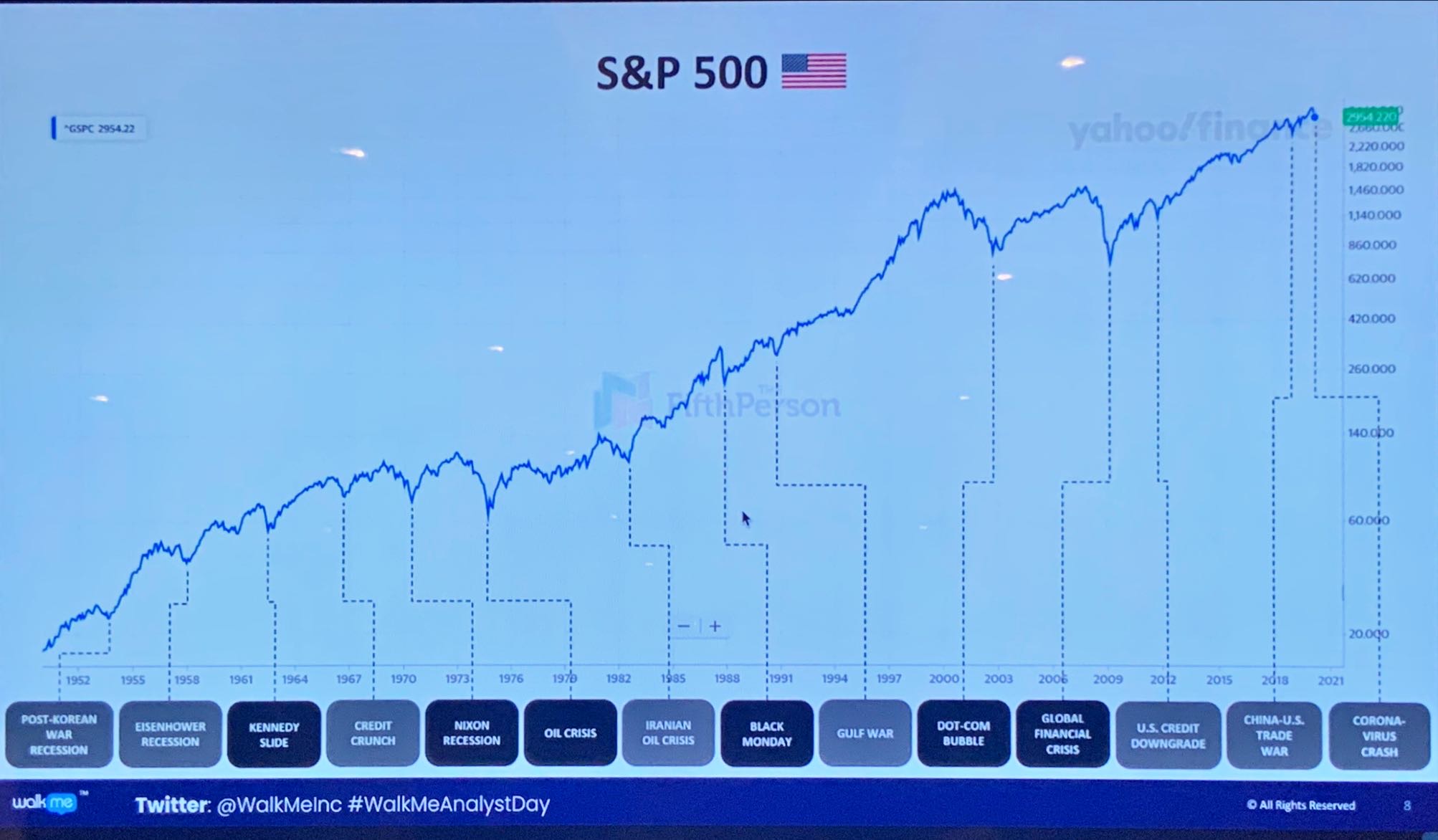 9:17am: Maor (correctly) says the ability to better connect the user experience the user, whether it be the customer or the employee, to the the business workflow is what ultimately drives ROI. And that is the primary goal of the company. "And if you're able to put them together, you're going to see a lot more ROI." Notes that the typical organization rolled out 187 new apps last year, often with duplicative value, but don't get nearly the value from them that they should, due to various adoption challenges.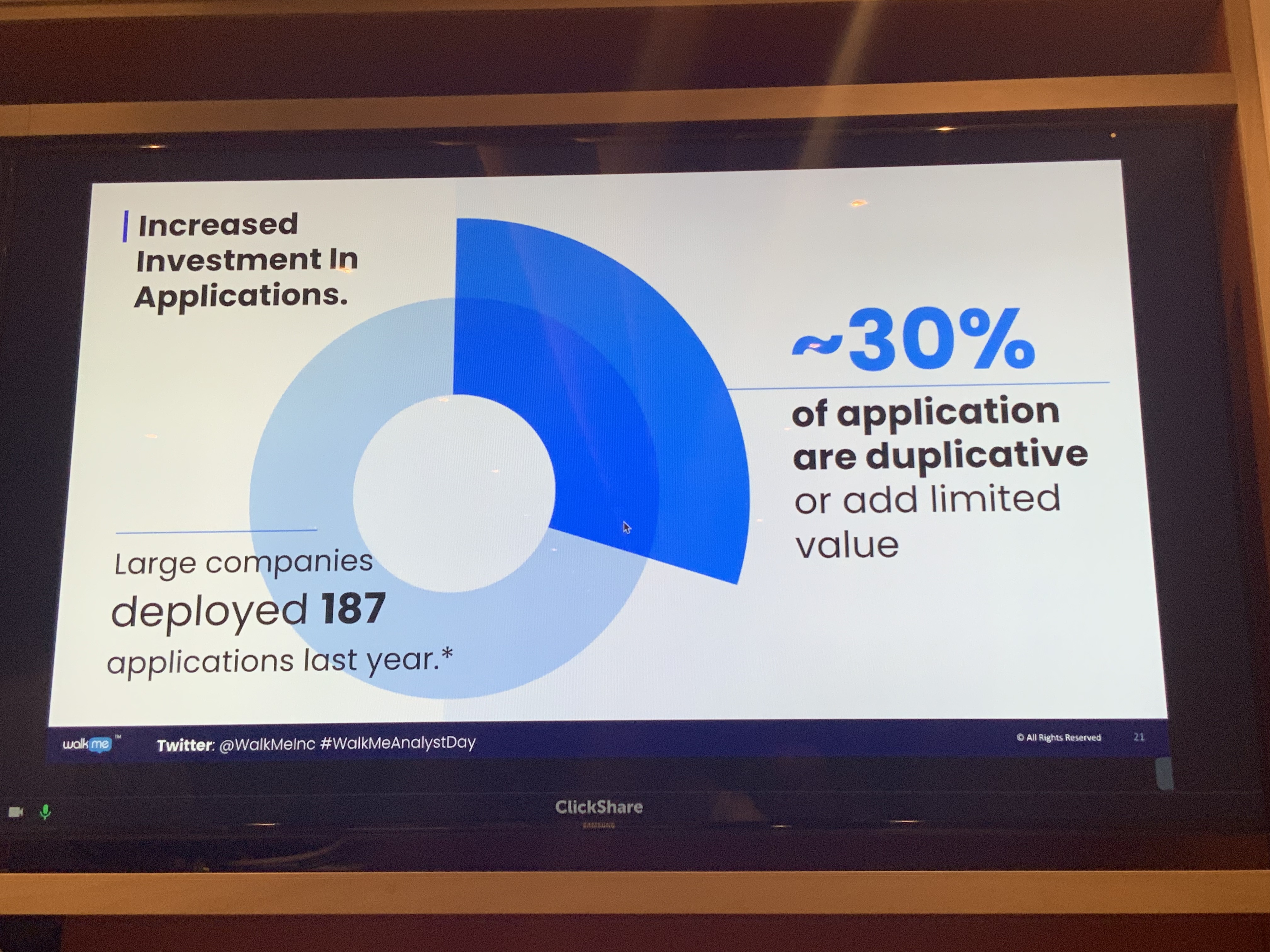 9:22am: Now talking about the digital adoption journey, especially across business applications, the business keeps on saying they're thinking about an application, but they are thinking about an application, but it's not an application. It's a user journey, and the user journey goes over multiple applications. Cross application digital adoption is where the value is, notes Maor. It's all about the frustrated employee, who has to engage with so many pieces of software.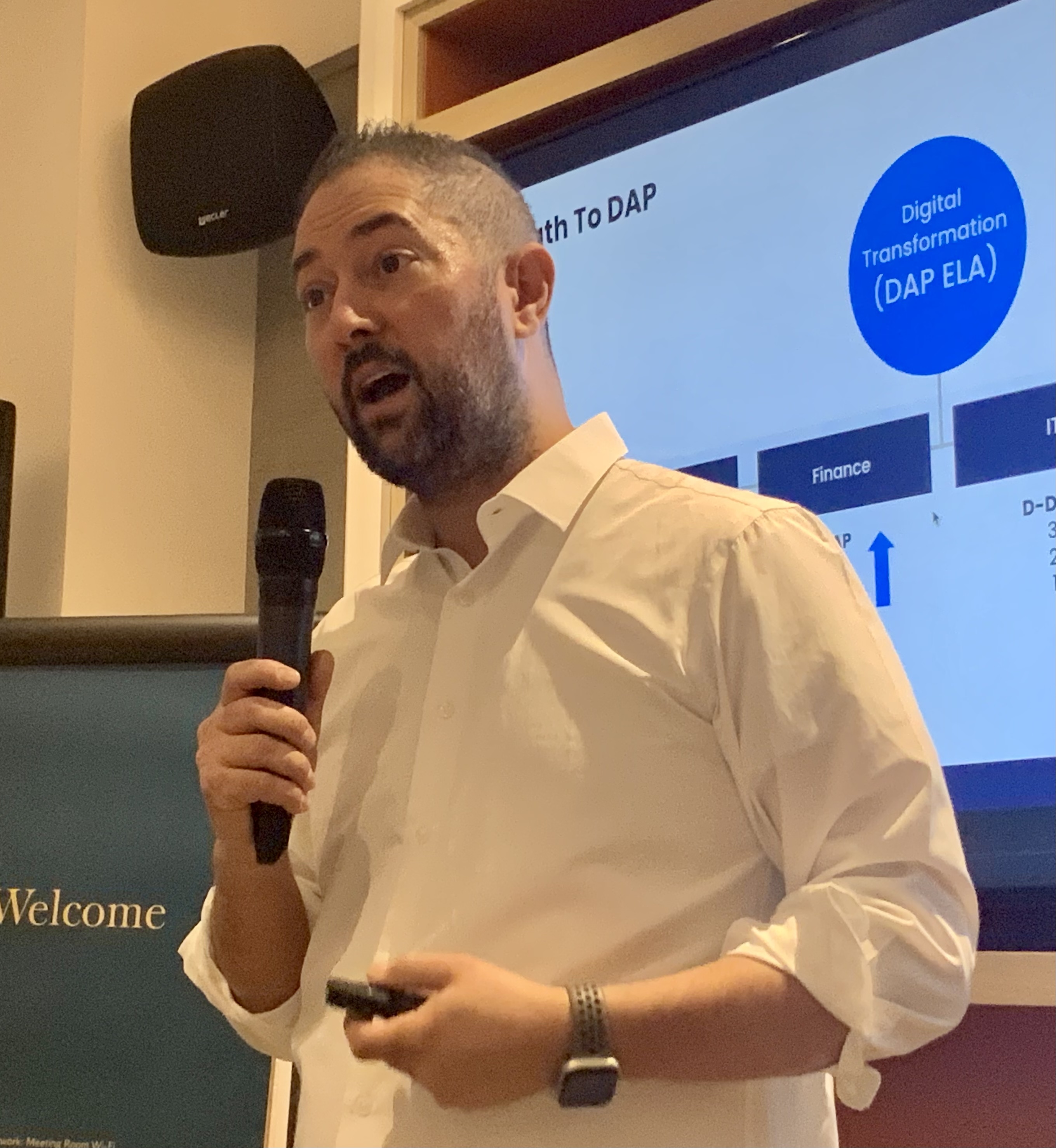 9:31am: Talking about their partner ecosystem. "We've seen Accenture build their first digital adoption practice. Same with Deloitte. SAP made a huge deal with us, we're sold with Concur by them." Have seen comparable growth in process intelligence. Talking about positioning, one person notes that "random acts of digital are a thing of the past", meaning WalkMe helps organization make digital deployment and adoption more deliberate and planned.
9:38am: The buyer of the DAP solution today is still fragmented notes Maor and sits across sales, product, IT, HR, customer care, e-commerce, finance, and operations. The CIO, CDO, and CHRO are often taking the ownership, though the best fit currently for DAP acquisition overall is the CIO. "They tear it out of the business, and make it a center of excellence." 
9:43am: The three legs on the DAP table are a) data on usage and user journeys, b) actions that increase adoption and engagement and c) improved experiences. Talking about the DAP flywheel. Specifically talking about outcome-based solutions, "what are you trying to achieve? Build, solve, measure" in an agile cycle.
9:50am: Talking about the DAP process, which is to define success upfront and then adaptively zero on it. Examples of digital success include: Shortening trouble ticket times, encouraging customer self-service, improving CRM data quality, streamlining the quote to cash process, shorten employee onboarding, and increasingly digital sales.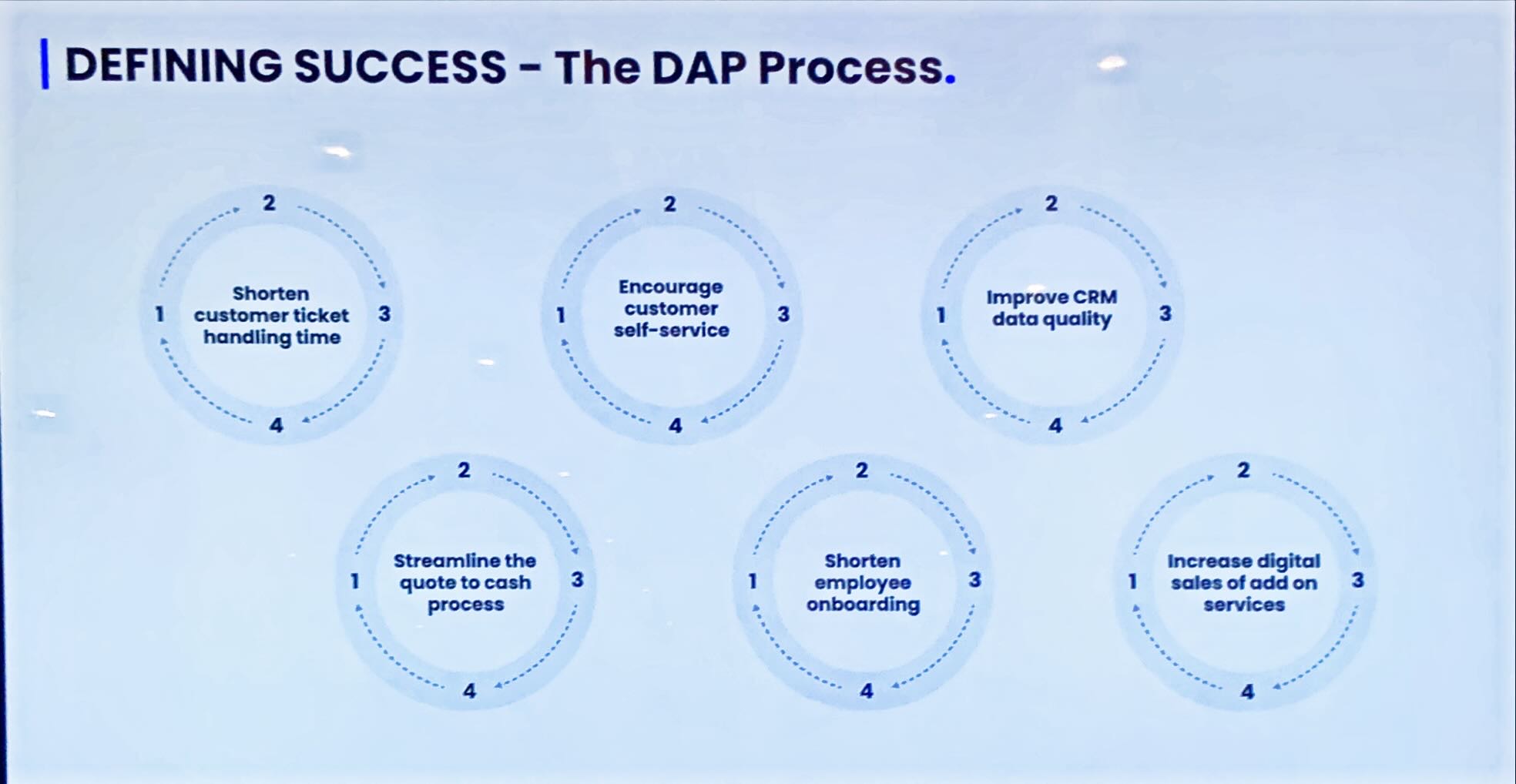 9:55am: "So the experience piece is the cherry on top. That's what the employee engages with. When you think about experience, this is where they meet. This is key to the digital adoption solution. We want something that is the Google of the enterprise that I come to, to start my journey. We want to make sure the future of work and the work experience is accessible to all and really easily on mobile, on desktop, and on the Web.".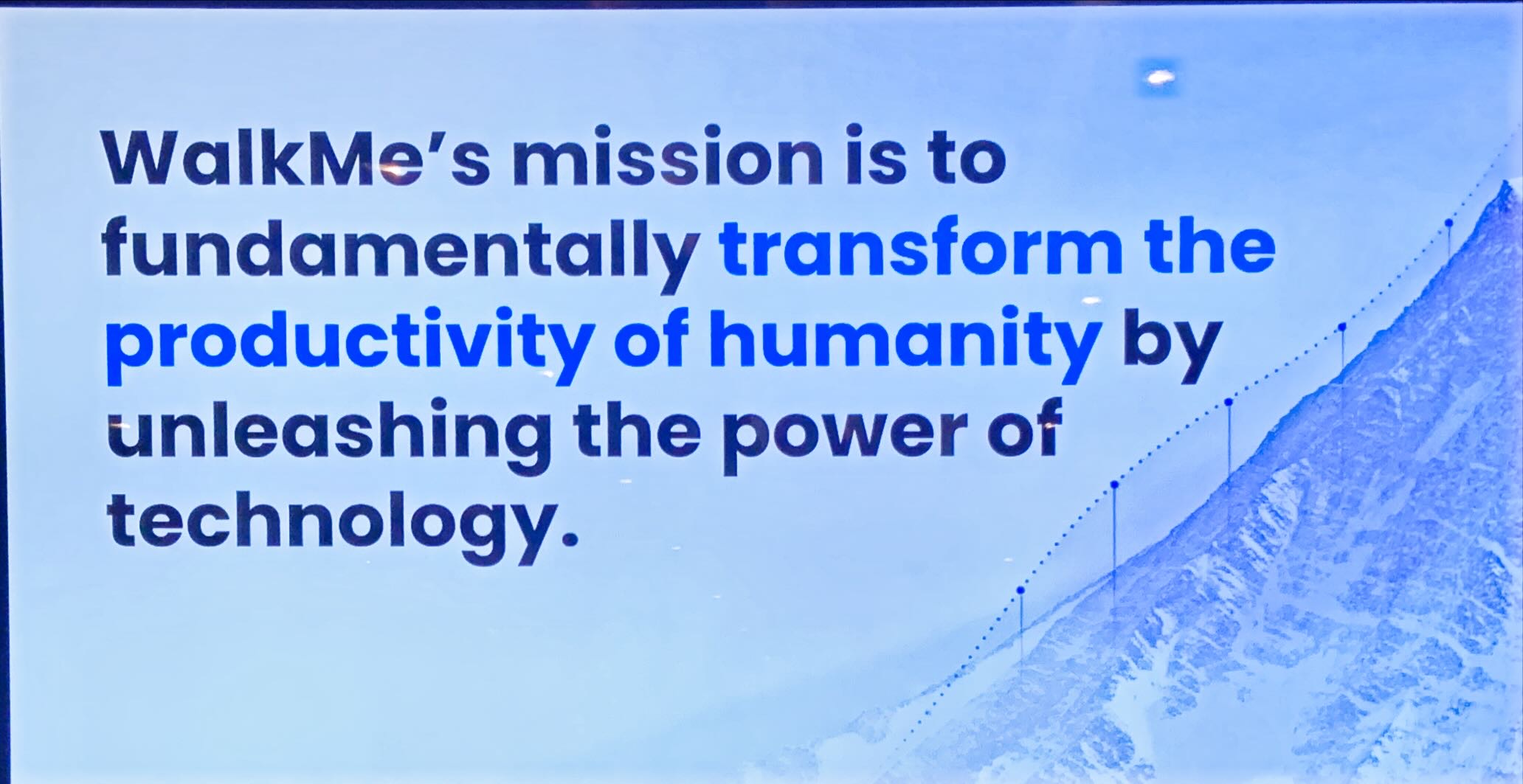 10:08am: Showing voice assistants to aid digital adoption. Saying they're going to be able to deliver the experience not just in their application, but through any application in the IT portfolio to the employee using voice. "We will take it on Slack, on Teams. to use in on Cortana, etc. You want to use any technology to be able to be the funnel that connects the automation in the UI."
Summary: WalkMe remains focused on their mission and overall trajectory. However, they have a desire to continue to increase ease-of-automation and bring better and more streamlined access to the experience layer, especially across applications. They are putting their R&D into these goals.'
WalkMe Product Demo by Lloyd Soldatt
10:27am: Lloyd shows the WalkMe DAP Flywheel and explains how they think about customer challenges. "Of course, it's about relevance and precision. We cannot serve the customer without knowing what level of digital experiences they have in the organization. We have three pillars of the digital adoption technology (data, action, experience.) We collect the data, they give us the understanding where the customer is and in every case, it's a unique situation. It's never the same. So it's not the same solution for everyone. It's very unique. Then we develop and deploy the experience. We then measure the outcome, and we re-evaluate if necessary, so it's ever evolving. It's ever adjusting. It's always fitting the situation. " Will now show WalkMe in action shortly.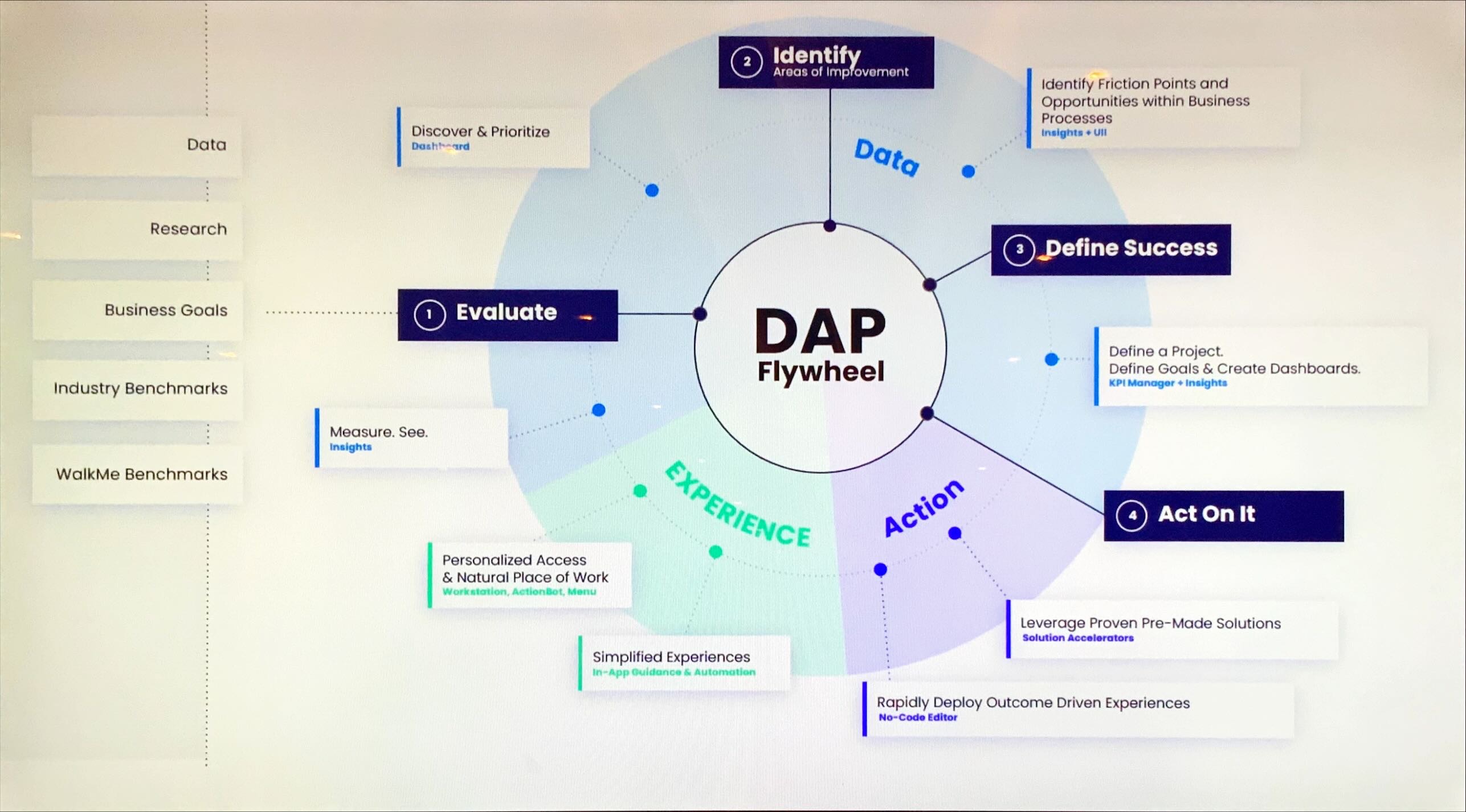 10:31am: Now talking about the AI in WalkMe called Zest. "It learns what I do throughout the day. So next time if I want to repeat a similar action it actually prompts me with my habits and my behavior from before. So it cuts down on the time that I spent trying to fulfill my tasks but it also makes me extremely successful."
10:40am: Now Lloyd gives an excellent demonstration of how digital adoption actually works to both guide and the user and educate them right in the moment as they carry out their work. Video of the demonstration here.
Customer-Centric Strategy, Value, and Innovation by KJ Kusch, Field CTO
10:50am: KJ is an experienced CTO with experience from ServiceNow. I've spoken with her before and she has a pragmatic, can-do attitude towards IT. Explains how Walkme provides value to customers: They start by defining initiatives, which help them understand what the potential digital adoption projects can be. That's important for them to define a DAP business case for customers. Then they stage the steps of the initiative out: "Because I'm not going to do everything at once. I've got to spread it out over three years. And then we engage with the business, to make sure whoever I'm working with understands the business impact and KPIs."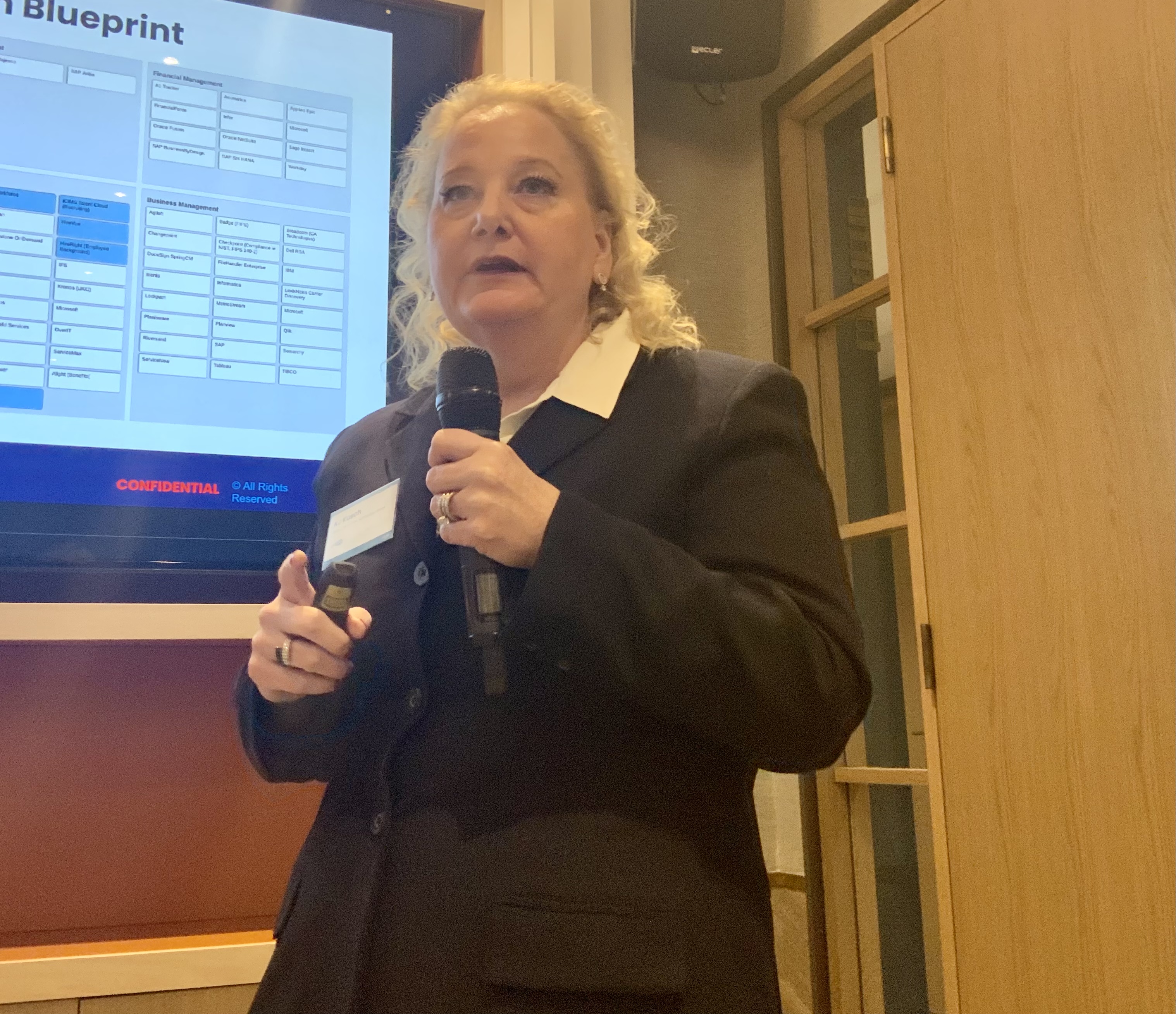 11:00am: Exploring how WalkMe idenfies value in the use cases. Most valuable are the tasks that are carried out over and over again. These form the foundation of a digital adoption initiative. "So the whole crux of all these conversations we have really comes down to making sure we get the right words on paper to have a mutual plan. And that mutual plan isn't just with us and the customer is with services and partners. We document what we know so that we have a clear understanding of what we've been talking about before we even do anything." Then they make sure there is a way to capture and demonstrate incremental value. Interesting. WalkMe has industry benchmarks now, to tell customers what they can expect and how they compare to competitors.
11:10am: Now KJ shows some impressive client business value assessments for DAP, that show the value accused over the years of actually deploying a digital adoption plan. Shows an example of a client with 61 use cases where they deployed over 200 pieces of digital adoption content to help aid their workers. Then they ensure they measure all of the resulting time saved and efficiencies into an actual dollar amount to show ROI.