Uber CEO Dara Khosrowshahi said the company's scale is providing a "significant data advantage" that will enable it to "develop cutting-edge AI that can be trained across larger data sets."
Khosrowshahi's comments, which were delivered in prepared remarks about Uber's first quarter earnings, highlight how the company is about mobility and delivery, but its competitive edge is really about data.
He said:
"On the consumer side, we are using an ultra-low latency deep neural network to predict highly accurate ETAs for rides and deliveries. On the earner side, we have developed advanced computer vision algorithms that have allowed us to more reliably and cost-efficiently process documents, resulting in faster onboarding times.

We are still in the early stages of using large data models to power improved user experiences and efficiencies across our platform, with much more to come."
This theme is increasingly common among companies that aren't necessarily known for technology. The upshot: Companies in every industry are producing a data flywheel that can be used for new innovation.
Uber reported better-than-expected first quarter earnings. Uber reported a first quarter net loss of $157 million on revenue of $8.8 billion, up 29% from a year ago. Uber's first quarter loss of 8 cents a share was a penny better than Wall Street estimates. Mobility revenue for the first quarter was $4.33 billion, up 72% from a year ago. Delivery revenue was $3.1 billion, up 23% from a year ago. Uber Freight revenue was $1.4 billion, down 23% from a year ago.
Related: Analytics and Business Intelligence Evolve for Cloud, Embedding, and Generative AI | Time for Software Architecture to Catch Up With the Event-Driven World
Khosrowshahi said Uber is using its platform to scale new businesses including Uber for Business and advertising. Data is also critical for Uber's efficiency efforts. Khosrowshahi said Uber expects to hold headcount flat to down with more "deliberate performance management."
Indeed, Khosrowshahi said that Uber plans to accelerate its path toward GAAP profitability "by optimizing every single line item across our entire P&L—including stock-based compensation, depreciation, amortization, and interest expenses."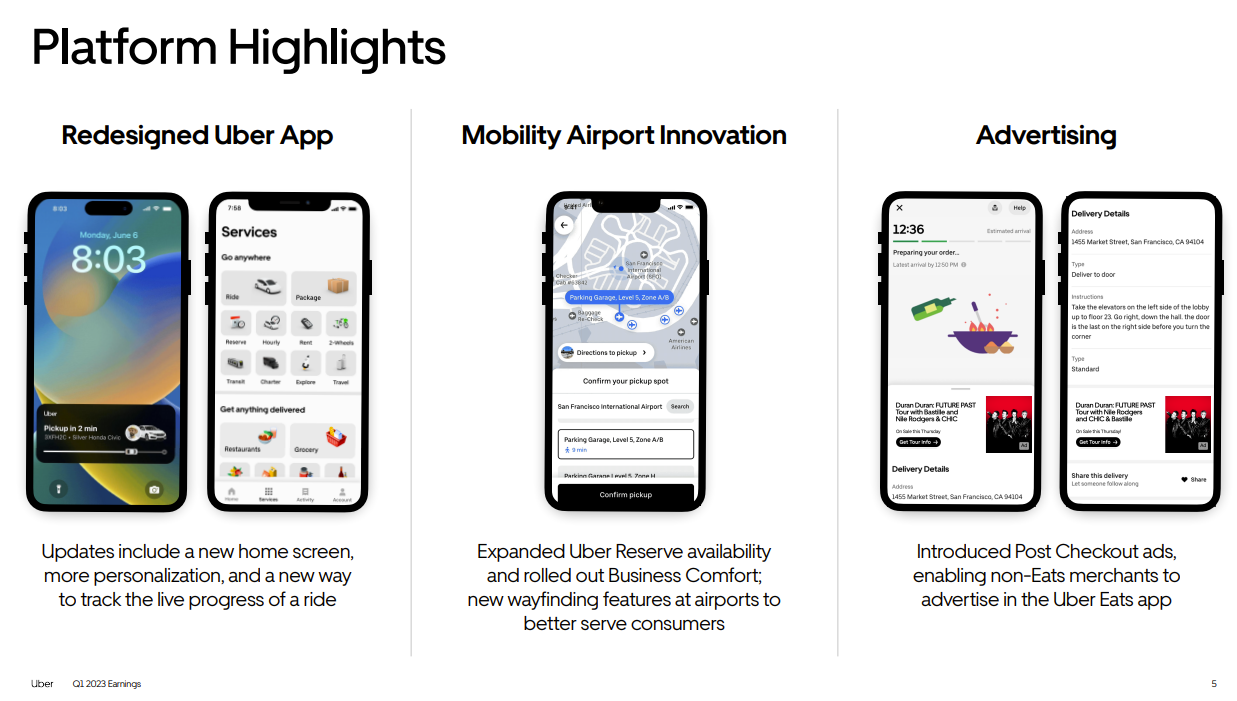 This optimization includes process mining as well as automation. Uber has been a reference customer for Celonis and UIPath.
Speaking on a conference call with analysts, Khosrowshahi explained how Uber sees the progression of AI at the company. 
"As far as AI goes, we are looking full stack at AI. I think a lot of people obviously want to talk about the sexy, kind of new consumer applications. I would tell you that I think that the earliest and most significant effect that AI is going to have on our company is going to have to – is actually going to be as it relates to our developer productivity.

Some of the tools that we're seeing in terms of co-pilot are going to allow our devs to, kind of be super-devs and to be able to innovate more, build more faster having co-pilot along with them. And that will essentially leverage and accelerate innovation across the platform. 

I think on the cost side, you can see chatbots powering a lot more experiences as opposed to let's say live agents. I think the quality of those chatbot experiences is going to increase with AI with a voice that can be more human, interactions that can be more complex, etcetera.

And then we will look to surprise and delight. Pick me up at the airport. I'm arriving in American flight 260 on Tuesday. And we will know who you are, where your home is, what kind of cars you like, etcetera, and AI can power those kinds of experiences.

So, it's going to go from productivity to cost to delight." 
Among Uber's first quarter takeaways:
Uber's advertising base was up 70% with more than 345,000 businesses signed up.
The company will share more product updates at its GO-GET showcase on May 17.
Uber plans to hold its first sustainability and electrification event in London during the summer.
First quarter mobility active drivers were up 35% from a year ago.
Uber is looking to expand its delivery reach and expanding into grocery, convenience and alcohol.
The company's Uber Freight business is seeing headwinds amid macro-economic concerns.