It hasn't taken long for Juergen Mueller to ramp up as the new Chief Technology Officer and executive board member of long-standing enterprise software industry leader SAP. While he previously held the role of Chief Innovation Officer at the company for several years -- and he continues to be responsible for product innovation overall -- today he must successfully lead SAP's overall platform and technology development including such flagship offerings as the SAP Cloud Platform as well as their foundational offering, SAP HANA. He and his team are also charged with the incubation and market adoption of intelligent solutions such as analytics, SAP Leonardo, machine learning, and IoT across SAP's vast and growing product portfolio.
So, it was recently at the company's big customer conference, SAP TechEd in Las Vegas, that we were able to see the early results of his January, 2019 ascension to the top technology role at the helm of the firm's technologies and products. Juergen comes into his job at time of growing hypercompetition among the top-tier vendors for enterprise customers as they begin a deeper shift to the cloud. Cloud platforms now exceed any previous platforms in terms of capability that they offer operationally, feature-wise, security-wise or by just about any other measure. What's more, customers are in play in terms of acquisition in a way they may never be for the foreseeable future as they switch from legacy IT to cloud-based IT.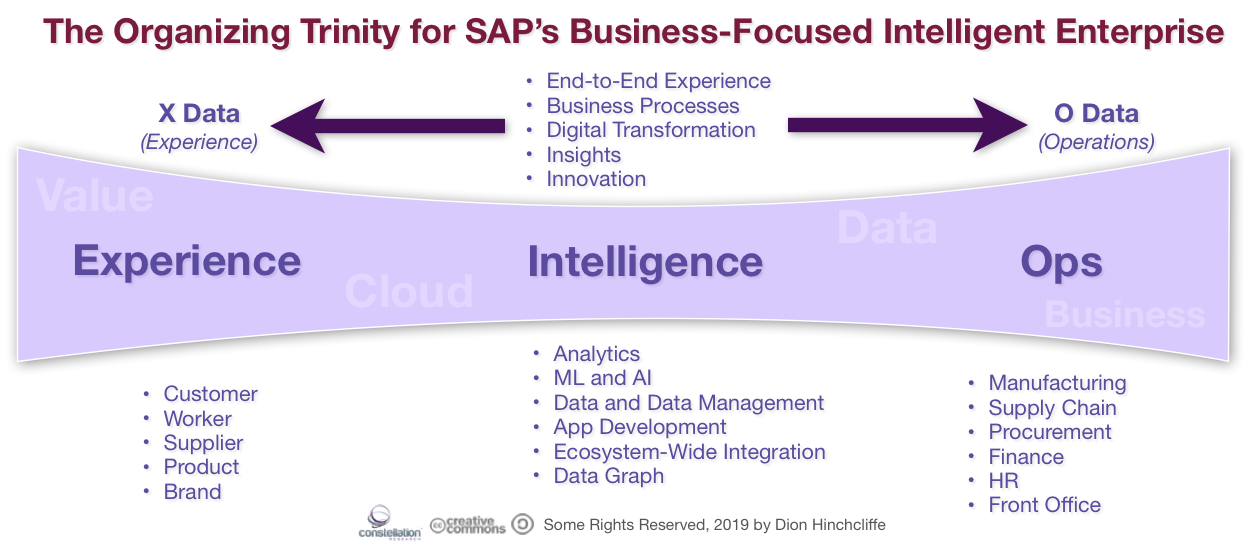 Furthermore, enterprises still make their vendor selections for the long term, at least five years or more today. Juergen has come into his role at a time of great transition in the industry, as well as for SAP as a company, and one that they must navigate successfully with both high growth and many net-new customer wins, as more customers are potentially up from grabs today across the market than they will be for quite some time.
Giving the opening keynote at TechEd, Juergen gave many in the industry a sustained look at both his leadership style as well as the specifics of his ongoing vision for the company's technology and platform portfolio. Here is what I was able to take away from my analysis of his wide-ranging talk and numerous announcements:
SAP's doubles down to definitively encompass end-to-end experience, intelligence, and operations. Juergen opened with this trinity and together as a value chain they continue to comprise the overall organizing principle for SAP's product vision and strategy, the Intelligent Enterprise concept that they have been maturing over the last few years. While this has been expressed before, it never been with such inevitability and as we'll see, with important new details. Experience, at least as an explicit term, is a relatively new emphasis for SAP. It's one that includes not just customers, but employees, supplier, product, and brand experience. In my estimation, SAP's continued emphasis in this area -- despite existing customers being much more on the ERP and operations side -- shows they can't afford not to be part of the market's extensive experience economy investments that customers are making now. SAP continues to rapidly build out capabilities in this area, from SAP Customer Experience to their acquisition of Qualtrics to establish credibility in new (for them) and critically important experience channels that are vital for revenue growth of their customers. In short, SAP used to be about the back office, now it's adding the front of the business, along with industrial strength analytics in the middle of the trinity to hold them all together and produce value.
The Business Technology Platform (BTP) has emerged to become the prime enabling path to the SAP's Intelligent Enterprise. Previously known as SAP's Digital Platform, the BTP is a collection of data management and related cloud technologies, with new improvements focused on making it easier for businesses to develop applications that link their core SAP systems both to one another as well as with data residing on other platforms. Want to take your data and SAP systems and build applications or experience that improve processes, drive revenue, and deliver innovation? BTP is the vehicle for enterprises to deliver on both tactical improvements and business transformation all along the edge of their digital core using data management, analytics, AI, IoT, blockchain, application development, and integration services on one of the few genuinely open and neutral cloud platforms for the enterprise.
SAP appears willing to go far beyond their existing customer base to emphasize its new experience focus. Juergen took considerable time in front of a customer and developer audience that has its passionate roots in back office systems like ERP and databases to explain SAP's growing end-to-end vision that now starts with experience. This isn't an audience positioned well to expand into these new categories, as they tend to be siloed in areas far away from the customer. The willingness to spend time on this onstage indicates both confidence in the message and its vital nature to SAP's own long-term growth strategy. Juergen needed to be inclusive and embracing of this new buying and partner audience. He generally succeeded in welcoming them, without overly alienating the existing base. Experience buyers are a critically important audience that can fuel SAP's continued relevance and growth, and as it happens, a necessary one to deliver a much more comprehensive vision for IT and strategic digital capabilities. Make no mistake, SAP still has some gaps in its products for both customers and workers, but office productivity tools are now one of the few outliers.
A unified data model for integration arrives, allowing enterprises to truly connect their systems together cost effectively. Dubbed SAP Graph, I will go on record saying it will be one of the most important advances that SAP has created. SAP Graph is a single semantic data model across all its applications, with a unified API layer. The objective of the newly announced SAP Graph is to simplify creation of systems and integrations that require access to SAP data. "It can be used by any application, running on SAP or non-SAP technology," Juergen noted. One single API and data model will go leaps and bounds into taking SAP into a core role as an integrating fabric for enterprise-class business capabilities. Juergen is to be lauded for this announcement. In a separate conversation I had with him about it, he noted that it will take a while to fully realize SAP Graph, given the size of SAP's product portfolio.
Consumer grade usability, especially across end-to-end business processes, is now a priority for SAP. I've long heard from customers and developers that the hodge podge of internally developed solutions combined with acquisitions like SuccessFactors, Gigya, and Fieldglass has left SAP customers with a disjointed user interface experience that was increasingly painful and simply required too much training/effort to use. Juergen promised that will change with the advent of SAP Fiori 3, which will offer users a more modern, better harmonized design and user interaction model. This user interface model is also available to enterprises developing their own apps on SAP, whether they're targeting desktop or mobile devices so that their entire IT experience is consistent. I suspect the transition to Fiori 3 will take much longer than everyone would like, but it's a significant and worthy move to make SAP's portfolio more unified and effective from an experience standpoint.
Azure becomes a special cloud partner to help customer realize results faster and better. SAP calls them a 'hyperscaler', presumably to make customers consider them more of an infrastructure play than a business platform, since both companies certainly have competitive products in a number of business categories. Azure head Scott Guthrie was brought on stage with Mueller to show the seriousness of the relationship, which ostensibly is for making their respective clouds easier to use together, with focus in areas like AI and blockchain. The risk here is that SAP is essentially demoting other clouds (most notably Google and AWS) to less than a first-class citizen footing. This might work out, however, given that large enterprises often use Azure more than they use AWS or Google Cloud, but it is a calculated risk nevertheless.
SAP now appears open to tuning its business model and go-to-market fundamentally, offering pay-as-you-go for the first time. With most cloud services being pay-for-use, a big key to some of the attraction to the model, SAP Cloud Platform has not been offering itself in such a consumption-based model. Committing to this model is important to be competitive long term in many (but not all) product categories in my estimation. It's actually a watershed moment where SAP can now charge for value delivered and move to revenue models that are more modern and able to capture the upside. While undoubtedly they received much pressure from customers to make this change, the fact they did so, despite having highly differentiated offerings, show how far SAP is ready to go to be a true cloud players. The challenge is it remains to be seen how their shareholders will take this in the short term, but as long as product adoption is where it needs to be, this shouldn't be an issue, because the revenue will be there. From a CTO perspective, there is a lot to do to make pay-per-use work in products that weren't designed to meter usage from the outset, but it appears Juergen is not concerned.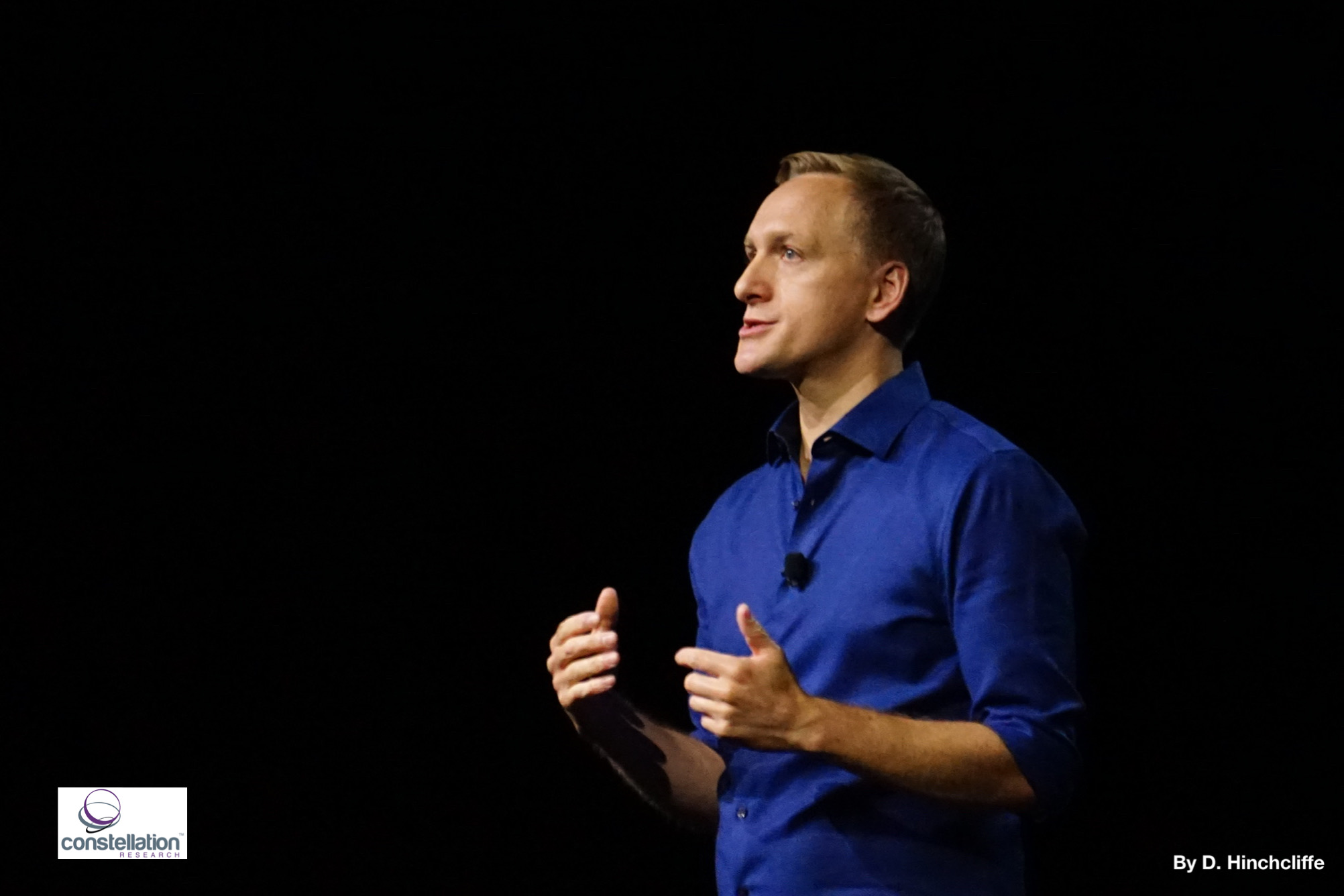 Incoming SAP CTO Juergen Mueller
What digital and IT leaders should take away
SAP remains targeted at the high margin part of the cloud space. It's leaving commodity infrastructure and its relentlessly price-pressured products to the hyperscalers, and focusing on business services that provide the most value. Enterprises that want a business partner for their digital capabilities at the most strategic level are generally still left to SAP to work with in a space that's now increasingly crowded. Yet the other clouds will continue to "climb the stack" and offer more and more business capabilities. However, it's hard to see that leaders like Amazon or Google will enter the ERP space. Oracle is the real competitor here, and the technology vision simply isn't as cogent or forward-thinking as what Juergen put forth.
From a leadership perspective, Juergen appears to be from a newer generation of more collaborative leaders, more humble, but with even higher expectations than their predecessors. His existing audience of developers and partners should find him likeable, as well as the new segments that SAP has added to their strategy.
In the final analysis, SAP has taken a great step forward with a full-spectrum set of experience offerings, along with a BTP that will allow organizations to build and integrate everything else that they're need to digitally transform into the businesses of the future. The X data (experience) and O Data (operational) messaging is right, but the challenge they have is that they are now out ahead of most of their customers, who are just now seriously thinking about how to connect these two worlds together better to realize the experience revolution happening in some organizations today. But this is where they need to be, and I believe Juergen's challenge now will be sustaining investment for as long as it will take to truly combine the Intelligent Enterprise vision craft from what is essentially a large silos of product development efforts and integrations.
This overall vision is the right one, now it's about timely execution. If Juergen can truly harmonize product experience, if he can deliver on SAP Graph in 3 years and not five or six, and if he can produce an increasingly cohesive offering from existing, new, and acquired products while continuing their rate of growth, SAP is positioned to sustain and win in best-in-class digital capabilities for complex enterprises.