In May this year Salesforce introduced its concept of the Five Transformations of Enterprise Software, which seemed a rational organization of Salesforce product sets. Those charged with finding the deployment paths, and starting projects, leading to Enterprise Transformation for Digital Business should see the potential in the Five Transformations to delivering a much-needed coherent approach. The starting point to Digital Business lies in gaining access to radical new data to allows Business Managers to deploy new intelligent 'read and react' capabilities, but to do this IoT connectivity has to made a business tool.
To do this the same approach has to be applied across the entire enterprise complex mix of activities, to constantly try to match the changing circumstances of market forces and events with internal capabilities. Digital Business is applying a massive acceleration to any and all of these factors, driving the need for radical rethinking of Business and Organizational models. In 1979, a time of relatively static market activities, Harvard Professor Michael Porter introduced his now famous Five Forces Framework to analyze and understand the external competitive forces of a market on an Enterprise. Back then, and remember this is before the impact of computing, let alone the Internet, there was time for each of the forces to be quantified and an appropriate Enterprise strategy planned.
The five forces are certainly still present in the market, but in the interconnected online business markets of today the speed of change has reduced the ability to use the model. The Enterprise focus has shifted towards looking for how to provide dynamic responsiveness, the ability to make an Enterprise 'Agile', to align to the realities of Digital Markets and Business Models. Whilst the concept of Agile is appealing simple, the reality is not, and that's where Salesforce enter the picture with their approach to Enterprise Software transformation.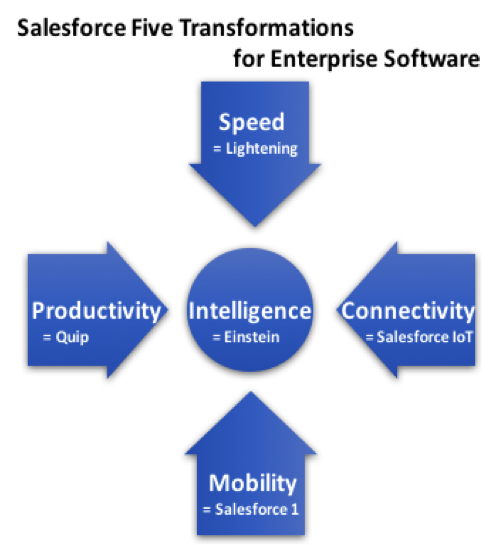 Salesforce IoT Explorer Edition is a key part of the Salesforce announcement of Five Transformations of Enterprise Software a significant move in defining the necessary operational characteristics for success in dynamic Digital Markets. There is no like for like comparison between Porters Five static forces and the Salesforce Five operational capabilities because the whole context of Business has changed. Three year strategies and Enterprise level Transformation is no more instead constant dynamic reinvention, and opportunities maximization through swift small moves is the requirement.
The Salesforce Five Transformations relate directly to this, placing the focus on changing five core operational characteristics, or capabilities, that together transform Enterprise 'Agility'. Individually and collectively the Five Transformations offer granular flexibility and inherent integration to provide the much sought-after shift from the rigidity of IT Enterprise Applications and architecture integration towards the flexibility of Business Management driven deployments. The introduction of the Five Transformations represents a logical extension of the Salesforce core strategy to transform the delivery of business value and market competitiveness by changing the technology provisioning model. In the Five Transformations Salesforce has introduced an explicit path to deliver complete Enterprise Transformation.
It's a well thought through approach and goes a long way to answering some big questions, starting with how to deliver incremental high value business change through small non-disruptive steps. Business management friendly operating characteristics, are matched with technology sophistication based on the experiences of first wave deployments. The introduction of Salesforce IoT Explorer Edition, to drive 'Connectivity' Transformation, (read the full announcement here), demonstrates why each of the five provides a transforming Enterprise role in the path towards Digital Business.
Salesforce IoT Explorer Edition is Salesforce's connectivity play with a vital role in Salesforces five transformations to enables business users to drive monetization and profitability.
Salesforce IoT Explorer Edition feeds the other four Transformations new forms of insightful data on Enterprises activities and Market events from a wide variety of new sources. To conduct Digital Business an Enterprise requires 'Connectivity', to provide 'Engagement' with a wide range of everyday devices, or sensors, a wholly different functionality to the 'networking' of Computers and Applications in IT systems.
Connectivity provides the direct input of Business valuable data that lies at the heart of Digital Business, without the data from "connectivity' there cannot be the innovative insightful outcomes that Business Managers are seeking. IoT is a key starting point, and a technology function checklist shows Salesforce has learnt and applied a great deal of experience from deployments over the last few years. All-important second-generation maturity extends capabilities into complex IoT estates where end points provisioning and ownership may belong to different organization.
Salesforce position 'Connectivity' as one of the Transformations that an Enterprise must make as with the advent of 'Systems of Engagement' the definition of data sources that will require 'connectivity' extends potentially right across the Enterprise, and its activities. Today's IoT solution choice will either frustrate or enable the ongoing demand for 'Connectivity' across the Enterprise to enabling an ongoing transformation into new Digital Business models.
The development of the Digital Enterprise will not be as a single Enterprise wide massive transformation project. The realistic vision relates to using Enterprise 'Agility' techniques to deliver a flow of individual high value business projects. Currently Business Managers are in many cases frustrated by the apparent technology and cost difficulties that seem to be preventing them from making the first steps even at the first stage of IoT.
There is a familiar ring to this problem as Salesforce well knows, having empowered a generation of frustrated Business Managers to create CRM as the business tool they needed, with appropriate deployment and pricing. The business requirements to gain value from using IoT is not dissimilar, and the Salesforce approach to transforming 'Connectivity' is a good match to their expectations. Add the inbuilt relationship to existing customer centric activities and the other four Transformation, and the result is that Business Managers capabilities to define and deploy innovative Digital Business solutions are, well, Transformed!
Business Manager's Headlines:
Salesforce IoT is built to optimize connected Device data across Enterprise systems of record. It is built directly into the Salesforce Platform application to provide seamless integration with the data that drives value for business; (i.e. Case History, opportunity status, asset history, etc.). Salesforce IoT differentiates itself by enabling Salesforce's primary customer: the business user who understands what drives value for their organization, rather than hard core software engineers.
Technology Function Headlines:
Salesforce IoT is a platform product from Salesforce with the ability to ingest data through the tried and tested Salesforce API. At its core, Salesforce IoT implements a simple UX on top of a finite state machine which allows users to model complex nonlinear flows and take actions based upon easy declarative logic. Salesforce formula language and UX metaphors simplify the orchestration authoring process while simultaneously providing simple syntax for enriching device data from CRM.
---
Connectivity within Systems of Engagement
Engagement with Customers; Successful reoccurring revenue from the provision of Digital Business Outcomes extends relationship management into a much broader engagement around recognition of continual satisfaction in the provision of the agreed Outcome.
Engagement across Markets; Digital Markets are continuously dynamic as factors ranging from demand levels, and events, combine with supply and pricing, to change competitive positions.
Engagement with People; A great deal of market shaping now occurs through engaged, or involved, people creating, sharing and exchanging views and opinions.
Engagement with Buyers; Events and circumstances create revenue opportunities that engagement capabilities must recognize and provide a contextual aligned optimized response.
Engagement with Machines; The first level of Service provisioning will be dependent on using ever increasing amounts of IoT sensing either added to existing equipment, or built into new equipment.
Engagement with Outcomes; The Services management of individual machines, (Air Conditioners, Heating plant, etc.) has to be consolidated with the bigger picture of an Outcome, (Maintenance of a selected Temperature in a Building).
Engagement with Ecosystems; Ecosystems of specialist providers have long been a feature of sophisticated Service Management provision, (a full Building Management Service contract provider would use different companies for different elements).
Engagement across the Enterprise; Systems of Engagement do not exclude the need for internal engagement across the Digital Enterprise, as it too represents a similar dynamic environment to any of the above. Internal Enterprise engagement to monitor the availability of resources, capacity, capability, etc. is as important as the external engagement factors above.
---