Each year at Salesforce's annual Dreamforce conference there is a central theme, this year it was clearly Artificial Intelligence, or AI. More specifically, it was the introduction of Salesforce's new AI platform named Einstein, which adds intelligence to Salesforce's core applications for Sales, Marketing, Customer Service, etc. However, in this blog post I'm not actually going to focus on Einstein, but rather on something more subtle that I've been observing about Salesforce for a little while now.
Even though the addition of AI was front and centre in almost every keynote and session, my main take away from Dreamforce is that they are now focusing less on the various systems of record themselves (example, the accounts, leads, support tickets, marketing campaigns, etc.) and more on the ways people can interact with them. In my opinion, Salesforce's ability to surface those records within conversations, emails, calendar events and documents is one of their greatest strengths.
I've created the following image to explain what I mean.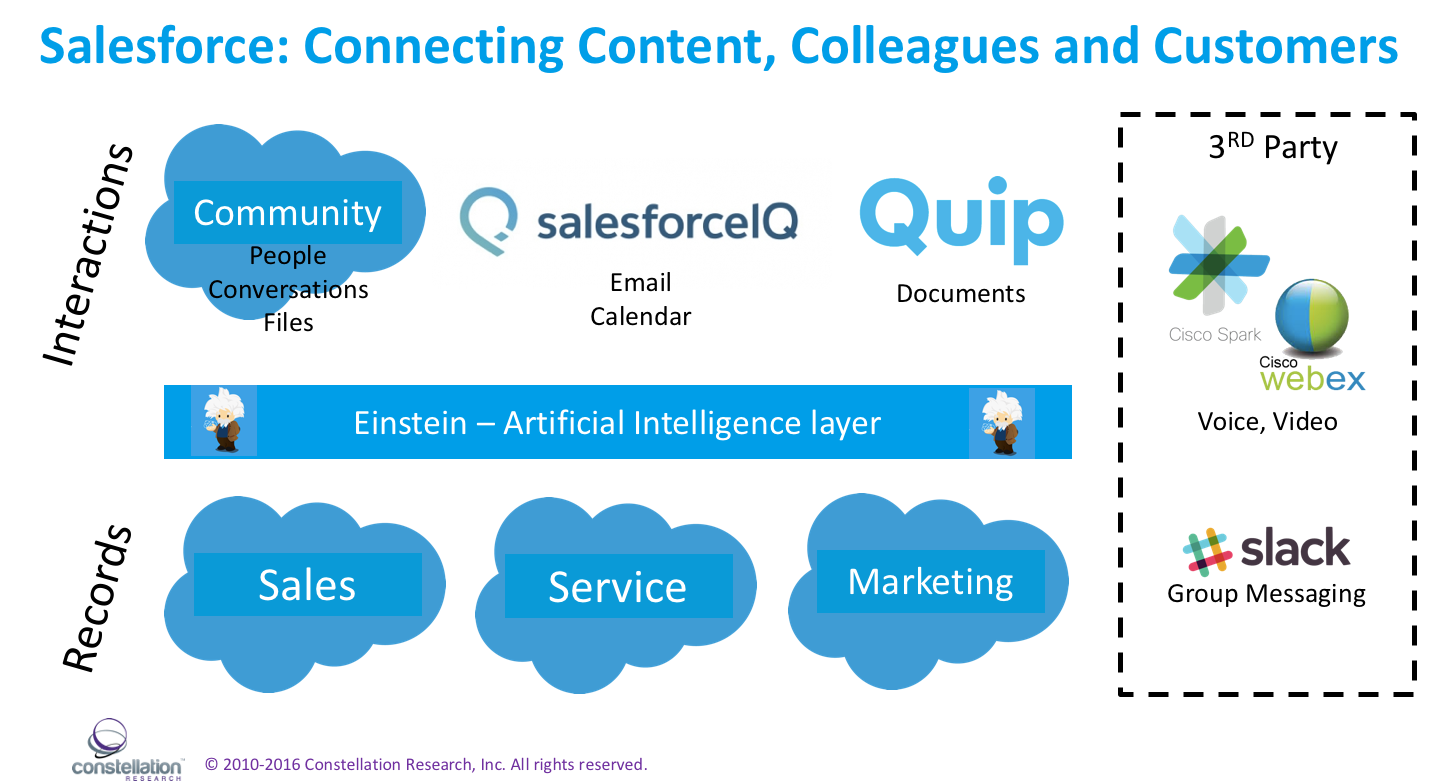 At the bottom of the image are three of Salesforce's main products, Sales Cloud (CRM), Service Cloud (customer support) and Marketing Cloud (campaign automation). These are the applications where Salesforce customers create the systems of record that contain vital business information and processes.
At the top of the image are the ways Salesforce now enables people to interact with those records outside of the applications themselves:
- Community Cloud, which includes Salesforce Chatter (enterprise social networking), Files, and Communities
- SalesforceIQ, an email and calendar client (based on the acquisitions of RelateIQ and Tempo.AI)
- Quip, documents and spreadsheets
On the right there are examples how Salesforce is working with other software vendors such as Cisco and Slack to extend the reach of Salesforce data into other applications.
The the centre of the image you can see how Salesforce Einstein provides a layer of intelligence between the systems of record and the ways people interact with them.  For example,
- Community Cloud leverages Einstein to find answers to the questions people are posting communities
- SalesforceIQ (which was created via the acquisitions of Tempo.AI and RelateIQ) leverages Einstein to help people connect emails and calendar entries to the CRM and Service records of the people they contain
Quip - The Secret Weapon?
While Quip was only recently acquired, the teams have been quickly developing integrations. In the image below you can see that Salesforce records can be inserted as linkd into Quip documents, and values from CRM records can be inserted into cells in a spreadsheet.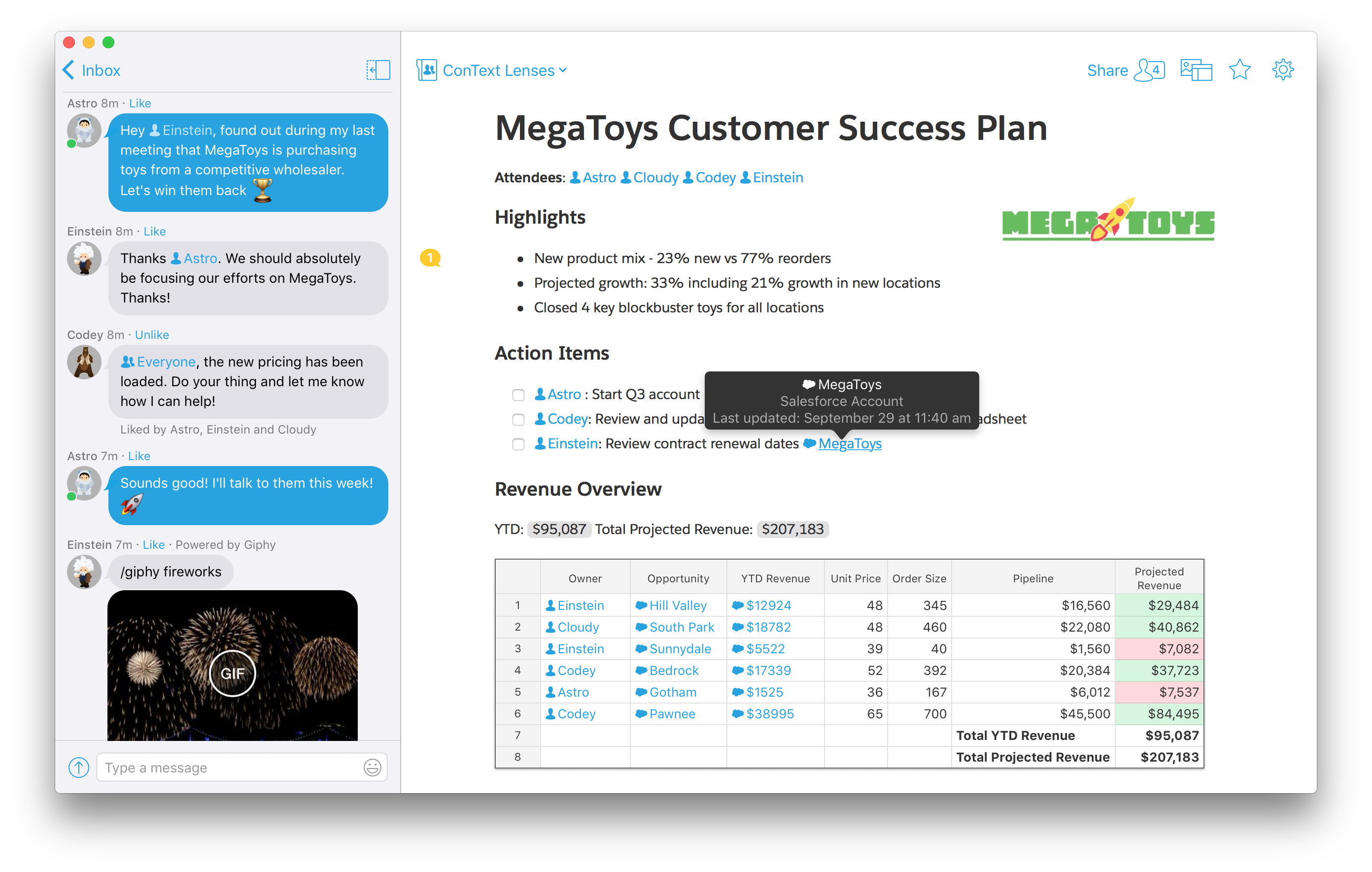 In my opinion, Quip is one of the most important acquisitions Salesforce has made. Today you can have conversations around a record via Chatter, and you can attach relevant files (say a sales presentation or product catalog) to a record. But imagine in the future if every Salesforce record has a "living document" as part of it, enabling people to collaboratively take notes, brainstorm ideas, generated reports, track tasks and more. Quip could be one of the most important pieces to a larger puzzle Salesforce has been working on.
Is Salesforce, the next enterprise productivity suite?
If you think back to just a few years ago, Salesforce was a product mainly used by a company's sales reps. To expand their audience (and revenue) Salesforce added applications for other parts of the company such as customer support and marketing. Now, as the image above shows, they have provided several ways to create, share and discuss those records with colleagues, prospects and customers.
While Salesforce is not quite ready to compete with Microsoft (Office 365) and Google (G Suite) yet, they have assembled (via build, buy and partner) many of the components employees use to get their jobs done. Employee can use SalesforceIQ to access their email and calendar, Chatter for social networking and files, and now Quip to create and share documents and spreadsheets. Add Salesforce records to those applications, and sprinkle in some intelligence powered by Einstein and you can start to picture an environment where employees all across the company spend a great deal of their work day inside Salesforce products. Maybe it's time for a name change from Salesforce to Workforce?