Most practitioners would agree that there's been a steady shift in IT service management over the last decade. The stagnation of ITIL combined with the rise of agile methods, devops, public cloud, and even Shadow IT has had a growing and inexorable impact on how we manage our IT services today.  The customer shift in expectations for service management is clear too: Be more responsive, be easier to consume, move faster, and lead the business from the front when it comes to technology services. As a result, it's clear now that the evolution of the practice has reached a significant inflection point.
Thus, in an age where crafting easy-to-use and engaging customer experiences using techniques such as empathy-driven design thinking have become best practice for service design, the old and decidedly staid world of ITSM is getting a reboot. Certainly, leading vendors like ServiceNow and BMC, have helped make this shift possible with increasingly consumerized, customer communities, and self-service capabilities, but this transformation is much more than just about the tools. There's a new sense that service management has to grow up to lead the business itself in how it adopts and consumes technology, while becoming a prime customer of the development process itself.
To be clear, other groups in the business -- including the enterprise architecture team, the Chief Digital Officer, and even the marketing technology groups -- are also busy doing the same thing. However, they are not positioned in the center of service delivery itself and don't have the infrastructure, mandate, or experience in service design, deployment, and management. But service management groups must think big and seize the initiative or risk being relegated to the margins of shared services.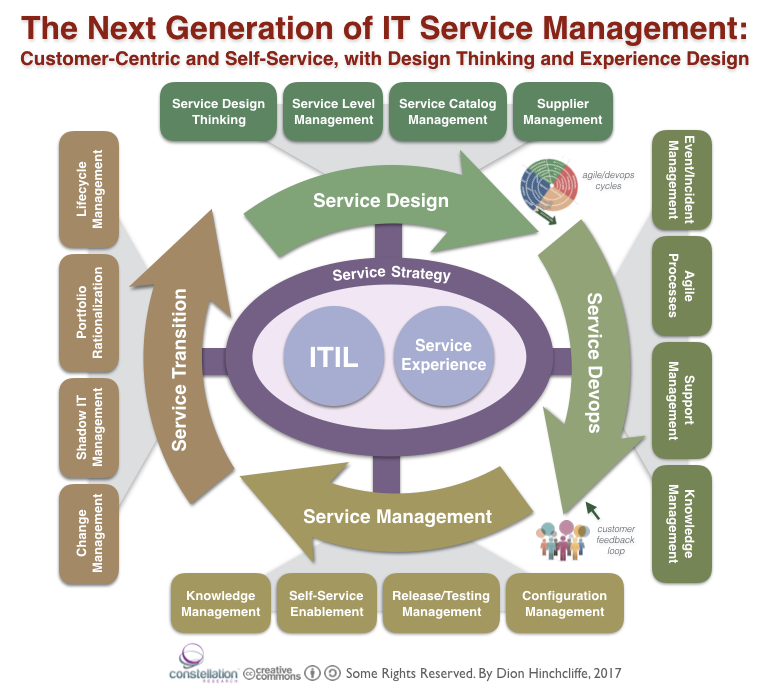 Service Management Now Informed by New Developer Methods and High Quality Consumer Experiences
Pushed forward with the advent of new ideas from the development side of IT, service management is becoming much more iterative, proactive, customer-focused. This is helped along with the aforementioned enabling of new solutions that take the friction out of service management by enable high degrees of ease-of-use and self-service, while the development side of the house integrates much more closely with ITSM, then uses fast feedback cycles to rapidly iterate services using agile and devops methods until the right solution is ultimately refined out of the initial proof of concepts or prototypes.
IT service management pundits such as Dennis Drogseth have dubbed this shift away a reactive service desk and towards a more integrated, adaptive, and forward-looking service model, Service Management 2.0. While the trend of adding the "2.0" suffix is now out-dated, the point is a correct one: Traditional service management has to evolve to become more effective in meeting business requirements using emerging new methods. The practice of ITSM as it is codified in ITIL 3.0 is not only too heavy-weight today, but it does not reflect many of the countless lessons learned in usability and customer journey over the last decade since it was last updated. Design thinking, an increasingly popular way of creating customer-centric technology services, wasn't even on the radar in IT when the most recent version of ITIL was developed.
Rethinking Service Management Using Today's Digital Processes and Lessons Learned
For my own part, I recently had an opportunity to widely survey the state-of-the-art in ITSM last month when I gave an opening keynote at the 20th annual Service Management conference in Melbourne, Australia. I also gave two deep-dive next-generation ITSM workshops to nearly 40 top service management professionals that were highly informative.  In the process, I encountered a pleasantly surprising number of practitoners that were hungry for a new model of service delivery beyond or in complement with the traditional ITIL model. Most are looking at incorporating agile into service management and some were closely evaluating devops as part of the process. But one thing was clear: The practice is not evolving as fast as the marketplace or our stakeholder expectations, despite an urgent need to move faster across the industry.
The ITSM workshops I facilitated last month were particularly revealing as we jointly developed a new model for ITSM that I believe will a) resonate with practictioners, b) look familiar enough to be readily understandable, and c) yet deeply incorporate the most vital new trends mentioned above. For lack of a better term, I'll call this new view Service Management 2020, both for a target date of end of the decade for ITSM groups to overhaul their function, along with the idea of the 20:20 hindsight that we have now with several decades of ITSM experience to see what worked and what now needs to change. 
A Vision for Service Management 2020
The customer experience is paramount. Where legacy ITSM is process-centric, the new view is that measuring and managing the resulting impact and quality of the journey of the service management customer is what matters most of all. While design thinking is not necessarily a mandatory new process in service design and 'service devops', ITSM must determine some effective method to map out the customer experience, ensure stakeholder needs are being met, and use data from the field to ensure it's the right journey through service management (and hard part, keeping it updated.)
Service management is just as important a service customer as the end user. This is the signature lesson of devops and continuous delivery: Operations and development must collaborate closely together to iterate towards the right solution that is optimized for a) the customer experience and b) operations and service management. Both are vital and essential stakeholders to please with service management.
Agile and devops must be incorporated into service management. Older legacy service development processes are slow, wasteful, don't course correct quickly enough, and won't lead to an adequate user experience or sufficiently meet business requirements. A key point: These new generation of processes use end-to-end visiblity and collaboration to get information from the customer as quickly as possible from rapidly iterating builds back to the development groups so the right solution can be created. ITSM tends to be siloed from these processes, and so it must be removed from this silo as soon as possible and assume a larger role in the IT value chain.
IT service management must evolve into business service management. The end game is not so much about IT, as it is how digital impacts the very way the business operates and thinks. IT is now a key component of almost all business services, and thus shared services functions can and should in many organizations focus on business digitization, as as our organizations become technology companies.
Move towards 90% automation as soon as possible. The reality is that ITSM budgets tend to be tight, and don't grow quickly, even as responisbilities mount and a new generation fo service management arrives that must be dealt with effectively. However, with the rise of AI-powered support, chatbot-based ITSM services, community-powered self-help, and other automated aids arrive, however, service management professionals should use these to free up their time and resources to focus on the strategic transformation activities represented by this list, which is going to take the next three years at least to address properly.
There is little doubt that we are entering one of the most exciting times in the field of service management, yet there is much work yet to do to pathfind the way. The vision of Service Management 2020 is one that I believe will resonate with most practitioners as they attempt to modernize one of the most vital technology capabilties within our organizations. The process of shifting the model of service management itself in the way described above will also make ITSM more strategic. Practitioners should be ready to communicate and educate upwards to ensure they gain C-Suite support for their efforts to evolve into a proactive digital business service management function.
Continuing the Discussion
Please add your comments on the future of ITSM below. You can also reach me via email: dion (at) ConstellationR (dot) com or @dhinchcliffe on Twitter.
Also, please let us know if you need assistance with your service management transformation efforts. Here's how we can help:
Developing your ITSM strategy and transformation plans
Connecting with other service management peers and leaders
Accessing the latest service management best practices
Understanding the service management vendor space
Identifying options for implementation partners
Developing and validating digital transformation roadmaps and playbooks
Providing advisory and education to IT executives, CXOs, and boards
Additional Reading
Digital (Service) Transformation and the Leadership Quandary
Rethinking Field Service Management in Digital Business
Systems of Engagement and Enterprise Business Architecture