Constellation Research hosted Constellation Connected Enterprise at Half Moon Bay, California, October 24-26.
Reflections
Of course, we all heard a lot about AI at #CCE2023. Every single Constellation Research client is looking at artificial intelligence — or is anxious that AI is looking at them! So, by design, this year's event was structured around AI. Clients, vendors and Constellation's analysts looked at AI from every angle, research theme and vertical.
Nevertheless, I feel CCE 2023 was actually all about data!
Maybe that's just my bias (more on that later) or maybe it's because the only thing any AI can do right now — especially large language models — is feed us information.
Here are some of the data-related learnings from another truly wondrous CCE.
Data quality and Data rights
On the Healthcare Industry Insights panel patient and biometric rights advocate Divya Chander unpacked privacy with Richie Etwaru. Divya said healthcare privacy is "not a simple question of giving up data". We need to look at who uses a patient's data, why they use it, and how is it safeguarded.
On the Mastering Data to Decisions panel, Equifax's Manish Limaye reminded us "do not forget fitness for purpose". That's another one of the critical properties for progressive data protection; see my summing up below. 
Data Inc. companies, the future of post AI business
Ray Wang gave us a sneak peak at his major new research (and probably his next book) on "Data Inc. Companies"—new organisations that will master data in radical new ways, for precision decision making and closer connections between physical and digital worlds, delivering exponential advantage and trust.  
As always, Ray gave us a string of dizzying analyses and hot takes. My favorite: TopGolf is the "bowling alley of golf" with booths, fast food, beer and … data. Golf club maker Callaway acquired TopGolf for the enormous volumes of data on the ordinary golfers' swing.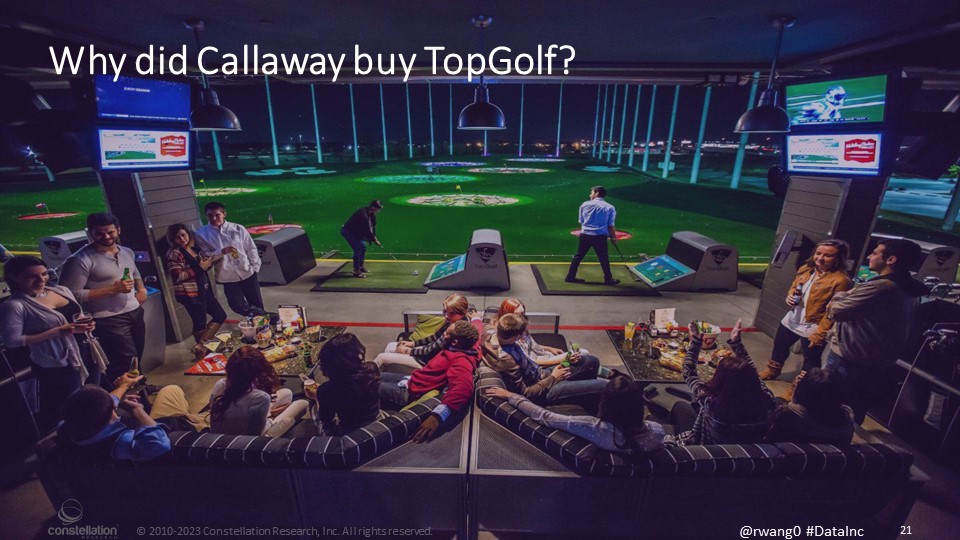 Among Ray's latest pearls of wisdom, I especially love:
understand how to partner for data sources and signals
generate new derivatives, and
nourish networks.
Bias
Let's remember that not all bias is terrible. In fact, no natural intelligence could work and survive in the real world if not for in-built bias. As the ruthless George Clooney character said in Up in the Air, "I stereotype. It's faster".
So bias is everywhere, both good and bad. It's difficult to assess or even talk about bias partly because the word has negative and political connotations.
One of the liveliest recurring discussions at #CCE2023 was about AI versus human doctors. Statistics were flung around about medical error rates. But the way I look at it—see what I did there—the very idea of AI doctors is so new we should admit that we are all carry a preconceived picture of what AI healthcare is like.
AI as we know it now, dominated by Large Language Models, is barely one year old; as yet there can't be any meaningful studies of healthcare outcomes.
So, all we have to go on is models of the impact AI might have in healthcare. All models are biased. The only model truly free of bias is the real world, and no one has the patience to watch how that one plays out.
The neatest insight about bias came from Kate Carruthers, the Chief Data & Insights Officer at the University of New South Wales. Indeed it was so neat, you might have missed it. On the Data To Decisions panel Kate told us that "Data is important because it fuels decisions. But data is not inert. Making the choice of which data to use means decisions have already been made." That is, we are constantly making decisions, the basis of which is data that we might not have given any conscious thought. That's bias!
MyPOV
To sum up, in the closing analysts' Ask Me Anything panel I observed that traditional cybersecurity is too defensive for the digital age. Protecting the Confidentiality, Integrity and Availability ("C.I.A.") of data is not wrong but it's a limited worldview.
More progressive digital data protection looks at the factors that make data valuable — originality, permissions, AI auditability etc. — and optimises those factors.
More from CCE 2023: