For Huawei, it's been a long journey from manufacturing back-office PBX switches back in the 1980s to besting Apple last year to become the second largest mobile phone producer in the world. A family startup story on the order of Hewlett Packard in the United States, the company has grown steadily into a global "Big Tech" behemoth, with major lines of business well beyond its well-known smartphone handsets that now include affordable yet high performance telecom equipment, cloud computing platforms, an Internet of Things stack, smart city solutions, and products in many other related categories.
Now, as the advent of 5G looms -- a vast set of expansive new wireless standards that will ultimately remake the fortunes of entire industries and the largest tech firms alike -- Huawei stands at both the crossroads and at an inflection point. Namely, the company has a historic opportunity to be the frontrunner in this game-changing new wireless technology that will dominate the mobile world for the next decade. If only it can overcome a few significant challengees.
As a Chinese company whose founder Ren Zhengfei has supposed ties to the Chinese government, Huawei has undergone intense scrutiny in the United States and other countries over the years. The concerns are primarily over the worry that the firm could be induced into handing over the consumer and corporate data that flows through its many products. This recently and most famously came to a head as its CFO was detained in Canada over several serious charges that some claim are politically motivated. There is also the ongoing question of whether Huawei has placed or enabled back doors for security and intelligence services into its otherwise highly secure equipment.
The effort Huawei has put into the security of its products is something this author can attest to, having been given a detailed tour of the extraordinary lengths the firm goes through to digitally sign, test, and verify every component in its hardware offerings. But these proof points have been insufficient to ward off concerns, leading to a 5G equipment ban in Australia and perhaps the same soon in the United States, though other countries have rebuffed such actions. Its clear however, that more will have to be done by the company to assure the industry. This then was the backdrop of Huawei's latest and most public foray into grappling with these challenges as 2019 began.
Top-Tier Enterprise Capabilities, Some Strings Attached
This year, at the annual Mobile World Congress (MWC) conference in Barcelona, Huawei hosted me as a guest again, as it periodically does, to give me an opportunity to catch up with their latest products and technological advances, as well as to assess their overall situation. As an advisor to top technology executives around the world, I was keen to see how the company would address the political headwinds facing it, right on the eve of the arrival of 5G, a topic which utterly dominated the agenda of the event for the reasons cited above.
Huawei itself has increasingly become a leading player in many technology sectors, often seizing high ground in areas such as smart devices and telecom equipment by offering best-in-class equipment for essentially commodity prices (although premium pricing for the company's unique market offerings like the foldable Mate X, is also increasingly a trend.) Its vision and capabilities in the enterprise sector in particular have been gaining attention lately because they are maturing faster than many of its competitors.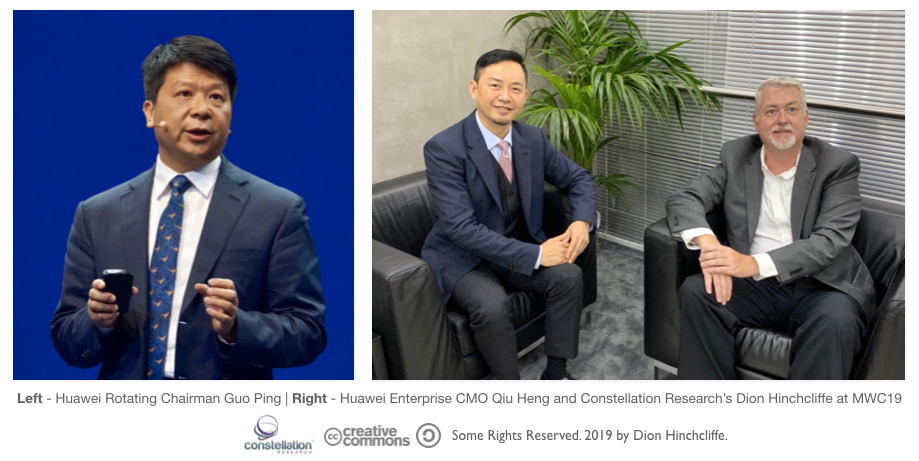 I also had an enlightening sit down conversation with Huawei Enterprise CMO Qiu Heng at MWC, as he walked me through his go-to-market approach that he calls "industrial marketing", which uses additional dedicated "industry teams" to bridge the marketing and product teams to create new products with what they believe are exactly the right features and focus for maximum impact. It was enlightening that he noted in our talk that the enterprise solutions group revenue is doubling at present every year. That's an enormous and nearly unparalleled pace of growth for a large business technology division. It's also a helpful indicator of how influential Huawei will likely continue to become in the enterprise outside of where it's more widely known in consumer handsets.
In short, Huawei has now become a presence that's impossible to ignore in many strategic technology conversations by leaders in business, government, and other organizations. This is especially the case as Huawei has now gone beyond winning on price point, to offering notably differentiated products that are often more advanced than their competitors are offering. A key example illustrates this point: For its new "One" Digital Platform -- a comprehensive entry into what I call target platforms for digital transformation, which was introduced at a special event at MWC that I covered in detail at the time -- Huawei is actually producing its own unique chipsets dedicated to accelerate machine learning and AI, something few other companies in its category are even able to consider, but less execute on.
In my analysis, Huawei has begun delivering compelling, top-tier capabilites to the enterprise for the journey through digital transformation at just about every level -- from the most overarching platforms down to tactical components -- at price points that many competitors simply cannot match. This combination of high capability and low cost will be an an unignorable advantage for many organizations. And so they will have to sort through Huawei's other, more politcal challenges in deciding whether they can become a true, long term strategic partner.
A Trust by Verification Offer of Transparency
The defining event for Huawei at MWC was undoubtably rotating chaiman Guo Ping's keynote at MWC on Day 2. Maintaining a lighthearded but firm tone, Ping bluntly assured the audience -- and the world watching -- that "Huawei never has and never will put back doors in its products."
But notably and to his credit, Ping did not expect that to settle the matter. Instead, he announced an elaborate cybersecurity transparency center in Brussels that will be aimed at providing independent hardware verification and create a more trustworthy environment in general around 5G tecnologies, though the details have yet to be completely worked out. "Based on a common set of standards, technical verification and legal verification can lay the foundation for building trust. This must be a collaborative effort, because no single vendor, government, or telco operator can do it alone." Huwaei's own press release claims that customers will be able use the center to test its products -- and others together in combination -- in detail to verify their security compliance. Mincing no words, the company refers to this more open policy for trust as "Security or nothing."
Certainly, this is a significant step in the right direction. An indepedent transparency and verification process is what Huawei needs at this point, though I'd note that every major tech vendor needs one in the today's climate of concern about the safety and privacy of digital services.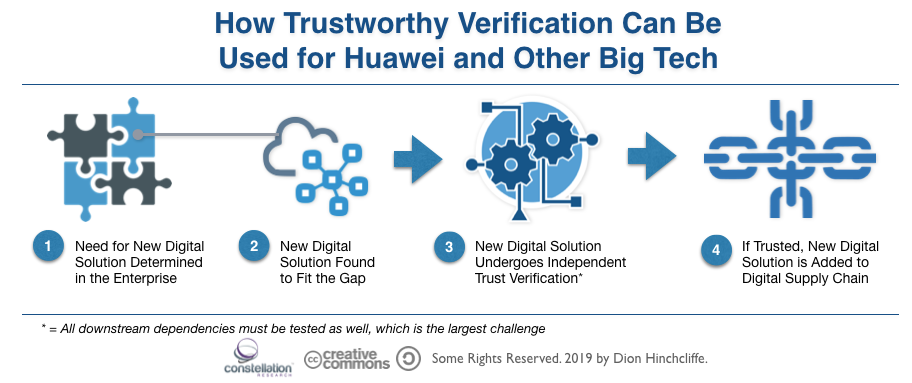 What then should digital leaders do about Huawei today, as the question was recently posed in the Wall Street Journal? The company is simply too large and compelling to ignore, particular as competitors adopt its products and gain their advantages. In today's ever growing environment of concern about the safety and privacy of digital technologies, and the risks posed by governments meddling in the affairs and operations of technology companies themselves (certainly the U.S. itself is far from immune, having apparently asked big tech firms to systematically build in back doors for its own use), how can executives possibly manage the risk and gain the upside from what in my opinion is an otherwise highly capable enterprise technology firm?
How to Safely Partner with Big Tech like Huawei
The answers for safely dealing with Huawei (and all other tech endors as it turns out), will require more discipline than organizations have had in the past, even as the answers also surface uncomfortable truths and will sometimes require companies to make rather difficult choices:
Take the long-term view. Huawei will be a dominant 5G, telecom, and smart device maker almost no matter what happens, unless further substantial additional concerns are uncovered. It will likely flip these advantages into market leadership in Internet of things, cloud, AI, and other emerging categories. I've talked with many Huawei executives over the years, and the companies thinks and strategizes long term and many moves ahead. For example, it has a twenty year strategic plan. While it wants your business now, it's also seemingly willing to wait until the time is right for customers to convert. Yet, as long as permanent advantage isn't lost forever (always a real risk in the fast-moving tech industry), some buyers can bide their time until remaining concerns about the company are resolved. This is the easiest option, but one that can leave significant opporunity and first mover advantage on the table.
Reject avoidable Faustian bargains. This is the proverbial situation where whereby something of supreme importance, such as values or safety, is traded for less vital, short term benefit. Even if one looks only at major data breaches (and not government espionage), the reality is that it's likely that most or all the big tech vendors are compromised by security and/or privacy concerns in some way. As a result, using digital technology of any kind is an increasingly challenging and committing prospect, not just from a vendor lock-in perspective, but in the downstream choices that vendor selection makes in terms of which type of moral compromises come along for the ride. If such choices can be made at all. If your interest is in customer safety, first and foremost, then Huawei's idea to create centers of verification that are used rigorously to ensure safety is a stronger offer than almost anyone else is making today. It is likely that all major tech vendors will eventually be called onto the carpet to prove that they are trustworthy in a similar way as well. However, as the European Commission is finding, such an effort to ensure consistent governance even in a single common market with advances like 5G is an incredibly complex affair well beyond the ability of smaller actors to grapple with by themselves. As Huawei notes, you can't do this yourself. Consistently avoid poor technology decisions by requiring trusted vertification from independent groups that you in turn have gone through rigorous due diligence to trust.
Hedge bets with multicloud and be ready to move. This is easier for large organizations, which tend to have a more global presence, yet can be a viable strategy for any organization until more certainty in digital data privacy and security are more effectively established. The crux of this strategy is make sure any major cloud choice is an immediately reversible decision in the event of adverse situations (an example of how this works in practice here.) While this won't help manage security risk with point technologies like mobile and IoT devices, it will work with everything except edge devices. This strategy has the disadvantage in that it closes the door on the barn after the horse (customer data) has left, but if an enterprise uses any cloud technologies, then it still must be able close that door very quickly regardness.
Build an end-to-end verified trust chain of digital services over time. This is a long term strategy and the most important one. It also goes well beyond being able to deal with Huawei as a strategic partner, though it does make that viable as well. A verified trust chain offers the promise of dealing head-on with the reality that any digital or cloud vendor can be compromised, so ensure up front that they are definitively safe before adopting any new product or service. As data privacy, security, and control become top-of-the-agenda issues, organizations can take Huawei's concept of verification to ensure that no segment of their digital supply chains has unproven levels of security or privacy. While this is certainl a major effort it can be spread out across a wide base of enterprises. But it's where the digital industry must logically go: Indepedent centers of verification to ensure each element of the digital supply chain is safe.
For all intents and purposes, Huawei has moved into the top tier of technology vendors, both in the consumer and enterprise sectors. While not yet a household name like Apple or Samsung in some parts of the world, the company is one of the fastest growing players in the enterprise space. While we still have to see if their offering of transparency to build trust is as thorough as it needs to be in order to succeed in certain key markets, their overall path is clear in becoming one of the leading vendors in the technology world with products that will almost certainly lead certain top industries like 5G and has a good shot at AI and cloud as well.
The four strategies above, which I would argue need to be employed regardless of whether a company wishes to use Huawei products or another vendor's, are a way to ensure organizations have truly safe access to the strategic enterprise technologies they need to survive and grow. While a tall order, trust regimes are becoming the next big requirement for a basic digital foundation. CIOs in particular, must be leading the charge in ensuring such trust regimes are in place consistently and thoroughly across their entire digital supply chain. I applaud Huawei's approach to building trust in the digital world, even as there is still much to do.