It's been four years since I attended the National Retail Federation's (NRF) annual conference, Retail's Big Show. With over 35,000 attendees this year, the sector is going strong albeit the overall mood seemed more serious compared to the last time I attended. With a disappointing holiday season for Macy's, Sears, and The Limited (all announcing store closings and shifting investments online) and the rising success of Amazon, what is the retailer of the future supposed to do? 
Throughout the show, the infusion of tech and retail dominated the sessions, exhibitors, and displays. Artificial Intelligence (AI), Data Driven Insights, Robotics, and Cross-Channel Commerce were all hot topics at the event.  A few standout examples include 1-800-FLOWERS presenting at SAS's booth on how they utilize advanced data analytics from SAS Analytics to effectively cross-market their portfolio of diverse brands to offer customers a unified gifting experience with an integrated loyalty program. Wipro's booth showcased a retail store experience demo utilizing beacons and sensors to provide detailed product information and comparisons when the items are picked up. I also met with NTT Data to discuss their Customer Friction Factor (CFF) formula, which helps retailers understand the level of friction that exists in the customer journey and creates a score in which to benchmark and measure improvement.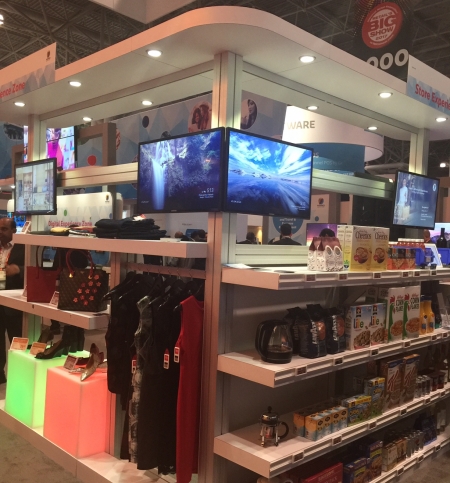 *Image: Wipro Store Experience Demo
One consistent point of discussion and on the mind of retailer's this year was how to avoid getting "Amazon'd". Yes, "Amazon'd" is now a term in our lexicon representing the commerce disruption exemplified by the tech giant's dominance online. According to Slice Intelligence, Amazon pulled in 37% of US online sales for the 2016 holiday season. In several of the sessions I attended or conversations at the event, Amazon was a consistent topic. Big data pricing company 360pi hosted a session focused on their popular holiday report and shared thoughts on Amazon's pricing and product assortment strategies.
A few lessons from Amazon's success this holiday season:
Fast-follow on pricing - According to 360pi, Amazon closely monitored the online pricing of Walmart and Target as examples to apply pricing changes quickly and multiple times a day.
 
Offer Broad Assortments - Offered an assortment of items from their marketplace of sellers for customers and leveraging algorithms for related products. 360pi reported Amazon proper increased product offering by 30% while their marketplace sellers increased product assortment by 17.5%.
 
Utilize data for an edge - Knowing the customer and integrating their browsing behavior and purchase history to personalize the shopping experience and quickly react to pricing changes.
 
Reduce Friction in the Checkout Process - Amazon simplified the ordering process with their dash buttons, quick checkout options, and Alexa exclusive deals (sometimes too easy with the multiple voice ordering issue).
 
Provide a consistent cross-channel experience - My mobile marketing research report showed that 60% of US mobile users own 2 or more mobile devices. Customers are moving across devices to research and shop for products and expect retailers to provide a consistent experience cross-channels. Amazon provides a great cross-channel experience regardless if the customer shops on their laptop, mobile device, tablet, or their Amazon Echo.
I enjoyed my time at this year's event and believe that the retailers that will win in this age of AI, data, and mobile will be the ones that successfully integrate online and offline customer behavior, stay focused on the customer experience, and reduce the friction that still exists in commerce.
*Cover image credit: National Retail Federation