I'm in the final stages of publishing two reports on Mobile Marketing and my research process included a deep dive into DMPs and the important role they play in cross-channel marketing. A quick primer, Cross-Channel Marketing is the process of engaging customers across digital channels and devices. As customers start their product/solution research on one device, they quickly move to other devices to continue browsing or to complete purchases. The CMO's ability to market to these customers moving swiftly across devices is a critical component of engaging customers at the right place and right time. This is where DMPs play a crucial role.
DMP or Data Management Platforms, have an ordinary name for performing quite an extraordinary task. DMPs were originally used by the display industry with the core focus on cookie data management, data centralization, and segmentation across channels. DMPs later evolved to include add-on tools for retargeting. The next generation of DMPs go further to help orchestrate the cross-channel journey of a customer by linking 1st party data (customer's own data from CRM, Marketing Automation systems, etc.), with 2nd party data (the customer's partners, etc.), and 3rd party data (external sources) to reconcile and unify IDs from different platforms and devices. DMPs are now expanding from the advertising and B2C world to be an important element in B2B lead qualification as well.
A typical cross-channel scenario is a customer searching on their tablet at home for a coat, then showing the coat to a friend on their mobile device at lunch, before finally making the purchase on their laptop at home. A similar example for B2B companies, a prospect hears about a vendor at a meeting and researches the company on their mobile device, then continues the process on their work laptop back in the office, all done before engaging a sales representative. Today's customer independent of B2C or B2B expects a seamless experience as they move across devices and channels. The ability to provide the linkage from users and searches to channels and devices are where DMPs shine; making them hot acquisition targets to enhance marketing cloud solutions. Adobe has Audience Manager, Salesforce acquired Krux in October, and Oracle's DMP under Oracle Marketing Cloud is a combination of several acquisitions including BlueKai, Datalogix, and Crosswise. 
I had an early preview of Oracle's enhanced Audience Builder, a DMP solution within the Oracle Marketing Cloud. The enhanced Audience Builder gives Marketers access to visualize, build, and analyze their own customer segments with device IDs to effectively personalize and engage their customers.  The data powering the audience builder linkages comes from Oracle's rapidly growing data assets which are normalized against their ID Graph. This Oracle ID Graph now provides customers access to over 6 billion unique devices (was 5 billion during September's OpenWorld). Once built, the audience segments and data can be sent to platforms including their Eloqua and Responsys marketing solutions for campaign execution. The Oracle Audience Builder demo I saw was simple and straightforward, easy for marketers to operate and perform segmentation on their own. Statistics on audience reach and the desktop vs. mobile ID split is dynamically updated and displayed as the segment builds giving marketers a clear view to run campaigns.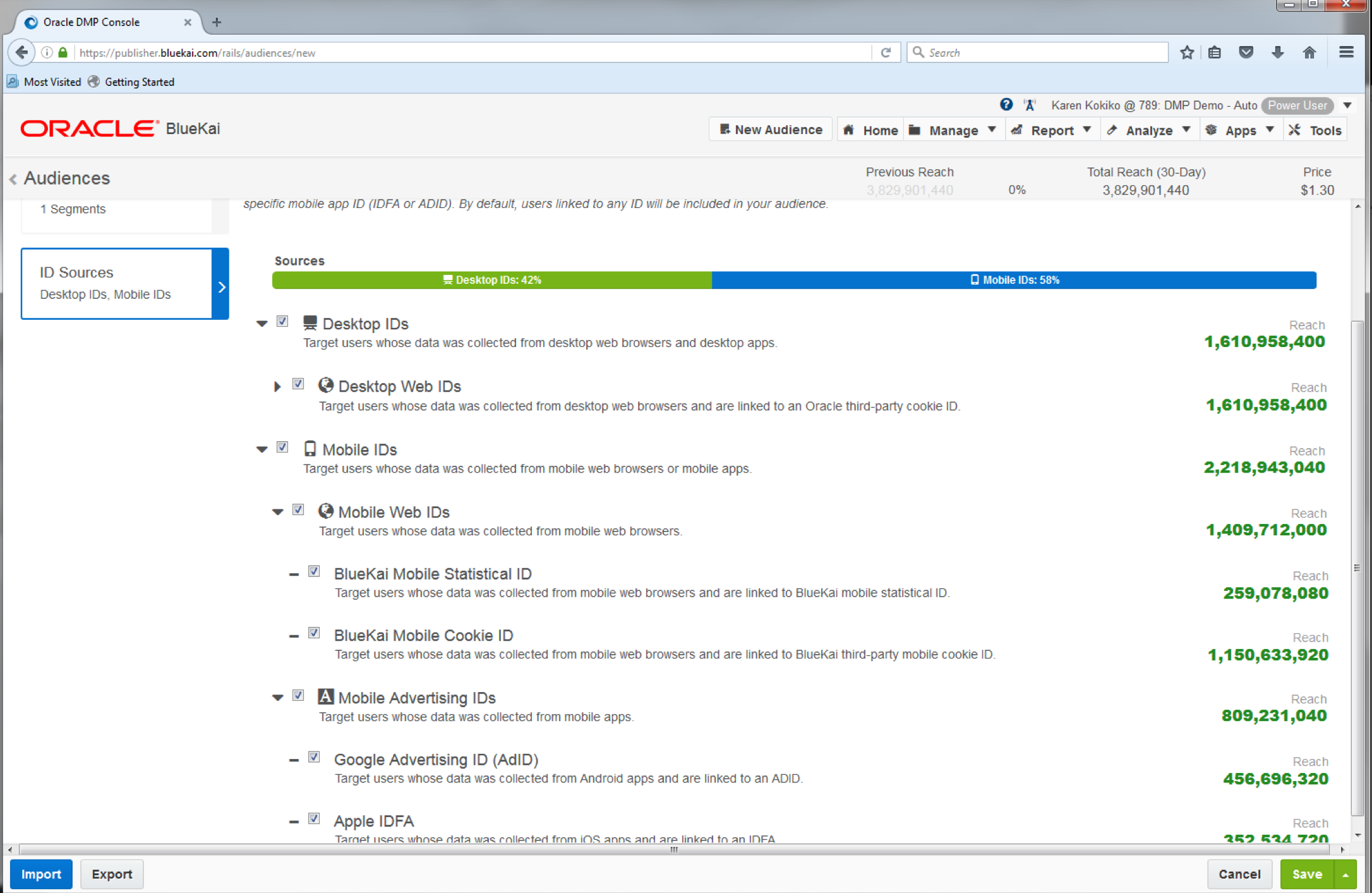 *Audience Builder screenshot courtesy of Oracle Marketing Cloud
Most DMPs also have the ability to build look-alike models for CMO's to target prospects similar to their best customers and personalize website experiences (all part of cross-channel marketing).  Combine DMPs with Marketing Automation, CRM, and Commerce platforms and CMOs can achieve the desired visibility into their customer's entire browse to buy journey.