Research demonstrates workplace transformation resulting from mobile in healthcare, education, and retail
New research conducted by Constellation Research shows rapid change in the workplace as many companies adopt mobile technologies. Survey results revealed mobile transformation as a top priority for over eighty percent of respondents with eighty-two percent of responses indicating the presence of dedicated mobile transformation teams at their organizations. Data also indicated work trending away from the static desktop. More than fifty percent of respondents reported switching between devices more than six times per day, and traditional desktop computers are only used one-third of the time.
This data about the state of mobile transformation in the workplace comes from Constellation's latest report, "The Strategic Impact of Mobile Transformation on Business Value"  by Vice President and Principal Analyst, Alan Lepofsky. Over 500 qualified participants from healthcare, education, high tech, or retail comprised the respondent pool. 
Fig. 1 Percentage of Time People Spend On Various Devices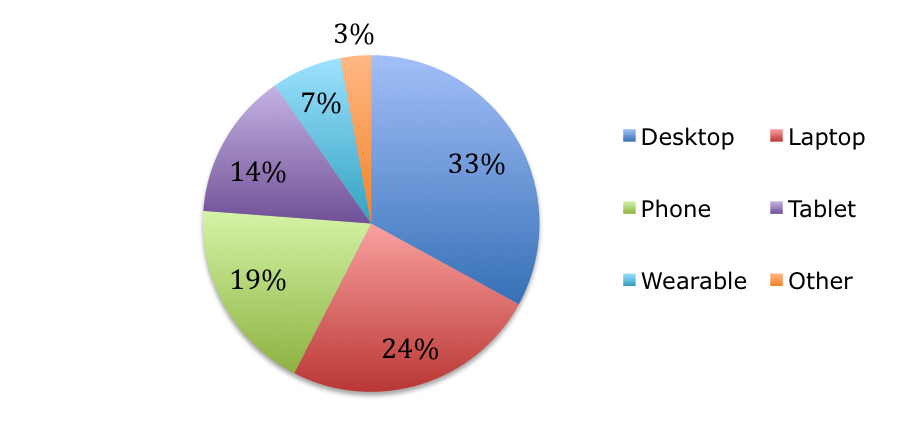 The Report 
The Strategic Impact of Mobile Transformation on Business Value
Key findings:
Less than half of organizations have started to consider mobile transformation at the business model level. Only 48% of organizations have started to rethink the entire business process for mobile optimization

Communication and collaboration top priorities for internal mobile transformation projects. 50% of organizations consider collaboration a top priority. 

Mobile support trumps mobile sales and marketing. Mobile support considered the top external priority for 59% of organizations. 

Device switching is the norm (see fig. 1)

Challenges of mobile workplace include "always on"-related stress, connectivity concerns, and battery life

Diverse industries such as healthcare, education, retail, and high-tech should use mobile transformation to drive business value 

Constellation recommends using mobile transformation to enable greater organizational digital transformation
---