Why We Are Offering Another Free Resource for Business Leaders
Whenever R "Ray" Wang travels for business, he is often engaged in one of these three activities, which typically involves connecting with business professionals or leaders. 
1) Meeting executives in a closed-door strategic advisory session.
2) Delivering a keynote speech to thousands of business professionals.
3) Or quite possibly, just getting ready for his weekly Friday web show, DisrupTV, where he talks with A-list guests including global leaders, bestselling authors, and noted thought leaders.
While spending time in Davos at this year's World Economic Forum, Ray talked with numerous leaders. He found out that many of them valued access to relevant, useful thought leadership slides that they could insert into their presentations to highlight a point for anyone from a Board of Directors to colleagues, customers, or staff. Thanks to this epiphany of his, we just launched our first set of downloadable thought leadership slides.
Free Thought Leadership Slides for Creative Reuse 
These weekly free slides highlight major business trends tied to disruptive technologies and transformational business models. Sometimes, a quote from an outside thinker is all it takes to act as a catalyst to drive further discussion. Visit our website weekly to download the slides weekly or join the Constellation Executive Network for unlimited access to all of the archived collections. 
Here are a few examples of what you can enjoy on a weekly basis.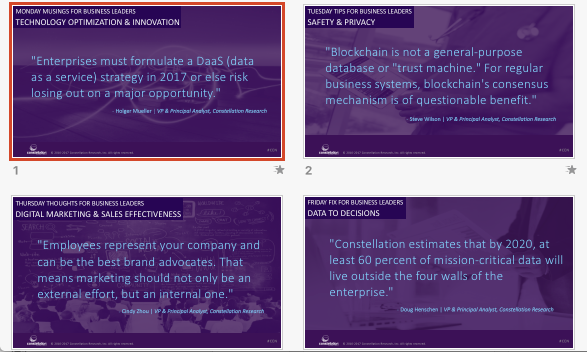 More Free Resources

 
Check out our Constellation ShortList program to get a quick assessment from our Constellation analysts on the technology vendors to consider first. Also, explore our limited availability Constellation Insights, which provide timely analyses on breaking disruptive technology news affecting enterprises. 
To find out how much more you can gain from a relationship with us, join us a Constellation Executive Network member, so that we can tailor our problem-solving advice and research to helping you meet your business goals.