When most organizations think of Microsoft, they still think first of PCs, Windows, and Microsoft Office. They often don't fully perceive the fast-growing cloud juggernaut of today, replete with the very latest enterprise technology capabilities such as their rapidly evolving suite of Internet of Things solutions, industry cloud solutions, or growing machine learning capabilties. Nor do they regard Microsoft as a likely strategic digital business partner to help them fully reach their digital potential.
However, given that the global value of the digital growth in the next decade is estimated at a sobering $8 trillion in additional commercial value creation ($28 trillion in total new economic output, of which 28% or so is digital), today's tech giants have a newfound sense of their economic influence, even their ability to shape corporate destiny using sophisticated and powerful new digital business capabilities. Not surprisingly, these vendors seek to claim their role in this unfolding saga, and even help write history a bit along the way.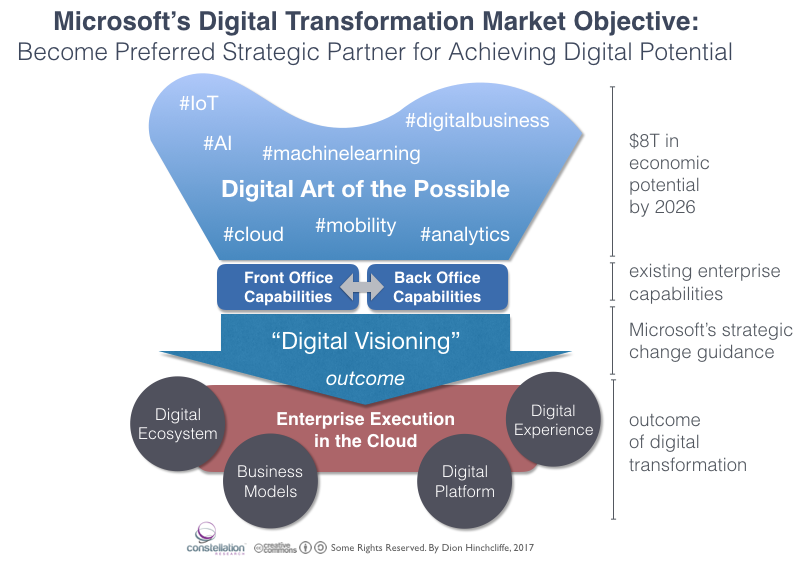 Microsoft clearly senses this historic inflection point and would like to be perceived as a top player. Thus the computing giant is currently in the process of trying diligently to change the perception of the organization as a vital enterprise-class business partner, not just another big technology vendor. As part of this ongoing effort, I was invited last week to attend their Digital Difference event, an invite-only confab at the historic Cedar Lake event center in West Chelsea, where they showcased in a carefully staged and well-orchestrated half-day session how they have expanded  "up to the stack" to help some of the world's leading organizations digitally transform their businesses.
Hosted by Abbie Lundberg of Harvard Business Review's Analytics Services, who was also joined on stage by Microsoft's Judson Althoff, who is Executive Vice President, Worldwide Commercial Business at Microsoft, the company's perspective at the event was quite clear: 1) Companies have been underestimating the urgency and scope of digital transformation and can no longer put it off. 2) They must find ways to realize their digital potential, not just to thrive, but to survive, and that 3) Microsoft has had a growing role in partnering with large enterprises at the most strategic level to help them plan and executive on their digital future. It was this last part which was the main objective of the event.

Harvard's Abbie Lundberg, Microsoft's Judson Althoff, and La Liga executives at Microsoft Digital Difference in New York on April. Photo Credit: Dion Hinchcliffe
Throughout the event and quite commendably from my point of view, Microsoft was intent on demonstrating real proof points of their work with respected large brands, instead of just providing marketing soundbites on the importance and urgency of digital change. For me, the key customer stories I witnessed at Digital Difference were:
Maesk's move to a cloud-based Internet of Things logistics solution. The storied shipping company's Chief Digital Officer, Gocken Ibahim, was on hand during the main morning stage session, touting their strategic partnership Microsoft as they seek to more fully integrate their existing transport and logistics units while developing a more modern digital incarnation of their various lines of business. "We're moving from a projects company, to a products company," said Gocken, repeating a mantra that has emanted almost as a tagline from Silicon Valley of late as everyone seeks to productize their business for the digital world. Maerk said they see large opportunities for efficiencies at scale, which repeatedly came up in the discussions of Maerk's shift to Microsoft's IoT capabilities. Microsoft's IoT cloud solutions gives them the ability to track and share material, capital, and data as needed so that products can be built, shipped, and managed seamlessly across Maerk's logistics channels from manufacturer to wholesaler to retailer to customer, using live data feeds and machine learning insights to minimize exception scenarios and waste.
Soccer giant La Liga's use of cloud data to personalize engagement with hundreds of millions of fans. Often touted as the the world's top soccer league, La Liga has long had its hands full helping its 1.6 billion fans fully engage with the sport and watch its 42 teams play. Now they are using Microsoft cloud services and artificial intellgience solutions to "to truly personalize fan interactions. Fans can specify their rooting interests then access only the most relevant content, including videos that reflect their preferences, or stats on their favorite teams or players. Via various digital channels, fans can connect with other La Liga backers worldwide, creating interconnected communities." Thus LaLiga is digitally transforming by giving fans better digital experiences that are they can use to induge their passion for the game and better connect to their favorite clubs and players. Country Manager Raul Gonzalez, a world famous famous ex-player in his own right, was on hand at Digital Difference explaining that social media had simultaneously made it possible for them to connect with their fans 1:1 like never before, but that it was also an enormous challenge in terms of engagement of scale and data-based customization. They utlimately felt Microsoft was best equipped to help them deal with and LaLiga in fact, launched their new digital experience for fans at the event as well.
Hershey's use of machine learning to optimize their factory operations. After the main stage event, I headed out to elaborate showcase area, where I encountered several good stories. Hershey's was one of the most detailed real-world examples of machine learning that I saw at Digital Difference. Efficiently using ingredents when they make their products, Twizzlers in this case, has been an exercise in managing many degrees of variability. The Hershey factory workers that make their well-known candy often have decades of experience making them, but dozens of manufacuring variables can confound the process. These variables, many of which change in real-time, such as the temperature of the raw ingredients, make it very hard to optimally produce a high quality product with as little waste as possible. Hershey has been using Microsoft Azure's machine learning capabilities on their Twizzlers product line to predict ahead of time when changes to manufacturing variables are going to impact the product and provide insight with enough time to use it. Hershey had actual, hard data on display to show how predictive machine learning help drive real efficiencies.
Numerous other enterprises had booths at Digital Difference as well, and most of the stories were interesting, if earlier stage than the examples above. Interestingly, Microsoft's Hololens was on prominent display and I had a chance to use one for the first time to view building models that architecture firm Trimble and Gensler used to visualize initial designs for customers, and was a compelling vision for the future of that industry. Microsoft's Connected Car was on the showcase floor as well, and was a popular attraction.
Finally, I was able to sit down with Microsoft's Judson Althoff personally to have a one-on-one conversation about how Microsoft is thinking about how best to work strategically with the customers on digital transformation of their business. Judson noted that the "world of customers becoming much more digital" and that what enterprises often don't understand is that it becomes "an order of magnitude more complex to deal with digital scenarios", which is why technologies like machine learning (to handle the volume and combinatorics) is critical to future digital solutions and customer experiences. Judson also had a mantra he repeated several times during the day, which is that "your systems can only be as good as the data over which it reasons." This insight combined with overall "underestimation of what it really means to be digital" has led Microsoft to work with customers on "four categories of deep dive questions that we take our customers through." Namely, asking them if they are truly digitally transforming their "a) customer engagement b) employee empowerment c) optimization of operations, and d) product transformation."
At the end of the day, the result of this work with customers -- typically encompassing Iot, data, and intelligence -- should "turn them into a digital ecosystem," Judson told me. By doing this well, the total addressable market (TAM) for Microsoft becomes far greater than total number of servers and PCs, but essentially all business activity, greatly increasing the market potential for Microsoft to grow and have impact, he noted. I believe this last point is one of the key motivators for Microsoft to become a strategic business partner, instead of a "just" major technology vendor.
My Analysis
There is little question that Microsoft has the skills and delivery capability in terms of a global cloud presence that truly understands the the technology needs of the world's largest organizations. Now the hard work is about crossing over to the business side of the digital conversation. Microsoft's proof points on strategic digital partnership certainly represented some large, well-known enterprise names, and they were able to get several of these organizations to say very encouraging things about their digital partnership so far. However, only Hershey was on hand -- at least in my conversations at Digital Difference -- with hard data it could show that the result had real business impact. So the other half of the equation, the business side where Microsoft provides business guidance based on the art of the possible with digital today, is something that's going to take more sustained storytelling over the next few years.
That said, I don't have much doubt, however, that Microsoft can grow and become a competitor with the Accenture Digitals and Deloitte's in this space. In the end, for them to fully deliver on the vision of enterprise digital empowerment that Microsoft was conveying at Digital Difference will require repeated and sustained evidence like this. Business leaders, particularly the CEO, must receive a steady and very clear sense that Microsoft belongs at the strategic planning table in the boardroom as an equal partner -- as much as it has crediblity in the office of the CIO today -- in terms of fully designing the long-term digital future of organizations. Microsoft made a good down payment against this vision at Digital Difference and I hope they continue the ongoing effort, as it was a painstaking-produced and high quality event that should help further their objectives in this regard.
Relevant Links
Harvard Business Review report: The Digital Transformation of Business