I'm just gonna say it...
Is it just me or is this thing getting ridiculous?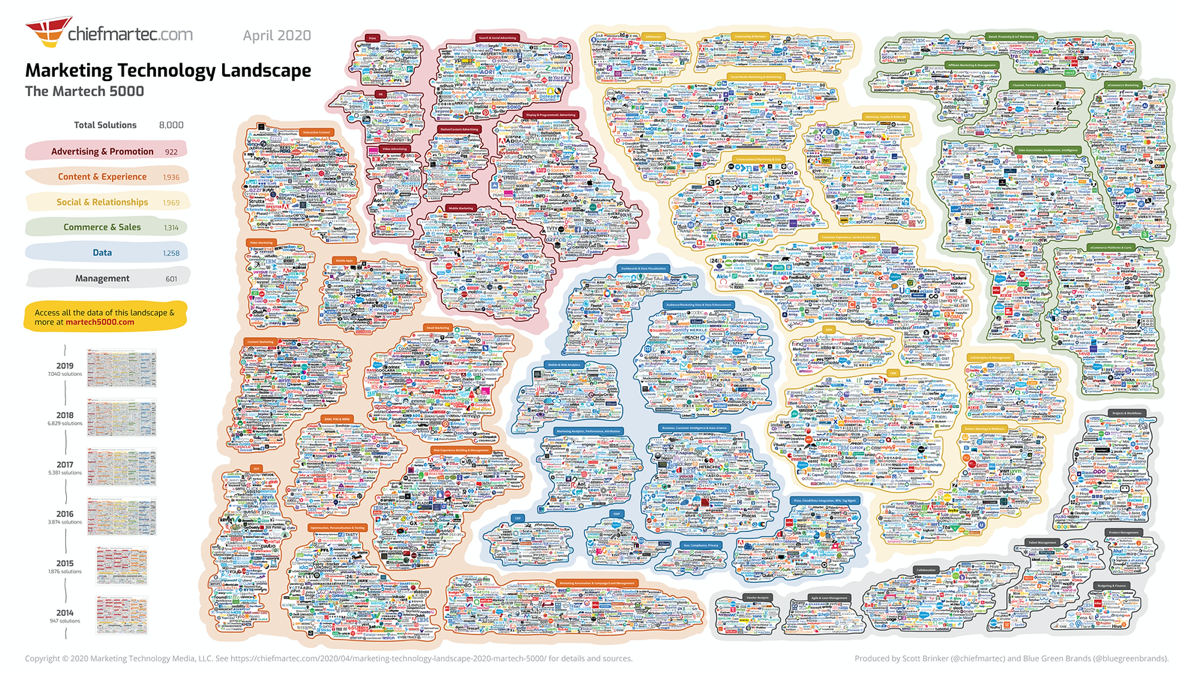 I mean seriously…the 2020 update to the Marketing Technology Landscape looks more like a map in Clash of Clans than a segmented visualization of a technology category. It now tips the scales at over 8,000 solutions and I am really fighting the urge to use quotations around the word solutions.
Scott Brinker is as patient as he is brilliant to continue this supergraphic. He notes that this year's update grew by 13.6 percent…AFTER losing 615 entries to consolidation or going belly up. That's right… churn of 8.7% offset by 24.5% leap in new entrants. As Scott notes, "1 in 5 of the solutions on this year's martech landscape weren't there last year."
Scott is also exceedingly kind and has always sought to frame the shifts and moves across this landscape as a celebration, looking for the best way to visualize the chaos. Case in point: Reworking the actual layout of the landscape to reflect a more organic clustering of solutions that often shift and flow across categories through application or acquisition.
I'm just not as kind or as patient as Scott. I look at this and see battle lines today's CMO must navigate around, across and through. To be clear, in the early days of the landscape, every new category and segment felt like a blend of innovation and exploration as Marketers sought out new tools and solutions to advance the digital agenda while meeting the connectedness of their customer. It was, and for many still is, an obstacle course that requires CMOs and CIOs to drag the business to catch up to the needs and expectations of the customer.
Today, it looks more like a battle map for a war that can't be won. Customer Experience, Service and Success appears to be plotting with Advocacy, Loyalty & Referrals to conquer Affiliate Marketing & Management even if that means destroying Channel, Partner and Local Marketing in its path to glory. Don't even get me started about the fact that the DMP blob actually looks like it is trying to run away from the CDP blob, hoping that Compliance and Privacy will provide safe haven.
What terrifies me most about this landscape is something that Scott also points out in his blog: This is not a segment where innovations are emerging based on marketers chasing new solutions. This entire beast is chasing marketers. It is getting to the point where teams need a dedicated resource to just manage martech sales pitches let alone a team to manage the Frankenstack.
Here is what I DO see coming through all of this:
This landscape will start to implode and eat itself. Category cannibalization is the only next natural phase of evolution. My hope is that the customer is actually the last category standing.
The number of new entrants will slow…albeit slowly.
The allure of launching the next great social advertising platform that can also serve as an influencer and community manager mixed with a CDP that has a plug in for ABM will start to wear thin on investor's ears.
While we will certainly see the power players continue to pick up the innovators, we will also see smaller players start to merge to become the equivalent to the indi-cool counter-culture option to the big traditional enterprise platform plays.
Platforms that promised to be part of the power player set will start to fade into obscurity as platforms fail to come together or corporate politics get the better of best intentions.
Don't count out those familiar legacy names just yet as new life gets introduced with new teams, strategies and leaders. 
Best of breed will take on a feeling of "best of what we already bred" as war-weary marketers tired of being asked to rip and replace every season will look for connectors and APIs over overhauls and retooling.
That blue land of data will start to need more space as BI for marketers starts to accelerate. Just go ahead and start penciling in a whole category around "decisions" now.
We will likely see a surge of new entries into areas of governance, identity, access, permissions, security and privacy as marketers get more involved in those conversation...and investors continue to pour money into the security space.
What stands out most to me after looking at this amazing feat of design is this: it is time for a new strategy in marketing technology. A strategy that is a bit bolder and more disruptive. More intentional. More authentic. More focused on the 3R's of marketing – Revenue, Relationships and Reputation – instead of a narrow adherence to the tradition of the 4Ps. At some point, martech became more about managing technology than empowering or transforming marketing. Time to hit the brakes and get back to disruption for business sake and not for technology's sake. If we let this monster continue to expand unchecked and untended, the white spaces you see in between each segment will more closely represent immovable silo walls accelerating, trapping and empowering bad behavior across marketing that will only spell disaster for customer engagements and relationships.