C3 AI launched 28 new domain-specific generative AI models across its platform as it steps up its efforts for industries. The launch was part of the C3 Generative AI Suite, which was initially released in March.
The company said the launch will cover structured and unstructured data and incorporate lessons from pilots. CEO Tom Siebel added that C3 AI will offer pre-built offerings with object models and attached generative AI. On a conference call with analysts, Siebel said generative AI demand appears to be "accelerating exponentially." He said pipeline for C3 AI applications are gaining momentum. 
Overall, the generative AI focus for C3 AI revolves around industries, processes and enterprise systems. Siebel said that C3 AI can expand generative AI through its core industries including defense, oil & gas, manufacturing, financial services, intelligence, and utilities. C3 AI has closed 12 generative AI agreements and has a pipeline of more than 140 qualified C3 Generative AI enterprise opportunities. 
Constellation ShortList™ Artificial Intelligence and Machine Learning Cloud Platforms | Get ready for a parade of domain specific LLMs | C3 AI CEO Tom Siebel: Generative AI enterprise search will have wide impact
C3 AI's business process focus for generative AI will be focused on sales, customer service, finance, reliability and supply chain with integrations across the major enterprise systems. The company is looking to enable enterprises to deploy generative AI with scale, speed and security. C3 AI said it is emphasizing choice with its generative AI offerings. For instance, the C3 Generative AI Suite is available on Google Cloud, AWS and Microsoft Azure. LLM support is available for Falcon 40B, Llama 2, Flan-T5, Azure GPT-3.5, AWS Bedrock Claude 2, Google PaLM 2, OpenAI GPT-3.5 and MPT-7B. The company said it will add LLMs as the market develops. 
The company's pricing is straightforward. C3 AI supports the customer to bring its generative AI application into production within 12 weeks at a cost of $250,000. After that, the customer pays per vCPU/vGPU hour, with volume discounts.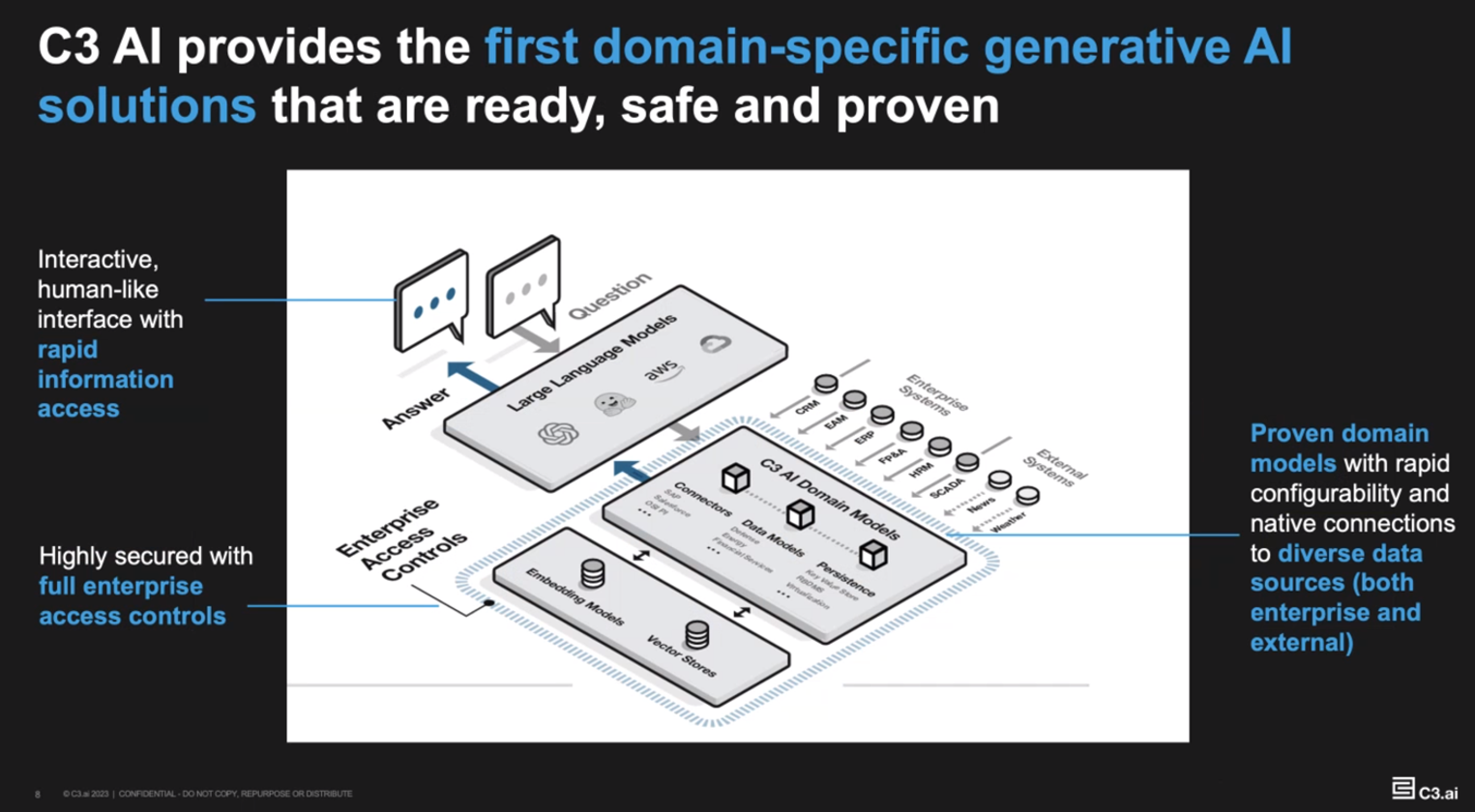 Key points about the C3 AI domain-specific generative AI offerings, which will have multi-hop reasoning designed to get the user an answer and then provide reasoning and value exchange for situational awareness, include:
C3 AI will have a human-like natural language interface along with enterprise access controls.
Customers will be able to bring their own models from OpenAI, AWS, Google Cloud and HuggingFace.
Connectors to Salesforce, SAP, Oracle, ServiceNow, Snowflake, Palantir and Databricks to name a few will be available.
C3 AI will also connect to SCADA systems, non-traditional information and external data sources such as news and weather engines.
With these launches, C3 AI is positioning itself as a platform and more of a Palantir rival. Enterprises are increasingly examining data platforms such as MongoDB, Snowflake and Databricks to cobble together domain-specific models. The hyperscale cloud providers are also offering a choice of models for industry focused applications.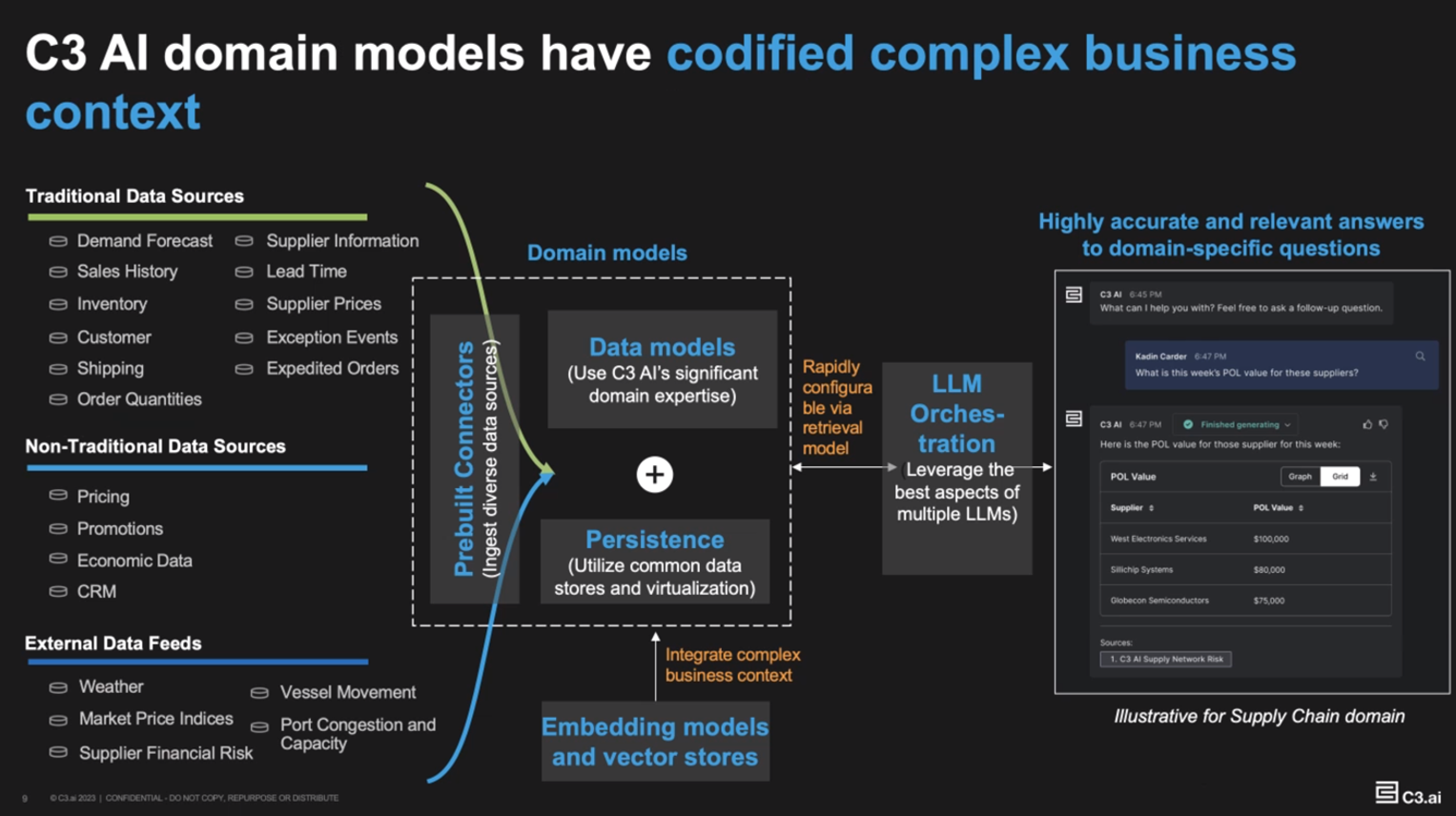 Recent events to know:
C3 AI said that its generative AI suite now has projects in place at Georgia-Pacific, Flint Hills Resources, Nucor, Pantaleon, Con Edison, the U.S. Missile Defense Agency, and a U.S. intelligence agency.
There's a bevy of C3 Generative AI offerings including:
C3 Generative AI for Aerospace
C3 Generative AI for Defense
C3 Generative AI for Financial Services
C3 Generative AI for Healthcare
C3 Generative AI for Intelligence
C3 Generative AI for Manufacturing
C3 Generative AI for Oil and Gas
C3 Generative AI for Telecommunications
C3 Generative AI for Utilities
C3 Generative AI for Customer Service
C3 Generative AI for Energy Management
C3 Generative AI for ESG
C3 Generative AI for Finance
C3 Generative AI for Human Resources
C3 Generative AI for Process Optimization
C3 Generative AI for Reliability
C3 Generative AI for Sales
C3 Generative AI for Supply Chain
C3 Generative AI for Databricks
C3 Generative AI for Microsoft Dynamics 365
C3 Generative AI for Oracle ERP
C3 Generative AI for Oracle NetSuite
C3 Generative AI for Palantir
C3 Generative AI for Salesforce
C3 Generative AI for SAP
C3 Generative AI for ServiceNow
C3 Generative AI for Snowflake
C3 Generative AI for Workday
Separately, C3 AI reported fiscal first quarter earnings. The company reported a net loss of $64.3 million, or 56 cents a share, on revenue of $72.4 million. C3 AI's non-GAAP loss for the quarter was 9 cents a share. Wall Street was looking for a non-GAAP loss of 17 cents a share on revenue of $71.6 million. 
Siebel said the company is seeing strong traction with enterprise AI and generative AI applications.
The company said it expanded agreements with a bevy of customers and closed 20 agreements with partners. C3 AI is also seeing strength in federal government bookings, which were up 39% from a year ago.
However, C3 AI pushed off its profitability target since it will invest heavily in generative AI. Siebel said:
"After careful consideration with our leadership and our marketing partners, we have made the decision to invest in Generative AI, to invest in lead generation, to invest in branding, to invest in market awareness, and to invest in market and customer success related to our Generative AI solutions.

The market opportunity is immediate and we intend to seize it. So while we still expect to be cash positive in Q4 this year and in fiscal year '25, we will be investing in our Generative AI solutions and at this time do not expect to be non-GAAP profitable in Q4, '24, you can expect though, we're still, we want to see what actually happens in the market in the next couple of quarters and how this plays out, but it looks right now, you can expect us and will update you on this as we know more, but you're going to see this happen in some place in the Q2 to Q4 time frame of fiscal year '25.

We have a tight rein on our financial controls. We are operating a disciplined business and we're making this decision to invest in Generative AI because we are confident that is in the best interests of our shareholders. C3.AI was well ahead of its time predicting the scale of the opportunity in enterprise AI applications."