Apple's biggest innovation at its Apple Watch Series 9 and iPhone 15 event may be a double tap finger gesture for the Apple Watch that will make the Vision Pro customer experience more familiar.
The Apple event went off as expected--a series of incremental updates--with a few surprises. The biggest surprise was an Apple Watch update that has a new processor (S9) that has a neural engine that can handle Siri requests on device. For the enterprise, there wasn't much there to note.
The double tap gesture--used with your thumb and finger--is enabled by data on the new Apple Watch from the gyroscope, accelerometer, and machine learning. With S9 doing the work, Apple is trying to popularize a gesture that's easy and can answer phones easily.
What's notable about double tap is that it paves the way for Vision Pro interactions. CEO Tim Cook noted that Vision Pro is on schedule and will ship early in 2024. Now the market for Vision Pro is likely to be small given the price tag of $3,499, but Apple is smart by making Apple Watch the UI warmup act for hand gestures.
On Vision Pro, there are a series of hand gestures that will be available to developers. By integrating some of these gestures into other Apple products, the company makes its Vision Pro UI more familiar. And given the installed base of Apple Watch, a lot more people will be familiar with double tap and similar gestures. Apple is also setting up the Vision Pro with the iPhone 15 Pro Max and its ability to take video that can be shared with its mixed reality headset. 
Constellation Research CEO and Principal Analyst Ray Wang breaks down what Wall Street is keeping an eye out for during the #AppleEvent https://t.co/IJ7IINB41e pic.twitter.com/rawtP84Svz

— Bloomberg Technology (@technology) September 12, 2023
Apple Watch is the set-up product for Vision Pro when it comes to mainstreaming hand gestures. Apple said in a release.
"Double tap controls the primary button in an app so it can be used to stop a timer, play and pause music, or snooze an alarm. The gesture can be used to answer and end a phone call, and even to take a photo with the Camera Remote on Apple Watch. Double tap will also open the Smart Stack from the watch face, and another double tap will scroll through widgets in the stack.

This new double tap gesture is enabled by the faster Neural Engine in Apple Watch Series 9, which processes data from the accelerometer, gyroscope, and optical heart sensor with a new machine learning algorithm. The algorithm detects the unique signature of tiny wrist movements and changes in blood flow when the index finger and thumb perform a double tap. The double tap gesture will be available in a software update next month."
Other observations:
Apple is holding the pricing line on iPhone 15 and iPhone 15 Plus. Apple's iPhone 15 Pro is expected to keep average selling prices high with perks such as a titanium frame and camera improvements only available on the high-end model. The high-end models start at the same prices as the previous versions. It's worth noting that Apple is also offering good trade-in deals to goose sales. Samsung runs the similar play.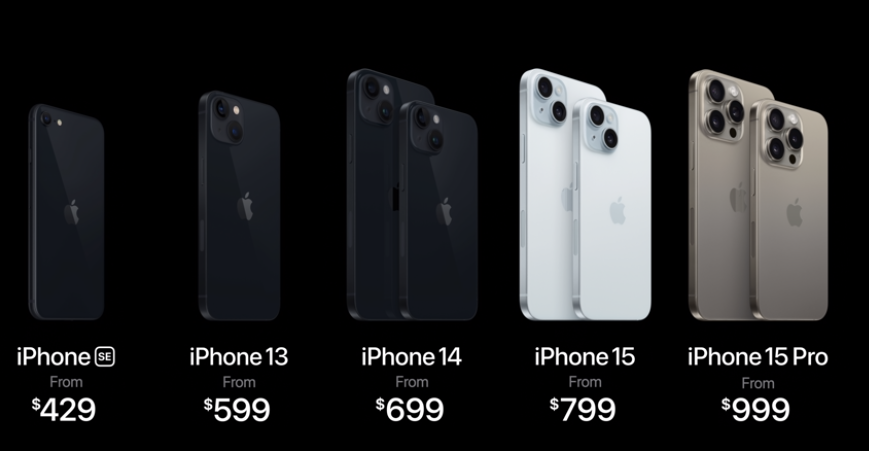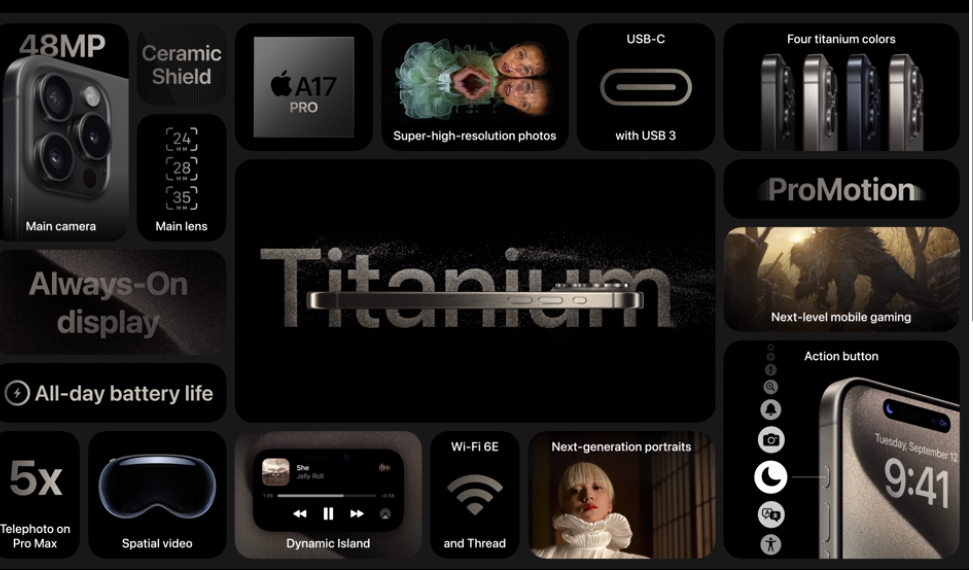 The 2-year free Satellite service is a nice touch for iPhone 15.
By using local processing hopefully Siri will become quicker and more reliable. Siri can also be used to access Health app data without connectivity.
Hearing Apple dance around USB-C was comical given the EU is forcing the company to ditch the Lightning Cable in the name of e-waste. Apple noted that USB-C is used in its other products and now comes to the iPhone.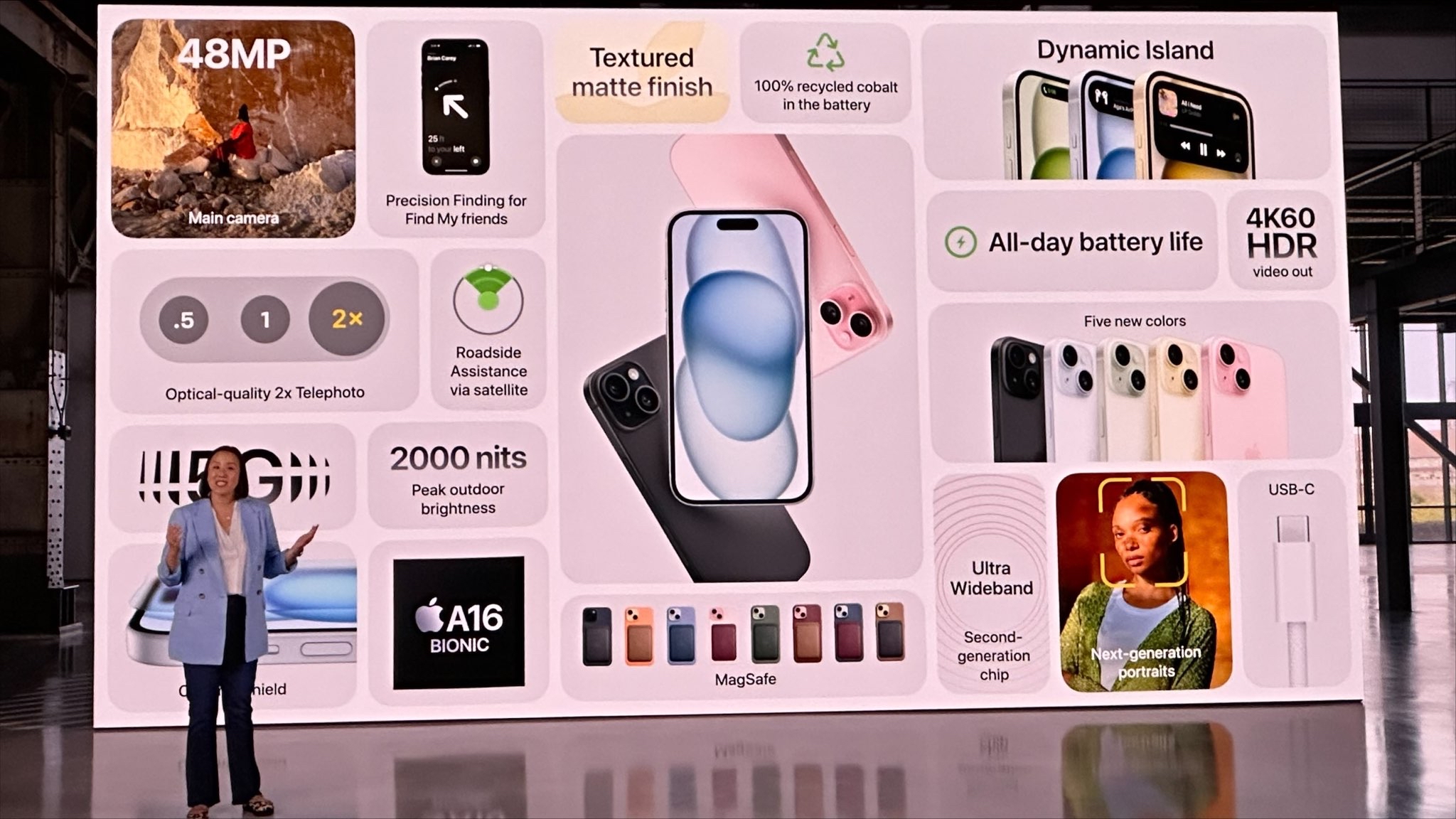 Apple Watch's battery life still hasn't moved the needle much. Apple touted 18-hour battery life with the Ultra at a baseline of 36 hours. For comparison, my two-year-old Garmin Fenix Solar is 97% charged and has 20 days of battery life left.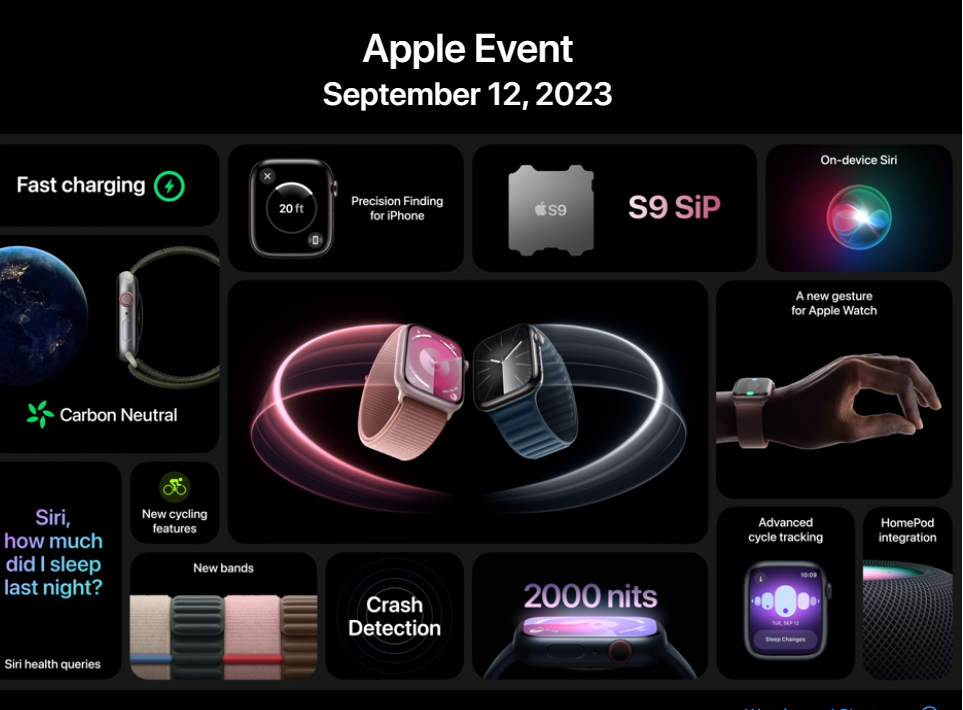 Constellation Research CEO and Principal Analyst Ray Wang breaks down what Wall Street is keeping an eye out for during the #AppleEvent https://t.co/IJ7IINB41e pic.twitter.com/rawtP84Svz

— Bloomberg Technology (@technology) September 12, 2023