Snowflake's first quarter earnings results were solid, but the company's outlook fell short of expectations. What followed were questions about demand vs. cost optimization. Snowflake's responses highlighted the moving parts in IT spending at the moment.
The company projected fiscal year revenue to be about $2.6 billion, below Wall Street estimates of $2.71 billion. Snowflake cut its outlook last quarter too.
Here's a look at the takeaways.
The CFOs are in charge. Chief financial officers watch CNBC too and are just as unsettled about the economy as everyone else. First, there was optimization (also known as cost cutting), but now there's also rationalization. Snowflake CEO Frank Slootman said on Snowflake's earnings conference call:
"One of the things that we've seen happen over the last couple of quarters is that the CFO is in the business. And this is sort of an expression that we use in enterprise that they're selling is that there is a level of oversight scrutiny that's normally not there. And this is not a frequent occurrence. You only see this happening in fairly severe episodes.
MARKET OVERVIEW: Analytics and Business Intelligence Evolve for Cloud, Embedding, and Generative AI
In the beginning it's like, "Hey, we do smaller contracts, short-term contracts," but then it's like, "Hey, you're going to live within your means. Here's the amount of money you're going to spend and you're going to make it work. And you can figure out where you're going to cut to fit into our box." So that's really dynamics that we've seen playing out there."
Economic sentiment needs to improve. Slootman added that sentiment needs to improve before data consumption does.
"The number one issue is sentiment out there, just the lack of visibility, the anxiety. Watching CNBC all day doesn't give you any hope. That's absolutely number one. And -- because what we're seeing is that when we're dealing with CTOs and the Chief Data Officers, these people are chomping at the bit, but they are now literally getting stomped."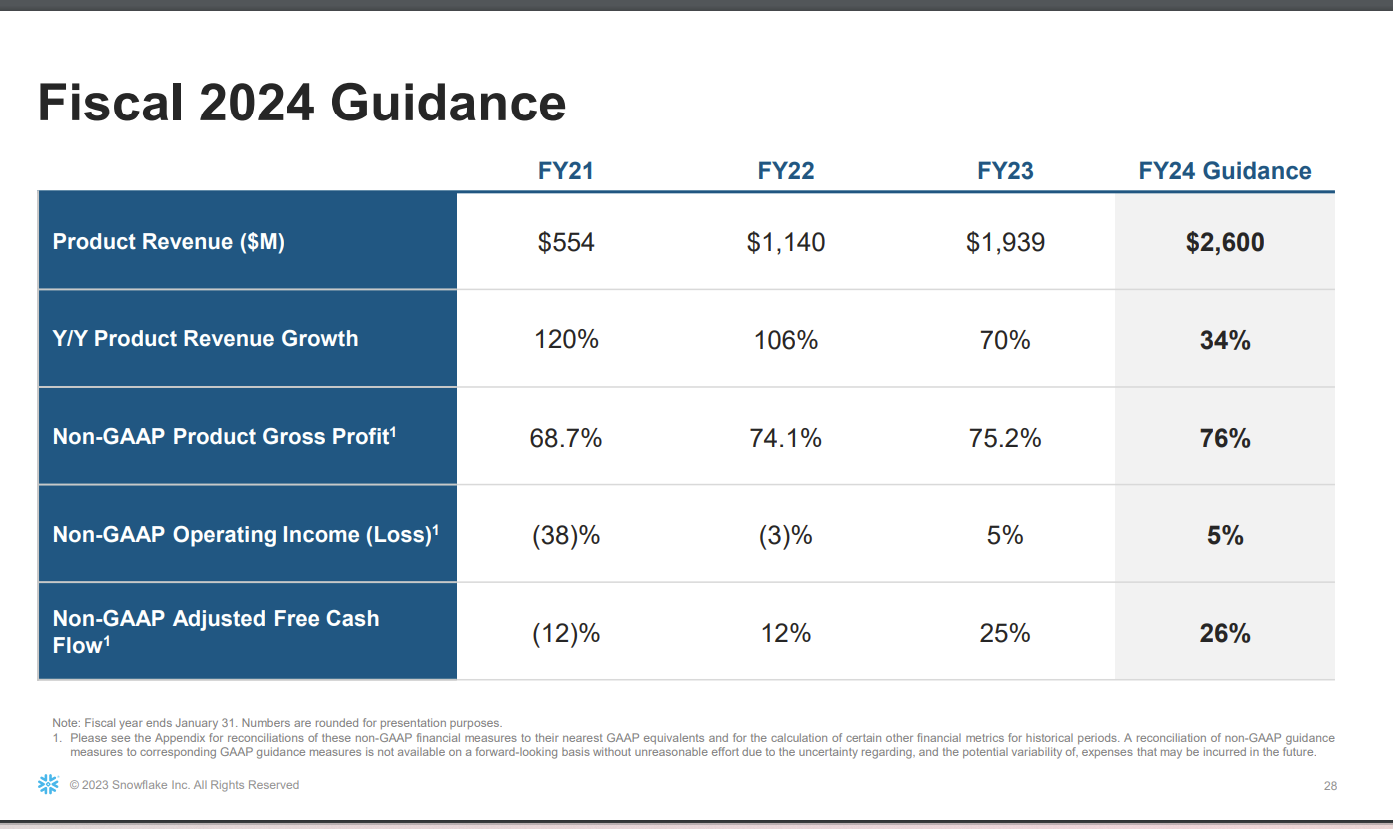 Data retention policies are seen as cost saving measures. Mike Scarpelli, Snowflake's CFO, said consumption on the company's platform fell after Easter. Enterprise customers are scrutinizing Snowflake's cost and their storage bills. Scarpelli noted:
"Some organizations have re-evaluated their data retention policies to delete stale and less valuable data. This lowers their storage bill and reduces compute cost. We've worked with a few large customers more recently on these efforts and expect these trends to continue. History has shown that price performance benefits long-term consumption."
Scarpelli added that one customer changed data retention from 5 years to 3 years and that equates to petabytes of data. He also said that Snowflake's hyperscale partners are seeing similar moves from customers.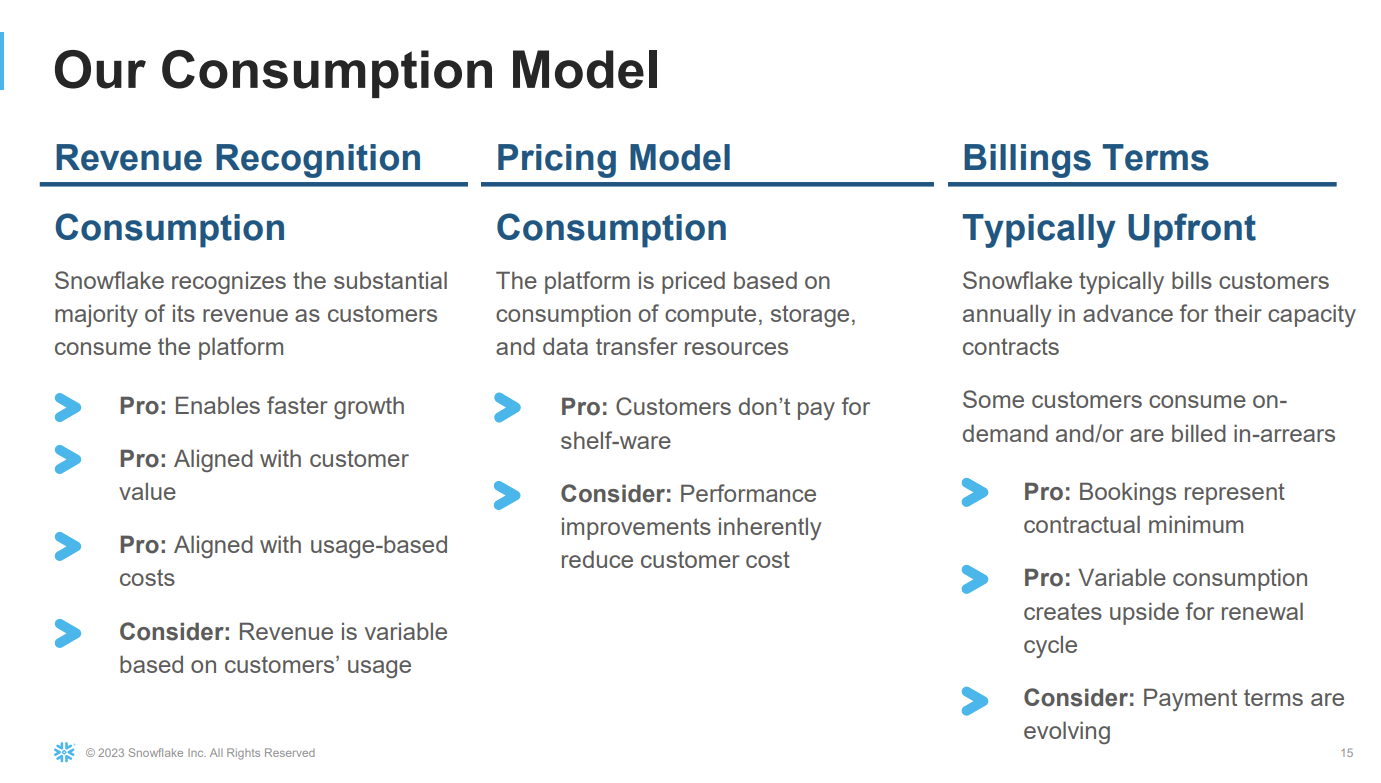 Older Snowflake customers, also known as more cloud mature, are optimizing the most. Scarpelli said older customers are spending less reversing what happened in the prior quarter. What Snowflake is seeing from its legacy customers may be similar to what AWS is also facing.
Slootman said Amazon is a large percentage of overall Snowflake deployments.
Enterprises are pulling back on their data strategies for now. Snowflake's business model is based on consumption and customers using less data. "In a consumption model, customers have the ability to dial it back and they can increase it as well too when they get more confidence in their business," said Scarpelli.
Vendors like Snowflake will also become more efficient. Scarpelli said Snowflake moved customers to AWS Graviton 2 instances to become more efficient. As a result, the amount of storage used is down even though queries are growing.
AI needs will grow IT spending as soon as sentiment improves. "There's plenty of demand out there, absolutely. And with AI right now it's going to drive a whole other vector in terms of workload development. It's going to be hard to stop, CFOs or no CFO," said Slootman.