For those of you who haven't met Guy Courtin yet, he's the analyst who can share what you always thought you should know about matrix commerce, one of Constellation's key business themes. We're excited to share that he was just appointed to the Advisory Board of Integrated Supply Chain, Ltd. (ISC), a organization serving global leaders that is headquartered in London.
The timing couldn't be better as he's speaking about the digital disruption of supply chains at the upcoming 'ISC' Turkey 2015 conference on April 28th and 29th in Turkey. He'll be sharing Silicon Valley insights with the world class organizations that make up the board and also participate in ISC's conferences and workshops.
If you haven't seen his latest research reports, there's four recent ones below. These belong to Constellation's State of Enterprise Technology series of research reports. 
Constellation Executive Network members and Research Unlimited members get access any time to content like this by logging in here. If you want to suggest a topic for a report in the "State of Enterprise Technology" series, you can also feel free to drop us a line. 
By Guy Courtin and R "Ray" Wang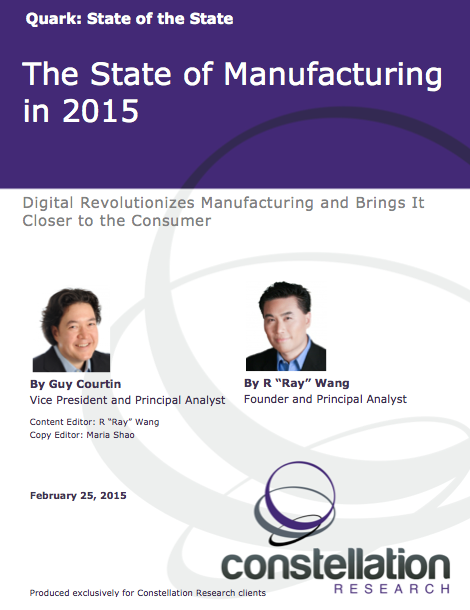 Manufacturing Adopts Mass Personalization Ideology
 In 2015 manufacturing will dive into digital transformation as producers take advantage of data insights to create ever-more customized products. 
By Guy Courtin
Digital Technologies Reshape Retail and Shift Customer-Retailer Relationship
The customer-retailer relationship will become more cooperative in 2015. Learn about the Amazon Trap, visibility, the Internet of Things, network insights, and more trends in the state retail in 2015. 
 
By Guy Courtin
Post-sale commerce is set to be an important revenue driver for many organizations. Organizations moving to post-sale commerce must consider five key elements included in this report.  
By Guy Courtin
The future of supply chains demonstrates how digital will transform business models. 
Being demand-driven remains the goal to achieve, the Future of Work and BYOD will affect the supply chain, and data is the product in the state of the supply chain in 2015.
---