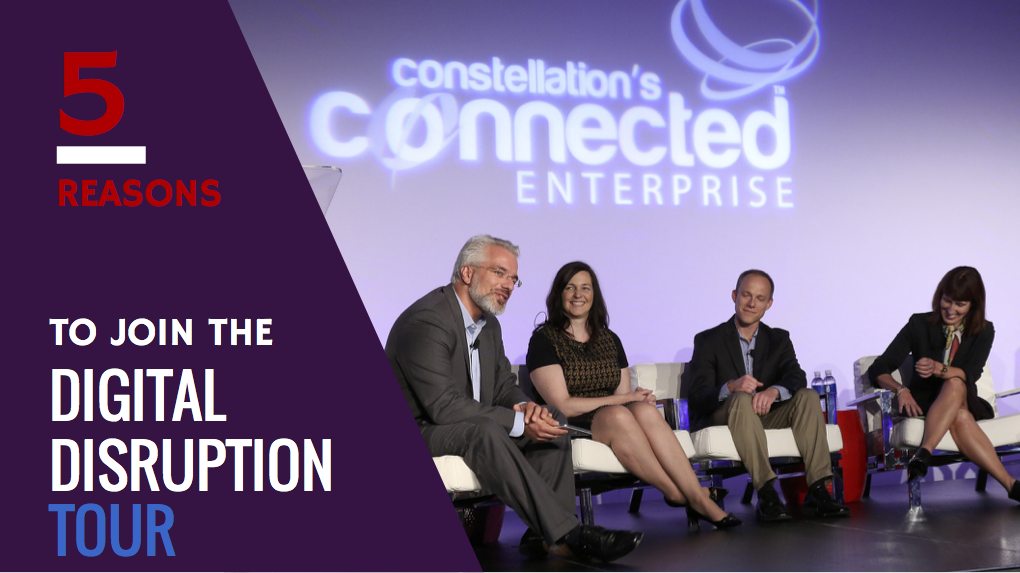 Constellation in the middle of our Digital Disruption Tour, and we'd like you to join us. 
The Digital Disruption Tour is a series of executive-level seminars where attendees learn how to effectively conquer disruptive forces in the era of digital business. 
Think about this: Since 2000, 52% of the Fortune 500 has fallen off the list as a result of mergers, acquisitions, bankruptcies, or replacements. Success in the digital era requires a new business education and a new skill set that enables executives to create business models that take advantage of the digital economy. Join the Digital Disruption Tour to learn how to identify the trends governing business in the digital era. Constellation analysts will also equip attendees with strategies to excel in digital business.
Five Reasons to Attend the Digital Disruption Tour
1. Learn how to identify disruptive trends and harness the power of disruption before your peers
2. Constellation Analysts and thought leaders will share their visions of the future of enterpise technology
3. Receive a copy of my new book, Disrupting Digital Business
4. Network over cocktails with leaders in disruptive technology and other executives who 'get it' 
5. No admission fee!
Remember: Digital Darwinism is unkind to those who wait!
Digital Disruption Tour Dates:

May 14, 2015 - Atlanta, Georgia
June 18, 2015 - London, United Kingdom
June 22, 2015 - Amsterdam, Netherlands