We've started an
innovative leadership research project
 within our global Constellation Research ecosystem to feature executive profiles like this one of David Chou, one of our
Constellation Executive Network
members. David's arguably the gold standard as an active Twitter Top 100 Social CIO who I mentioned in this earlier 
blog post
.
Hear David live on
DisrupTV
at
11am PT this Friday
where he's joined by Steve Wilson, VP & Principal Analyst from Constellation Research and Dr. Alissa Johnson, Chief Information Security Officer from Xerox who's another Top 100 Social CIO. Steve and David are also collaborating on a blockchain abstract tied to the innovative ways of improving the healthcare model, so this
DisrupTV
dialogue should be undoubtedly interesting when we hear discussions of transforming healthcare through IT.
If you know of a forward-thinking leader who would be interested in contributing to new research on leadership and who buys enterprise technology, we look forward to hearing from you at CEN.
David Chou 
VP, Chief Information & Digital Officer
Children's Mercy Hospital
Kansas City consistently is ranked among the leading children's hospitals in the nation. We were the first hospital in Missouri or Kansas to earn the prestigious Magnet designation for excellence in patient care from the American Nurses Credentialing Center.
 
Industry -  
Healthcare
LinkedIn
Twitter - @dchou1107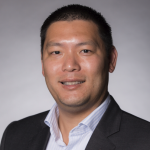 Q: Tell us about your role.


 
A:
I lead all of the digital and technology initiative for the organization managing a team of about 200 with a total budget of $76M USD.  My primary focus as the CIO/CDO is to provide leadership, develop and manage teams, communicate effectively with everyone, establish credibility and trust, be adaptable and have a deep understanding of the organization's business as well as the technology industry.
Q: What's your typical day like?


 
A:
Typical day at work starts with a 15-minute huddle with the team to determine whether there are any urgent items to address.  Then the day is full of meetings with the executive leaders and department leaders.  I usually set aside time daily to meet with my team and direct reports to catch up.  During my downtime, I will catch up on emails and keep up with what is happening in the healthcare and technology industry.
 


Q:  What are your biggest initiatives or challenges for the next 6 - 18 months?



A: 
6 months – putting together the building blocks of an IT security programs

12 -18 months – Two main initiatives that I am working on are building an enterprise data analytics program so that we can become a data driven organization.  There are a lot disparate functions throughout our organization and with an application portfolio of about 400+ applications, the amount of data that we have is huge. First step is establishing a strategy for alignment on our strategy to utilizing data.  Second initiative is working on consumerism and how we can improve the experience for the patient and patient family when they utilize our services.  There will be a big focus on how we can create a better experience with the use of technology in our contact center.  The contact center manages appointment scheduling, patient questions, and is the first line of contact for the customer. 
Q: What do you see as the biggest enterprise disruptive technology trends?
A: As machine learning and artificial intelligence mature this will have a huge impact on healthcare.  We have to move to predicative healthcare model with the goal of wellness and keeping the patients out of the hospitals.  Healthcare reform and the new reimbursement model will incentivize wellness and proactive engagement with the patients.  The use of AI and machine learning will definitely help us get there so that we can get to precision medicine.
Q: If you could have a different job, what would it be? 
A: Growing up playing basketball and loving the sport, that is the one job that I wish I could have if I have the talent to be a professional athlete.  Another great job that I would love to have related to my current role would be to be the CIO/CDO for a professional sports organization.