PSA, Subscription Billing Power Customer Centric ERP
Almost 500 customers, partners, and influencers joined the FinancialForce.com team in Las Vegas. May 8th to 10th, to experience the latest in PSA and customer-centric ERP.  CEO Tod Nielsen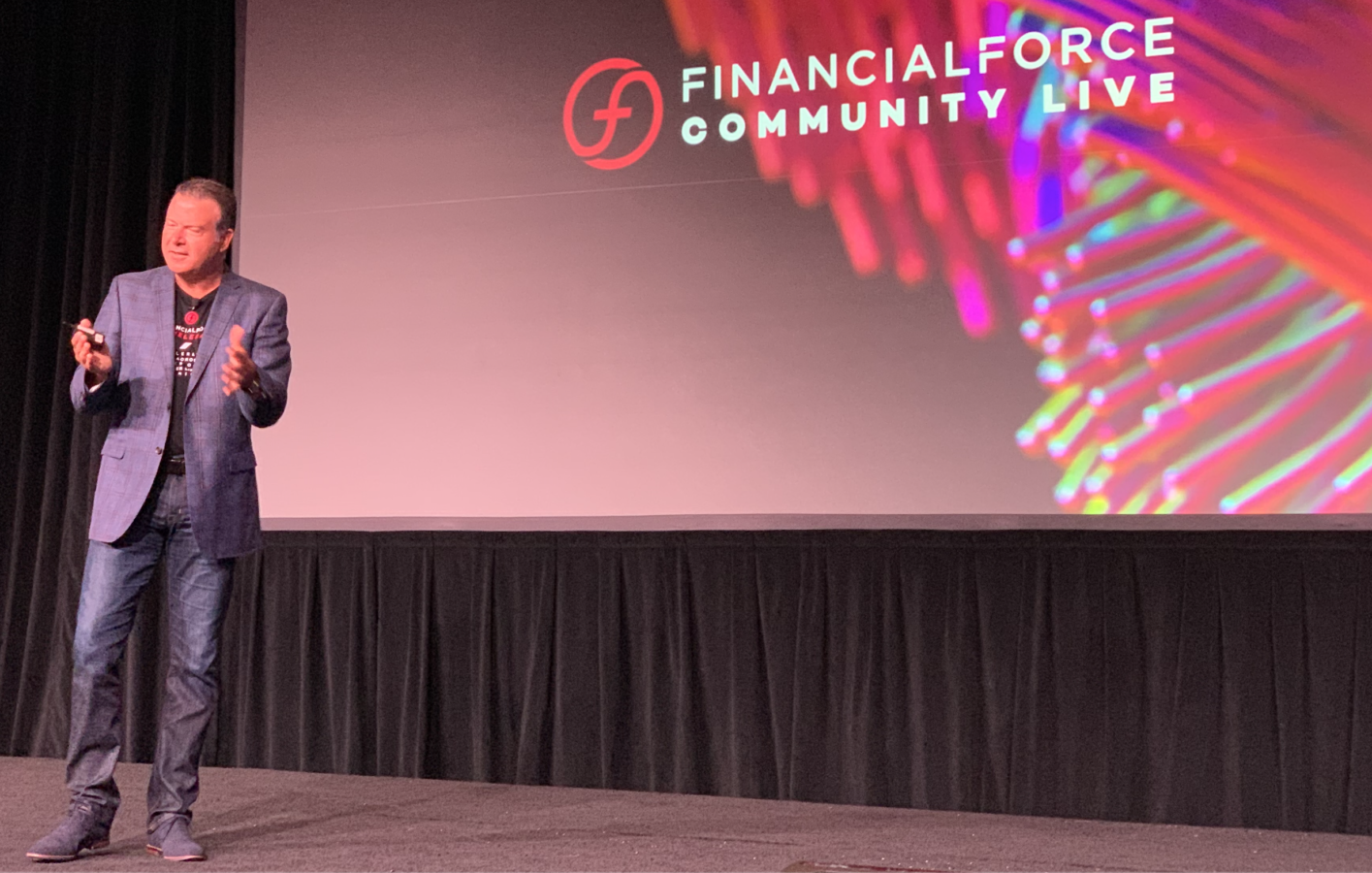 Photo: @rwang0
FinancialForce.com kicked off its user conference at the Aria Resort and Casino in Las Vegas on May 8 to 10, 2019. 
Figure 1.  Event Report: #FFCommLive19 FinancialForce.com Doubles Down On Customer-Centric ERP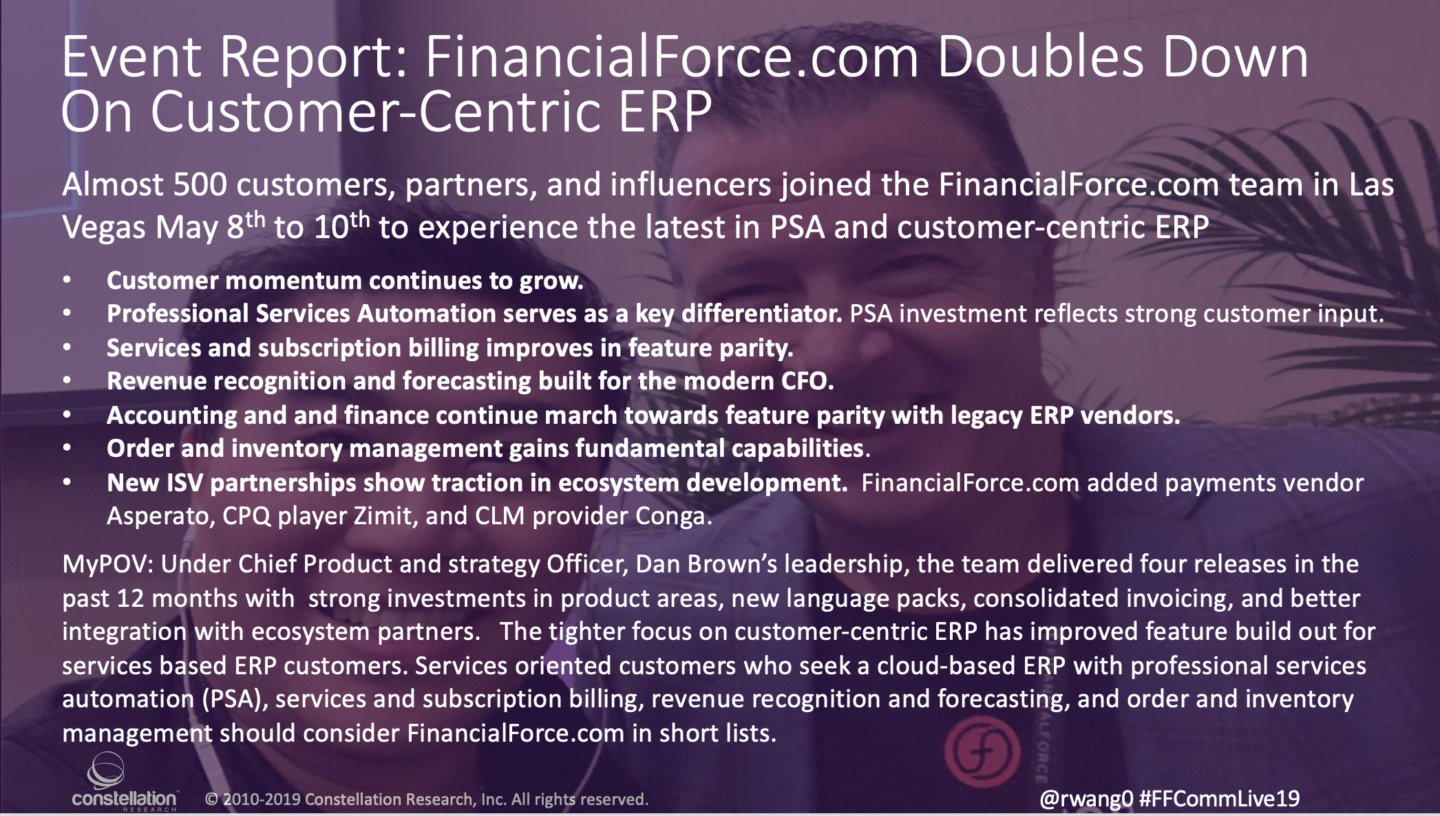 Customer momentum continues to grow. Over 300 customers signed up in the past 12 months with FinancialForce.com. Customer satisfaction topped at 9.01/10.00 in surveys.
Professional Services Automation (PSA) serves as a key differentiator.  PSA investment reflects strong customer input.  Improved analytics, skills hierarchies and skill sets, delivered services forecasting, mobile expense, and new Gantt were delivered in the past 12 months.  On the roadmap includes revenue recognition forecasting, Gantt/project management, Workspaces, resource requests in planners and integration with Slack, Zimit, Jira, Conga, and other partnerships.
Services and subscription billing improves in feature parity.  Customers were excited for the consolidated invoice capabilities, and ability to override fiscal periods, GL Account and FX rate.  New support for partial billed contracts helped many professional service based customers.  Expected features in future release include PSA to Billing documents, SCM to Billing documents, consolidated invoice – schedule consolidation process, enhancements to billing document (deriving due dates, credit note improvements, etc) and support for inter-company in billing documents.
Revenue recognition and forecasting built for the modern CFO.  Features delivered in the past year included a much sought after historical currency rate for revenue recognition in foreign currencies, improved PSA to revenue management, and setting opening balances for revenue recognition.  Future roadmap features include enterprise mass automation, new RM to FFA setup, new revenue dashboards powered by Einstein (Waterfall, ASC606), and time series predictions on revenue trends.
Accounting and finance continue march towards feature parity with legacy ERP vendors.  Key enhancements in the past year included allocations on a proportional basis, collections Workspace V1, configurable e-mail reminders, financial reporting and analytics.  New capabilities will include e-Payment integration, more workspaces, prepaid expense, bank recon enhancements, Auto-FX rate and rate type, improved reporting powered by Einstein, and as of date aging powered by Einstein.
Order and inventory management gains fundamental capabilities.  Fixed asset creation for capital equipment purchases, increased flexibility for quote line selection and importing, and invoice line selection flexibility topped the list of delivered features in 2018.  In the next 12 months key feature enhancements include RMA, more multi-lingual support, procurement manager workspace, blanket POs, category-based purchasing, purchasing accruals, and sales operations workspace.
New ISV partnerships show traction in ecosystem development. FinancialForce.com added payments vendor Asperato, CPQ player Zimit, and CLM provider Conga.
Figure 2.  Chief Product And Strategy Officer Dan Brown Shares The FinancialForce Roadmap
Photo: @rwang0
Figure 3.  FinancialForce.com Delivered Solid Enhancements In The Past 12 Months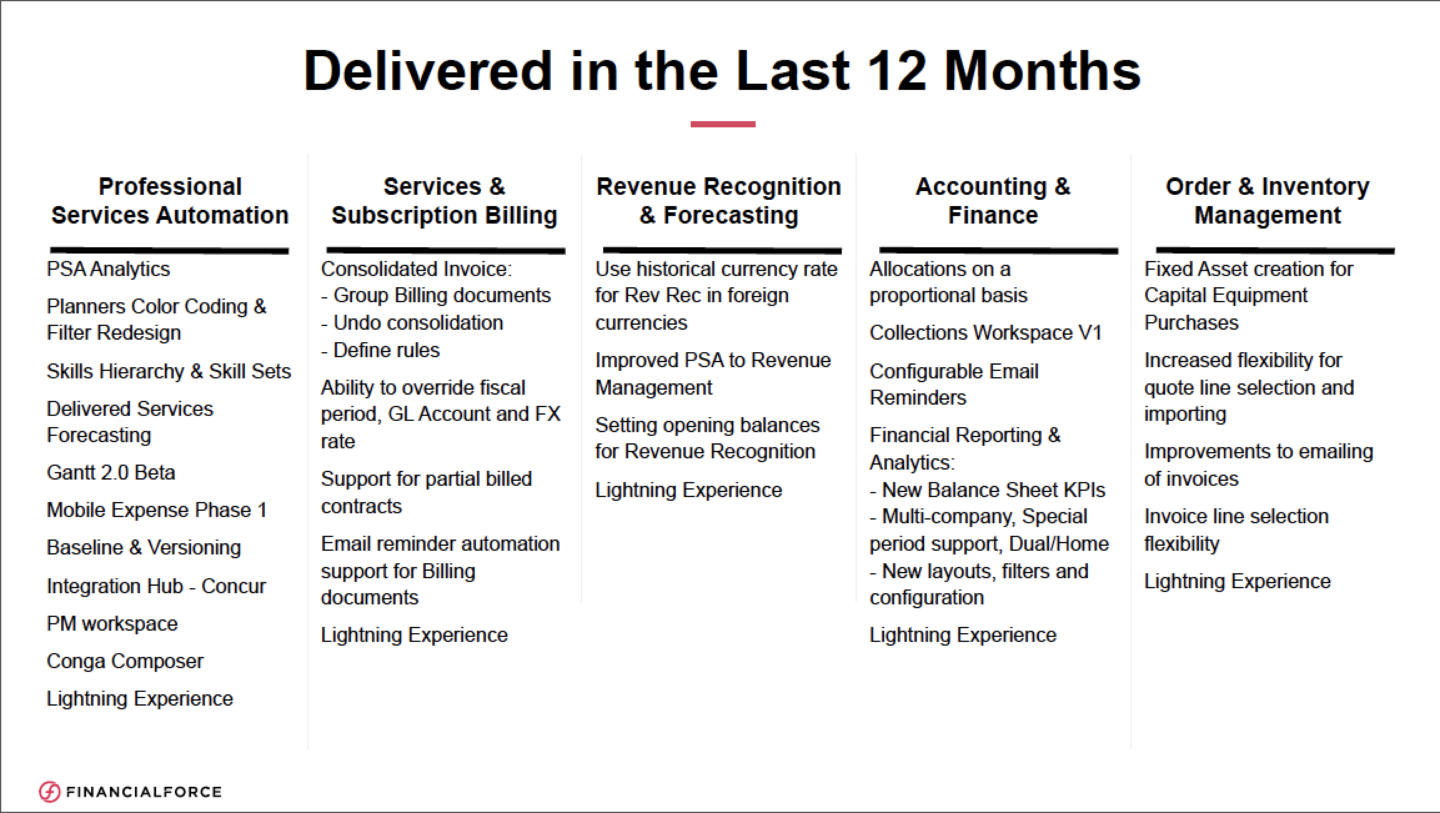 Photo: @rwang0

Figure 4. Twitter Moments for #FFCommLive19
EventReport: #FFCommLive19 Shows Off Lots Of Product Enhancements

The Bottom Line: Services-Based ERP Vendors Should Consider FinancialForce.com For Vendor Selection
Under Chief Product and strategy Officer, Dan Brown's leadership, the team delivered four releases in the past 12 months with  strong investments in product areas, new language packs, consolidated invoicing, and better integration with ecosystem partners.   The tighter focus on customer-centric ERP has improved feature build out for services based ERP customers. Services oriented customers who seek a cloud-based ERP with professional services automation (PSA), services and subscription billing, revenue recognition and forecasting, and order and inventory management should consider FinancialForce.com in short lists.
Your POV.
Are you ready to move to the Cloud for your ERP replacement and renewal?  Do you need PSA? Are you more services oriented? Where do you see opportunities for replacement?   Add your comments to the blog or reach me via email: R (at) ConstellationR (dot) com or R (at) SoftwareInsider (dot) org.
Please let us know if you need help with your Digital Business transformation efforts. Here's how we can assist:
Developing your digital business strategy
Connecting with other pioneers
Sharing best practices
Vendor selection
Implementation partner selection
Providing contract negotiations and software licensing support
Demystifying software licensing
Reprints can be purchased through Constellation Research, Inc. To request official reprints in PDF format, please contact Sales .