Domo has graduated from analytics startup to enterprise contender, breaking new ground in cloud-scale deployments. Here's a look inside the fast-growing company.
Domo is enterprise ready. That's the key takeaway Domo wanted to project at Domopalooza, held March 22-23 in Salt Lake City. The event drew more than 3,000 attendees and saw keynote appearances from enterprise-scale customers including Target, GE Digital, UnitedHealth Group and Univision.
Domo has surpassed the 1,000-customer mark, and more than half of its revenue now comes from $1 billion-revenue-plus enterprise customers, according to company executives. At Domopalooza, CEO and founder Josh James announced that the company has reached a $120-million-annual-revenue run rate. That's a fraction of the $827 million in revenue rival Tableau reported in 2016 and a rounding error compared to Microsoft's revenue (although that company doesn't break out PowerBI revenue, which is Domo's competition). Nonetheless, given Domo's claimed 100% growth rate and the list of enthused customers at Domopalooza, it's time for a closer look.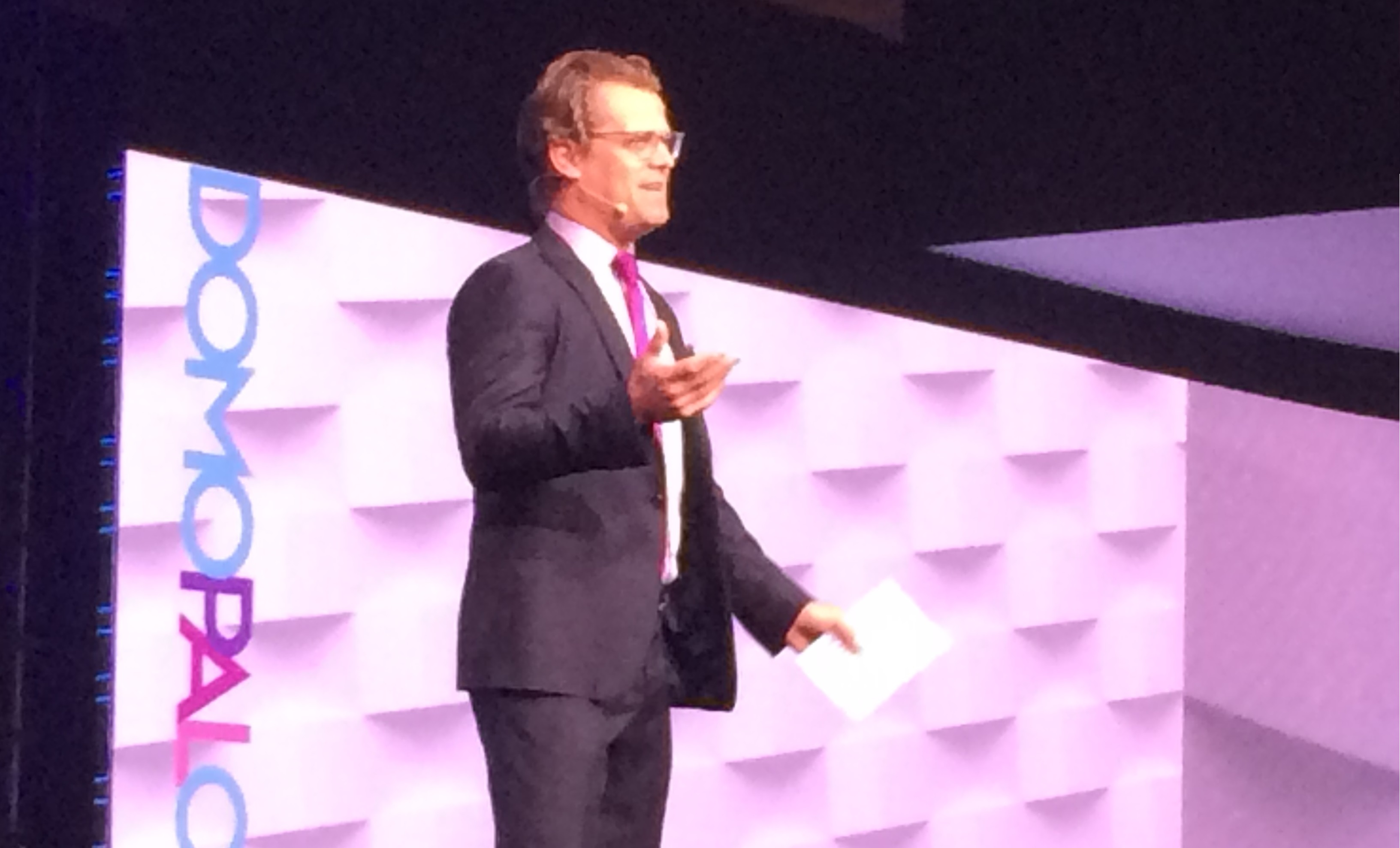 Domo CEO Josh James focused mostly on interviewing big customers during
his keynote time at Domopalooza 2017.
Previously co-founder and CEO of Omniture, James founded Domo in 2010 shortly after selling his old company to Adobe for $1.8 billion. The Domo executive team is loaded with Omniture veterans, and they tell the story that James came up with the idea for Domo because he was so frustrated with the incumbent tools available for business insight when he was the CEO at Omniture. The intent was to build an agile, cloud-based analytics platform in the mold of Omniture, but designed to handle diverse business data sources (beyond the Web, mobile and social data analyzed in Omniture).
Domo runs in Amazon's cloud, and it includes components to capture, prepare and visualize data and then engage in collaboration and optimize business decisions. The platform's back-end data warehouse, the Domo Business Cloud, scales up at cloud speed and handles diverse data sources, including semi-structured and sparse data. At Domopalooza the company announced that its data store has surpassed 26 petabytes, making it the largest cloud-based analytical data store of its kind, according to James.
Domo's largest customer, Target, spoke to the platform's scalability during a keynote interview. Target loads data on every item and every transaction from about 2,000 stores into the Domo Business Cloud at 15-minute increments, explained Ben Schein, Director of BI & Analytics. Where store-level reporting was previously updated once a week, Schein said Domo brings near-real-time insight into store operations, purchasing and stocking trends to 1,500 to 1,700 users per week. James acknowledged that Target helped Domo learn how to scale, harden and mature its platform.
To capture data, Domo has created more than 400 pre-built connectors to popular data sources. A data-transformation tool called Magic lets users join and blend data through a drag-and-drop interface. The company partners with data-integration vendors like Informatica and Talend to support more sophisticated ETL work.
Domo's front-end data-analysis environment combines pages, cards and applications. Pages are analogous to dashboards and cards are individual visual analyses. Pages and cards are mobile first, meaning you build them once and they dynamically render for phone, tablet or desktop viewing. The company has more than 1,000 applications, which are pre-built, but customizable visual analyses, such as a Social Index app for benchmarking brand popularity and net promoter scores or the Sales Forecast app, which measures predictions against actuals and quotas, with drill-down analysis of rep and manager performance. There's also a SQL-like "Beast Mode" that enables power users to develop custom transformations and analyses.
Ease of deployment and administration are big selling points. The back end is entirely managed by Domo. When you add more data or more challenging analyses, Domo adds storage and compute nodes automatically. Pricing is based entirely on the number of users, not storage or compute capacity. The pricing model is designed to encourage customers to load more data and build more cards and pages.
Agile analysis is another selling point. At the event, a GE Digital executive showed off a company-wide performance dashboard she built "in one day," complete with slick, graphical formatting created through an Adobe Illustrator plug-in to Domo. A merchandising executive from Target described how her team reviewed a prototype dashboard in the morning and got back a revise with all requested changes by the end of that day. And an executive from Sephora Southeast Asia said her company got started with Domo late last fall and had a dashboard available within two weeks — just in time for Black Friday performance analysis.
Domopalooza saw four key product announcements:
Analyzer upgrades. The Analyzer is where users do their slicing, dicing and page and card building. Top announcements here included a Data Lineage Inspector that shows where the data used in an analysis comes from and how it was transformed or altered. Data "slicer" buttons can now be added to cards to support guided analysis to the most sought-after views of data. And a new period-over-period analysis feature supports time-based comparisons that previously required Beast Mode customization.
Business-in-a-Box. This collection of pre-built, role-based dashboards is designed to support rapid delivery of the most-asked-for insights across sales, marketing, finance, operations, IT and other business functions. It's set for release this spring.
Domo Everywhere. Also due this spring, Domo Everywhere is the company's entry into embedded analytics, white-label licensing and publishing. The offering provides ways for customers to make Domo analytics available within their own software, through Web services or on websites under their own brand.
Mr. Roboto. Attendees got a sneak peek at a few of the advanced analytics, machine learning and natural language understanding capabilities of this offering. I was told it will be a layer of capabilities  within the platform, not a bolt-on module. Release dates weren't offered, so it's not something I expect to see fleshed out until late 2017 or perhaps Domopalooza 2018.
MyPOV on Domo's Course  
I came away from Domopalooza impressed by the scale of Domo's largest deployments and the enthusiasm of its customers. A highlight of the event was the closing general session, during which Domo previewed coming new features and then turned the mike over to customers to share feature requests. Each request was briefly discussed in a back-and-forth with Domo executives. The request was then listed on a slide (see photo above) for all to see and the audience was then asked to show their interest by a show of hands (or clapping or hoots and hollers). I've seen these sorts of sessions at other events, but you don't see companies with poor customer satisfaction doing it for fear of initiating a bitch fest.
The turning point that Domo is now navigating is the same one that the likes of Tableau and Qlik ran into a few years ago, namely enterprise-grade maturity. Domo execs acknowledged that they're now facing demands from IT for governance features and administrative capabilities for managing many users.
The Data Lineage Inspector, for example, is just a start on the data governance capabilities customers want. During the closing general session a customer asked for a card-certification feature whereby analyses could have a visual check mark or seal of approval indicating certified status. The indicator would automatically change if data sources or analyses were altered. Domo execs said they are working on such a governance scheme, and by a show of hands there was keen interest (approximated at 91% by Domo's chief product officer and session leader, Catherine Wong).
Domo offers three hybrid deployment options for large or regulated customers that don't want to put everything in the public cloud. A Federated Query feature that's very new will let customers query data in place, but performance is dependent upon the bandwidth of the connections and the compute power of each source. A second option let's companies put the Domo Business Cloud data layer behind the corporate firewall while leaving the analysis layer in the cloud. A third option is running the entire Domo platform as a dedicated instance on AWS or Azure or as a private cloud instance behind a corporate firewall.
Domo is facing these enterprise challenges earlier in its lifecycle than did some of its competitors. That's partly due to the maturation of the market and partly due to the experience of the Domo team rooted in Omniture. The upshot is that Domo is maturing quickly and punching above its actual weight.